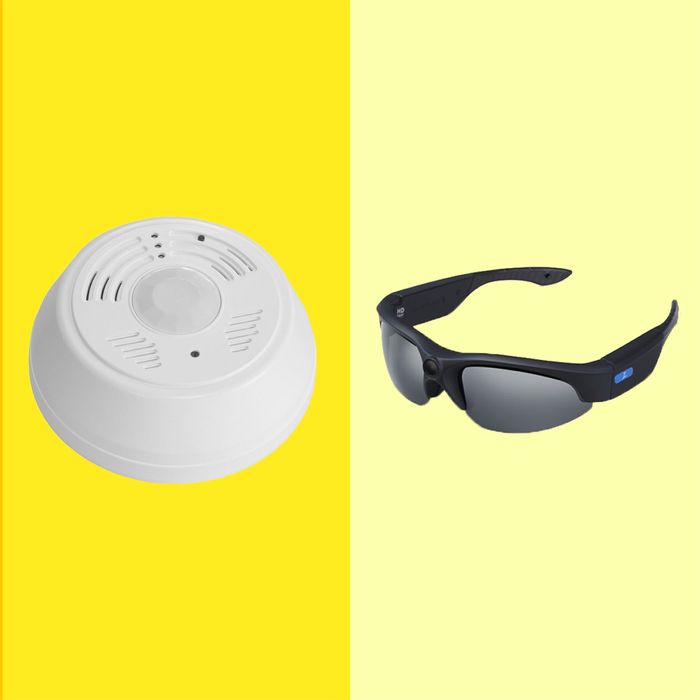 Photo-Illustration: The Strategist; Photos: Retailers
Hidden cameras may bring to mind Cold War–era spy dramas or suspicious-looking teddy bears hiding nanny cams, but with the rise of new technology like video doorbells and DIY home security systems, covert surveillance is on the rise among those looking to keep an eye on, yes, nannies, but also housekeepers, home health aides (especially for seniors), and package deliveries. As Francis Jago, CMO of interactive espionage museum Spyscape, says, "With more than 1.7 million packages stolen [or missing] from doorsteps across America [daily, according to a New York Times report], people are increasingly keen to monitor events outside their homes." Todd Morris, CEO of BrickHouse Security, says he often sells hidden cameras in office settings, as they "are great tools for capturing harassment and theft." They "can turn a he-said, she-said argument into something with solid proof that you can bring to an HR department," he explains.
Before using any hidden cameras, you'll want to review the surveillance laws in your state. As family and matrimonial lawyer Martha Cohen Stine, of Cohen Stine Kapoor LLP, explains, nationwide it is legal to install a hidden camera in your home for visual surveillance without the consent of a nanny or other third party, but cameras are never allowed in places where there is an "expectation of privacy," like a bathroom, changing room, or bedroom for a live-in babysitter or housekeeper. Audio surveillance is a different story, however: "The laws are much more strict about audio recording than they are video recording," says Andrew Geronimo, professor of law and director of the First Amendment Clinic at Case Western Reserve University. He explains that it's illegal in all states to record a conversation you're not personally part of, so stick with cameras that record only video.
While people renting out their houses or apartments on Airbnb have been known to use hidden cameras to prevent theft or vandalism, this is "shaky ground" legally, according to matrimonial and family lawyer Ken Jewell. "Arguably, if you're renting out the entire apartment and you're not setting foot in the apartment once that door is closed, one would think that there's a reasonable expectation of privacy," he says, which is why the recording of hotel rooms is illegal. If you're a business owner looking to monitor employees or customers, it's legal to use video surveillance (again, only in areas where there isn't an expectation of privacy) on your company property.
When shopping for hidden cameras, sticking to reputable retailers is a good way to avoid legal trouble. These stores won't sell hidden cameras with audio-recording ability, but occasionally third-party sellers on Amazon will. "It's something to be concerned about," says Morris. "When you add audio to a camera and it can record without your attention, then that product itself is illegal — not just the way you use it."
There are some instances when you may want a camera that's not so hidden. As Jago says, "Most cameras are as much a deterrent as they are actually effective after the event," so simply having a doorbell camera at your front door, for example, could be enough to discourage thieves from nabbing a package. When you do want a more discreet recording, here are some cameras that tech and surveillance experts recommend for capturing video and images without making themselves known. We've also added a countersurveillance product that will help you detect hidden cameras in places you don't want to find them, like changing rooms and vacation homes.
Best affordable hidden camera
Jago lists three things to consider when you're shopping for a hidden camera: power supply (is it battery powered or wired?), image quality (do you need 4K resolution for distinguishing faces or license plates?), and data storage (are files stored locally or in the cloud? And how much data can be stored before being erased?). "These devices' invisibility is always going to come at a cost," he says, so you won't get the same kind of battery life and storage capacity with a hidden camera as you would with a typical security camera like a Blink or an Arlo. For an affordable option you can use anywhere, he recommends this tiny camera that's wireless and magnetic so you can easily attach it to items around the house or on the go. The rechargeable battery lasts about 50 minutes when it's not plugged in, and the camera records on a micro SD card.
Best disguised hidden cameras
A lot of hidden cameras disguise themselves as everyday objects like smoke detectors, phone chargers, even coffee machines, but the best ones in this category are those that actually have a dual purpose. It'll be a little suspicious if you have two smoke detectors on your ceiling or two coffee makers on your countertop — one real one and one that's just a camera in disguise. Allen Walton, founder of SpyGuy, says this functioning smoke detector is one of the best-selling products on his site, especially because it's so inconspicuous. "Nobody's looking at smoke detectors," he says. "You don't go into a room and notice that sort of thing." It captures high-quality video, has night vision, and records only when it detects motion. In standby mode, the battery should last for months.
Here's another undetectable camera, this one hidden inside a functioning USB power adapter. It comes recommended by Mark Steinberg, senior technologist at B&H Photo. "It's really, really popular because it looks so generic," he says, "and I don't think people are looking for hidden cameras in this type of device."
If you want to record when you're out and about, Jago says these sunglasses offer high-resolution footage at a reasonable cost — though, he adds, "They do look a little bit 1980s." If you live in a state with one-party consent for audio recording, it would be legal to use the sound function on these for a conversation you're part of, like if you want a record of harassment at work, for example. As Jewell tells us, "Employees can both record and videotape employers if they are part of or present during the recording."
Best hidden cameras with long battery life
While this black-box-style motion-detection camera isn't as James Bond as some of the other gadgets here, Morris recommends it for reliability and battery performance. Though bulkier than a smoke-detector cam, it's certainly nondescript enough to disguise in an office or home setting. Morris says these cameras are "simple and easy to use," and offer optional Wi-Fi capabilities if you need to stream your security video immediately. The non–Wi-Fi model claims to have the longest battery life of any hidden security camera currently on the market: up to 36 hours of footage. On standby mode, it can wait around to capture footage for up to 270 days.
Best portable hidden cameras
Walton and Steinberg agree that wearable cameras are becoming increasingly popular. These come in many disguises, but key fobs and pens are among the most in demand because they don't call attention to themselves, and, unlike some smaller button cameras, they don't require wiring. Both of these run on rechargeable batteries that will last for one-to-two hours of recording, and they store footage within the device so there's no need for an external memory card.
Best hidden-camera detector
Given the increasing ubiquity of affordable and effective hidden cameras, Morris says, it's worth deploying some countersurveillance when you enter public areas like clothing-store changing rooms or when you rent an Airbnb. "You can buy a hidden-camera finder for under $200 and keep it in your purse," he says. "There are a lot of cameras out there, and having the ability to find them is definitely something that people value." This lightweight detector from Spy Finder can detect any camera lens in any room, even if the camera in question is turned off.
The Strategist is designed to surface the most useful, expert recommendations for things to buy across the vast e-commerce landscape. Some of our latest conquests include the best acne treatments, rolling luggage, pillows for side sleepers, natural anxiety remedies, and bath towels. We update links when possible, but note that deals can expire and all prices are subject to change.