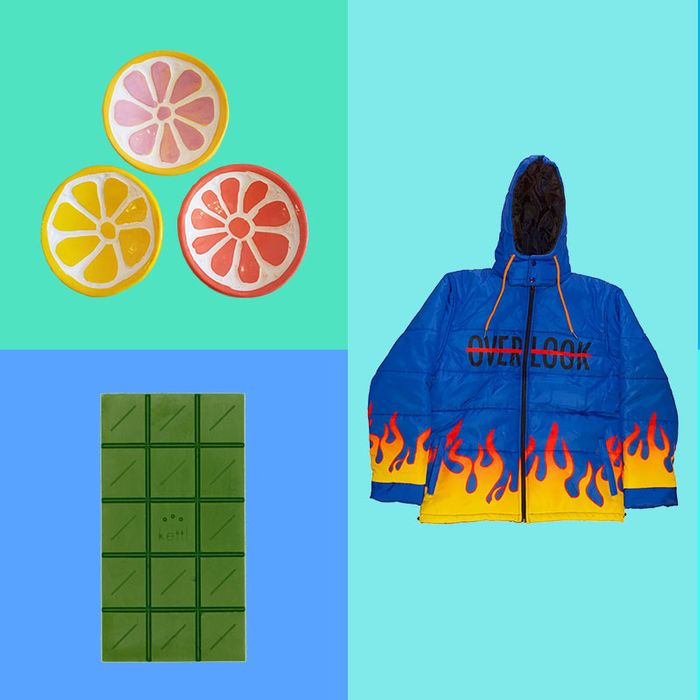 Ever since the first round of city-wide COVID lockdowns in March, small businesses have shouldered a heavy financial burden. Forced to shutter their brick-and-mortar stores or operate at limited capacity, some of our favorite shops have had to make tough decisions to try to stay in business and retain employees despite dramatically deceased foot traffic. On the other hand, it's also been inspiring to watch local businesses quickly adapt to e-commerce or even make more dramatic pivots, like the hair artist who started selling at-home braiding kits from her home, or the Greenwich Village bookstore that now offers reading recommendations over the phone.
To support these shops and designers this holiday season, we wanted to highlight their offerings that'd make great gifts. We know there's no way to put together an exhaustive list of all of the beloved businesses out there, but in order to find a good sampling, we turned to other small business owners to see where they'll be shopping for gifts this holiday season and what they'll be buying. Their picks, from matcha chocolate bars and handmade soap to canned cocktails and ceramic serving platters, include something for everyone on your list — and nothing you'd find at a big box store.
We started off with the Brooklyn café/boutique Sounds, which Strategist writer Hilary Reid discovered shortly before the pandemic, and where she is "set on becoming a regular once things get back to normal." Nearly everything at Sounds is highly giftable, including this energizing tea Reid bought for herself.
The brand's soap dishes, made in collaboration with Studio Den Den, are also a great, useful gift. "The soap dish is an art object with function," says Ester Kislin, Sounds's founder and creative director. "We focused on creating a fun unboxing experience for customers so the box is beautiful and ready to be gifted."
For her gifts, Kislin pointed us to Lolo, which is also based in Brooklyn and opening a new storefront on Hoyt Street in the spring. "Lolo has a very feminine touch and you can find a lot of special handmade items there," she says. For the person in your life who loves flowers but hates their impermanence, consider this resin box with preserved seasonal botanicals, like strawflower, bougainvillea, red maple leaves, and marigolds. Lolo founder Lauren Williams says the boxes, which are handmade in Los Angeles by Greengardann, are "totally unique and stunning in their own way, and are one of those objects that would end up becoming someone's precious heirloom."
Williams recommends Gowanus-based From Here to Sunday, which stocks artisanal gifts you won't find anywhere else, like original artwork and ice-cream-cone-shaped candles. What she really gravitates to, however, are these cheery little dishes. "Handmade, cute, fruit-themed, a fun place to corral all my tchotchkes — they check all my boxes," she says.
Diana Ho, founder and owner of From Here to Sunday, actually got her start selling homemade cookies (paired with zines) at a pop-up shop, and she still makes batches for the store. This subscription includes three months of her inventive recipes (past flavors include chewy banana snickerdoodle and orange creamsicle) — and it lets you support the store even after the holidays are over. "It's an affordable and delicious way to help sustain a local business over time," says Ho.
Ho recommends this set of small-batch soaps from Even Keel, a line founded by En Tsao, with whom Ho shares a studio space. "This is my go-to gift whenever I am drawing a blank," she says. "It's not only practical, but incredibly beautiful, like a work of art." The marbled soaps are made with coconut and olive oils, activated charcoal, Moroccan red clay, and other all-natural ingredients. Since we're all washing out hands much more often now, why not add some beauty to the ritual? And when it's time to travel again, the soaps are also TSA-friendly.
If you're shopping for someone who loves baths, these essential-oil bath bombs are Tsao's favorite products to give as gifts.
Tsao directed us to local ceramicist Eleni Kontos, whose creations include a pitcher-pendant necklace and a chess set (perhaps for a friend who recently binged The Queen's Gambit?). As part of her holiday presale, Kontos is selling these cheery mugs, with a one-of-kind face on each one. "It'll make a great gift as every piece is totally unique — she hand-builds most of her pieces — and her pieces bridge art into everyday, usable items," says Tsao.
Even if you're just sharing snacks with immediate family, this divided platter — one of Kontos' favorites from her collection — is perfect for any time you serve cheeses, grapes, or crackers and jam. "I've been into making platters this year, because they allow me to daydream about having my friends over, and feeding them," she says. "Giving a platter is a nice reminder that we will all be able to be together soon."
We pivot from home goods to jewelry for Kontos's recommendation, a cheeky Wi-Fi charm from designer Marta Pia, which Kontos says "would be fitting this year, as our lives are currently all about it." Available in four color gemstones, the charm can be strung on a bracelet or necklace as a tribute to our year of working and socializing remotely. While some of Pia's pieces are made to order, this delightful charm is in stock and available to ship.
If your recipient isn't so keen on remembering all the time they spent online this year, Pia suggests this gold vermeil ring with an inlaid opal stone. "It is colorful, sparkly, bold, and a very tangible symbol to remind someone you are looking after them, which during these distant times is something we could all use," she says.
Like an upscale version of a woven market tote, this made-in-NYC bag (Pia's gift pick) is made from iridescent silk taffeta and is perfect for carrying around purchases or your daily essentials. "It looks like such a simple-but-fun, no-fuss everyday bag," she says. "I'm really into vegan options these days and this is such a winner, and who doesn't love iridescent?" She's not the only Coming of Age fan: Stylist Doria Santlofer recommended this style as a work bag and designer Nikki Chasin loves the brand's tote bags.
Amanda Lurie, Coming of Age's founder and creative director, says the scarf and mittens from her line would make a great gift because "they're fun little accessories to spice up your winter look." While they're made from the same silk taffeta, they're also seriously warm: The mittens have a fleece lining and the scarf is filled with polyester down.
Lurie, who grew up in Miami, also has a pick for those who don't have to deal with freezing cold winters: these tie-dye pants from Tigra Tigra that are designed in Los Angeles but hand-dyed and sewn by artisans in Gujarat, India. Lurie calls them "a cozy cool pair of pants to wear during the holidays, especially if you are living somewhere warm." Solange Knowles is also a fan of the brand.
Up until last year, Veronica Ortuño operated the beloved vintage store and event space Las Cruxes in East Austin, Texas. Although the store is now closed, Ortuño has recently launched her own interior design studio and decor brand, Casa Veronica, which Tigra Tigra designer Bailey Hunter recommends for unique gifts. "Veronica has the best eye for ceramics and objects," says Hunter, who tells us she'd love to receive one of the brand's colorful ceramic lamps.
Back in Brooklyn, Kislin (of Sounds) also recommends Park Deli. Despite its name, you won't find any sandwiches here, but rather unique gifts like finger skateboards and embroidered beanies. "I love the combination of florals, skate gear and other niche items," says Kislin. Michael J. Sclafani, co-founder of Park Deli, is especially excited about the brand's new fleece shopping bags, which are made in the garment district. "This is a great gift for the holidays this year because the NYC bag ban finally went into effect this past month," he says. "Not only are plastic bags wasteful, they cost your local bodega thousands of dollars a year."
For gifts that are actually edible (or, more accurately, imbibable), Sclafani recommends this set of four canned, housemade cocktails from neighboring Bar Meridian. Although the selection is rotating, his favorites include the Negroni and Old Fashioned. As Scalfani puts it, "What better way to celebrate the holidays than to share the gift someone just gave you right there with them?" Of course, if you have to wait a while to see a loved one in person, Bar Meridian owner Sage Geyer confirms that the boozy concoctions are "shelf-stable and delicious."
For the pal who's been going to outdoor workout classes all summer but is looking for an at-home alternative now that it's getting cold out, Geyer suggests a monthly membership to his local Fort Greene studio, Fort Pilates. The membership includes access to daily live-streaming classes as well as the studio's archive of recorded classes.
The Primary Essentials, Fort Pilates founder Ashley Richmond's recommended small business, stocks everything from minimalist furniture to Vermont-made jam, but her top pick comes from the store's meticulously edited beauty section: this all-natural, locally-made moisturizing salve. "The salve is amazing anywhere on your body, and especially helpful during excessive hand washing," she says. "I would love to give the salve to everyone on my list this season."
"I always try to give gifts that people will use — eat," says Primary Essentials founder Lauren Snyder. So it's not surprising that she recommends these matcha-infused chocolate bars from Kettl tea on the Bowery. "I'm pretty sure they have this chocolate around this time of year only, making it a special and delicious treat to give and receive," she says. Kettl owner Zach Mangan explains that each bar is made from "the equivalent to 2.5 bowls of whisked matcha blended with decadent Belgian white chocolate."
Pâtisserie Fouet, near Manhattan's Union Square, is Mangan's top choice for edible gifts. Like his tea shop, the pâtisserie also draws inspiration from Japanese flavors, as seen in menu options like green tea tiramisu and miso pistachio pound cake. "My wife Minami and I love to pick up an assortment of sweets for gifts and, to be honest, for ourselves as well," he says. "All their sweets are so refined and are decadent without being overly sweet. Eating a cookie from them is like your first glass of really nice wine — once you experience it, you can never go back." This cookie tin, along with other treats like hazelnut chocolate mousse and sesame custard souffle, are available for local delivery as well as nationwide ordering.
If you're shopping for gifts that give back this holiday season, Erica Liang of Cloud Nine Hospitality, the operating group behind Pâtisserie Fouet, suggests checking out apparel from Kids Worldwide, which provides arts education to underprivileged kids and also supports The River Fund, which combats hunger and poverty in New York City. "They are a charity that seeks to provide a better quality of life for children from disadvantaged backgrounds," she says. "The merchandise they are selling is from artwork made from children, and all proceeds will go directly to the families." The organization's founder, Robbie Kingsmill-Stuart, loves this yellow sweatshirt that features artwork from two budding Queens-based artists.
Sustainability drives every step of the design process at the Black- and female-owned bag line, Fatra, a favorite of Kingsmill-Stuart. All of the brand's bags are made from recycled materials like laundry detergent, coffee, and cookie packaging or in the case of Kingsmill-Stuart's pick, the Good Trouble bag, repurposed leather. "The owner, Akilah Stewart, is big in the sustainability space," he says. "Her goal is to change the luxury space by reintroducing waste back into the production process."
As for Stewart's favorite gift pick from her own collection, she recommends this style that actually reuses six to ten plastic bags (each bag is one of a kind) for a sustainable take on the iconic — but environmentally disastrous — plastic shopping bags we're all used to seeing. "It's important to be mindful of how our collective actions can bring in an environmentally conscious new year," she says. "This handbag is a chic reminder."
Stewart recommends the OverLook Collection, a sustainability-minded line from her brother, designer Alim Belizaire Stewart, that uses recycled denim in many of its garments. Her top choice is this bright, puffy coat that'll certainly liven up a friend's outdoor dining style. "I look forward to seeing more color in the streets of dreary New York City," she says. "I am in love with the new flame bubble coat. It's full of color, and full of life."
Belizaire Stewart's gift choice comes from locally-made line LiuSal, which is an acronym for "Love Is Universal Strive Achieve Longevity." He says, "I love the message behind this brand, and [the designer and CEO, who goes by] Mr. LiuSal happens to be a good friend of mine here in New York." His pick is this eye-catching camo jumpsuit that has detachable sleeves and legs for a customizable look. "It's a very innovative piece. The top can change from long sleeve to short, and the pants can change from long pants to shorts.
This alien-embroidered cap, Mr. LiuSal's giftable pick, actually speaks to the brand's message of inclusivity. "We consider everyone ETs," he says, explaining that the logo symbolizes love for everyone, including those who aren't always accepted by society.
OWMXN
In this year of sweatsuits, we thought we've seen all the options out there, but Mr. LiuSal has managed to broaden our horizon with these bear-embroidered sets from fellow New York brand OWMXN. They'll also customize a sweatshirt for you if you want to give a personalized gift.
The Strategist is designed to surface the most useful, expert recommendations for things to buy across the vast e-commerce landscape. Some of our latest conquests include the best acne treatments, rolling luggage, pillows for side sleepers, natural anxiety remedies, and bath towels. We update links when possible, but note that deals can expire and all prices are subject to change.