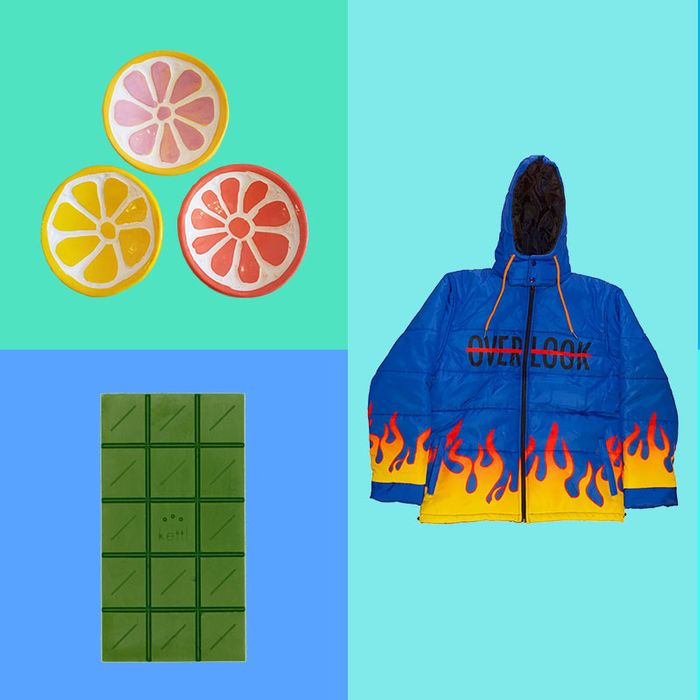 Ever since the first round of city-wide COVID lockdowns in March, small businesses have shouldered a heavy financial burden. Forced to shutter their brick-and-mortar stores or operate at limited capacity, some of our favorite shops have had to make tough decisions to try to stay in business and retain employees despite dramatically deceased foot traffic. On the other hand, it's also been inspiring to watch local businesses quickly adapt to e-commerce or even make more dramatic pivots, like the hair artist who started selling at-home braiding kits from her home, or the Greenwich Village bookstore that now offers reading recommendations over the phone.
To support these shops and designers this holiday season, we wanted to highlight their offerings that'd make great gifts. We know there's no way to put together an exhaustive list of all of the beloved businesses out there, but in order to find a good sampling, we turned to other small business owners to see where they'll be shopping for gifts this holiday season and what they'll be buying. Their picks, from matcha chocolate bars and handmade soap to canned cocktails and ceramic serving platters, include something for everyone on your list — and nothing you'd find at a big box store.
We started off with the Brooklyn café/boutique Sounds, which Strategist writer Hilary Reid discovered shortly before the pandemic, and where she is "set on becoming a regular once things get back to normal." Nearly everything at Sounds is highly giftable, including this energizing tea Reid bought for herself.
The brand's soap dishes, made in collaboration with Studio Den Den, are also a great, useful gift. "The soap dish is an art object with function," says Ester Kislin, Sounds's founder and creative director. "We focused on creating a fun unboxing experience for customers so the box is beautiful and ready to be gifted."
For her gifts, Kislin pointed us to Lolo, which is also based in Brooklyn and opening a new storefront on Hoyt Street in the spring. "Lolo has a very feminine touch and you can find a lot of special handmade items there," she says. For the person in your life who loves flowers but hates their impermanence, consider this resin box with preserved seasonal botanicals, like strawflower, bougainvillea, red maple leaves, and marigolds. Lolo founder Lauren Williams says the boxes, which are handmade in Los Angeles by Greengardann, are "totally unique and stunning in their own way, and are one of those objects that would end up becoming someone's precious heirloom."
Williams recommends Gowanus-based From Here to Sunday, which stocks artisanal gifts you won't find anywhere else, like original artwork and ice-cream-cone-shaped candles. What she really gravitates to, however, are these cheery little dishes. "Handmade, cute, fruit-themed, a fun place to corral all my tchotchkes — they check all my boxes," she says.
Diana Ho, founder and owner of From Here to Sunday, actually got her start selling homemade cookies (paired with zines) at a pop-up shop, and she still makes batches for the store. This subscription includes three months of her inventive recipes (past flavors include chewy banana snickerdoodle and orange creamsicle) — and it lets you support the store even after the holidays are over. "It's an affordable and delicious way to help sustain a local business over time," says Ho.
Ho recommends this set of small-batch soaps from Even Keel, a line founded by En Tsao, with whom Ho shares a studio space. "This is my go-to gift whenever I am drawing a blank," she says. "It's not only practical, but incredibly beautiful, like a work of art." The marbled soaps are made with coconut and olive oils, activated charcoal, Moroccan red clay, and other all-natural ingredients. Since we're all washing out hands much more often now, why not add some beauty to the ritual? And when it's time to travel again, the soaps are also TSA-friendly.
If you're shopping for someone who loves baths, these essential-oil bath bombs are Tsao's favorite products to give as gifts.
Tsao directed us to local ceramicist Eleni Kontos, whose creations include a pitcher-pendant necklace and a chess set (perhaps for a friend who recently binged The Queen's Gambit?). As part of her holiday presale, Kontos is selling these cheery mugs, with a one-of-kind face on each one. "It'll make a great gift as every piece is totally unique — she hand-builds most of her pieces — and her pieces bridge art into everyday, usable items," says Tsao.
Even if you're just sharing snacks with immediate family, this divided platter — one of Kontos' favorites from her collection — is perfect for any time you serve cheeses, grapes, or crackers and jam. "I've been into making platters this year, because they allow me to daydream about having my friends over, and feeding them," she says. "Giving a platter is a nice reminder that we will all be able to be together soon."
We pivot from home goods to jewelry for Kontos's recommendation, a cheeky Wi-Fi charm from designer Marta Pia, which Kontos says "would be fitting this year, as our lives are currently all about it." Available in four color gemstones, the charm can be strung on a bracelet or necklace as a tribute to our year of working and socializing remotely. While some of Pia's pieces are made to order, this delightful charm is in stock and available to ship.