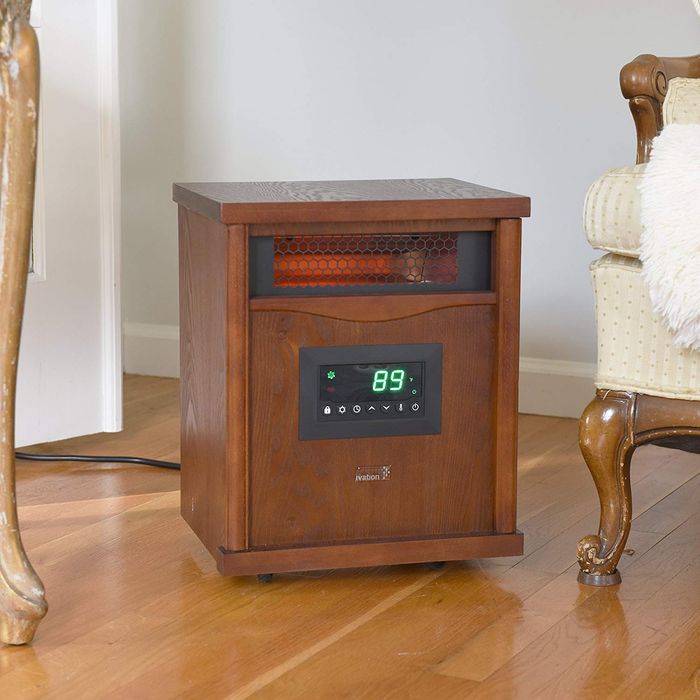 Photo: Courtesy of Retailer
Here at the Strategist, we like to think of ourselves as crazy (in the good way) about the stuff we buy, but as much as we'd like to, we can't try everything. Which is why we have People's Choice, in which we find the best-reviewed products and single out the most convincing ones. (You can learn more about our rating system and how we pick each item here.)
And while we've written about lots cold weather necessities — including the best space heaters and the best plush blankets — here, we've rounded up the best infrared heaters, as praised by the most enthusiastic reviewers on Amazon.
Best-rated infrared heater
More than 2,000 reviewers give this infrared space heater five stars, and "love" comes up over 400 times. "I love this little heater," one smitten reviewer writes. "Cranks out the heat. Quiet and easy to use. Looks good and operation costs are hardly a blip on my electricity bill." Another user writes, "Like most folks I am impressed with the amount of heat these put out, I had tried a radiator heater last winter to supplement and it can't even compare to this little box." Another owner warns, "Don't let the size fool you. Even though it is smaller than the Eden Pure, so far it is out-performing the ones we have. And with the price much cheaper, this heater is a hot buy!" Another reviewer notes, "It warms up my space pretty fast and really improves my mood, which was an unexpected benefit of being toasty warm." They continue, "I even kind of like that it looks like a retro appliance/robot, with the funny wood housing and larger-than-your-typical-space-heater size. The fact that it's on wheels is convenient, because I can easily push it away from myself with a foot if it's getting too warm."
Best-rated (less expensive) infrared heater
This ceiling infrared heater might be "old-school," one reviewer admits, but that didn't stop them from installing it in their newly renovated bathroom: "It's a great upgrade from the old version that came out during demolition. The small fan inside the enclosure helps to distribute the heat from the lamps more widely in the bathroom — just enough to take away the chill." Another user who admits this wasn't the easiest to install is still "very happy with the results." They explain, "The dual lights radiate lots of heat very quickly and the fan helps bring the warmth down." One reviewer can't even wait until winter rolls around again just so they can use it in their bathroom. "We used it the final weeks of winter and it was so much superior to our space heater which uses more juice," they say, adding, "Looking forward to next winter … Yeah, that sounds weird, I know."
And now for some micro-picks for every type of infrared heater you might be looking for.
Best infrared heater with remote
"Don't think twice, buy this product," one reviewer urges, explaining, "It cranks out really nice heat! It's quiet, and it's very powerful." And its reviewers agree that this heater is indeed powerful. "I'm impressed with how much heat this thing can throw out into the room," one user writes, adding, "I live in a studio apartment with four windows, and I'm confident that this thing will keep me warm when it's zero degrees outside." One owner even says it can heat an entire basement writing, "This one heats up a large basement studio nicely without drying up the air." Lots of reviewers cite the remote control as another great feature. "The remote and LED display makes temperature control so much easier," one writes, adding, "The tip-over shut-off and overheat protection features certainly bring peace of mind."
Best compact infrared heater
"I needed a small space heater for my family room and I really like this one," one reviewer writes, describing it as "attractive and inconspicuous when not in use and works well for my needs." Dozens of other reviewers also praise this heater for its compact size. "It is the first compact one I've seen but still does the job of the full sizes I've had before, does a great job heating a large area actually," one writes. Another reviewer who lives in a house that's "100+ years with original windows" attests, "This little heater works great." Many others also appreciate this heater's built-in safety features. "We have two dogs, so we have the security with this heater that they won't get burned if they bump into it," one reviewer writes. Another who uses this in their daughter's room thinks, "The auto shut-off is a great feature."
Best infrared heater with thermostat
The built-in thermostat on this Heat Storm infrared heater has a lot of fans, as does this heater's compact design and relatively quiet operation. "It's difficult to find a heater with a built in thermostat," says one reviewer, adding that this heater "has it all." They continue, "It is efficient. It keeps us very warm and it regulates beautifully. This far I am more than satisfied." Plus, as one reviewer explains, "The thermostat allows it to shut off when it's reached the desired temperature so that it doesn't run continually." Another adds, "There is no odor, noise is appropriate (not too loud), and it simply works just like a standard thermostat-regulated heater (not a space heater that requires constant manual fine-tuning on an arbitrary dial)." A repeat customer keeps coming back to this "excellent heater" because it is "safe, quiet, lightweight, and does a great job of heating the room."