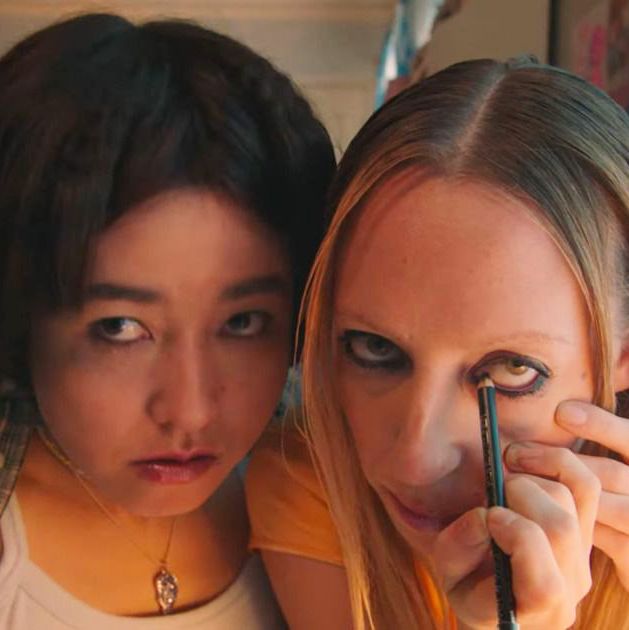 Teens today have more access to makeup than ever before. Instead of counting themselves lucky if their local mall has a M.A.C store, the internet, Instagram, and TikTok make it easy for them to shop new makeup brands as soon as they launch. Not only that, but celebrity beauty influencers model how to apply the newest brow gel, eyeliner, or creamy blush for free in detailed ASMR-y videos. Despite all that access, however, buying the best stuff for your particular face isn't any easier. With so much to choose from, it can be hard to find makeup that works well for your skin type, is easy to apply, and will help keep your skin healthy and young for years to come.
Dermatologist Lian Mack thinks less is more when it comes to teen makeup. We all talk about how teenage skin is prone to breakouts, but it comes with a major advantage, too: It's also "supple, full of collagen, and wrinkle free," Mack says, recommending that teens look for makeup that enhances their skin rather than hiding it. For avoiding and dealing with those breakouts and other skin reactions, she has a few guidelines, including always washing off makeup before bed, using makeup brushes instead of your fingers, and not sharing makeup with friends. In addition, she advises against using products with phthalates, parabens, and triclosan, as they have been known to interfere with hormones and have been linked to harmful side effects.
To find the best makeup for teens, we spoke to seven experts, including makeup artists, dermatologists, and Strategist beauty columnist Rio Viera-Newton. Whether you're shopping for yourself or the teen in your life, the list below is sure to make the search a little easier (and it excludes any products with the ingredients Mack warns about).
Tinted moisturizer
Dermatologist Lily Talakoub says that thick, heavy foundations with full coverage are not good for teen skin, and the makeup artists we spoke to agreed with her, recommending tinted moisturizers instead. Makeup artist Janice Kinjo loves this tinted moisturizer from Bare Minerals because the skin is still visible underneath. She says it's great for subtle coverage and making skin look glowy and flawless. This one is a clean-beauty option, meaning it is paraben free, gluten free, talc free, sulfate free, and vegan. Plus, it's oil free, which is great for teens with acne-prone skin types.
For teens with dry skin who aren't prone to breakouts, this super-sheer tinted moisturizer is a great option. It comes recommended by makeup artist Risa Miyamoto, who says using it gives you subtle coverage and a dewy glow without the need for a highlighter. Both Miyamoto and Kinjo agree that dewy skin is one of the biggest trends among teens (and adults) right now. On top of giving you a glow, this tint is silicone free and moisturizes with natural grapeseed, avocado, mandarin, jojoba, and olive oils. It also protects skin from UV rays with coral-reef-safe broad-spectrum SPF 30 sunscreen.
Not all teens are looking for subtle or sheer coverage, however. Viera-Newton tells us that when she was a teenager, she was actually looking for the opposite: "I was always on the lookout for something that could effectively cover my cystic and hormonal spots without making my acne worse or looking super-thick and cakey," she says. For that type of acne-prone teen skin, she recommends Ilia Super Serum Skin Tint. It gives light to "mediumish" coverage that "takes the edge off of redness or hyperpigmentation while still allowing skin to look like skin," she says. Plus, it gives you a really nice, dewy finish, and it's packed with lots of great-for-your-skin ingredients like hyaluronic acid and squalane for hydration and niacinamide for evening out your skin tone and smoothing texture. And, of course, there's SPF to keep young skin looking young.
Concealer
Teenage skin is chaotic — sometimes clear and perfect in one place and fully broken out an inch away. So we asked our experts to recommend a few great concealers for everything from hormonal acne to dark circles. This concealer, recommended by Kinjo, is transfer-resistant, so it won't come off on your mask. "Hormonal skin is tricky, but a little bit of love from this concealer can mask redness and hyperpigmentation, and keep pimples from standing out," she says, noting that because it's made for all-day wear, this product is low-maintenance and won't need any touch-ups throughout the day.
Miyamoto loves this concealer from the clean-beauty brand Kosas because it's cruelty free, paraben free, aluminum free, and talc free. She also loves that it's creamy, which she says makes it more forgiving and easier for teens to apply than a stick-style concealer. It comes in 28 different skin tones.
Another concealer that lasts all day long and has a creamy texture is Tarte's Shape Tape Concealer. Makeup artist Sean Grant loves that it gives you full coverage and can be used to highlight, contour, and conceal. "Its lightweight formula allows for buildable application from sheer to heavy coverage, and it comes in 35 shades," he says. It's also packed with natural ingredients like shea butter, ginseng, prickly pear, and hyaluronic acid to improve skin's texture and tone as you wear it.
Mascara
Photo: retailer
"Mascara is an easy way to add a little definition to the eyes," says makeup artist Hannah Biddle. Her favorite product for avoiding clumpy lashes or smudged raccoon eyes from sweat or tears is Benefit's Roller Lash Mascara. The secret is in the brush that combs through the lashes, separating, defining, and curling as it goes.