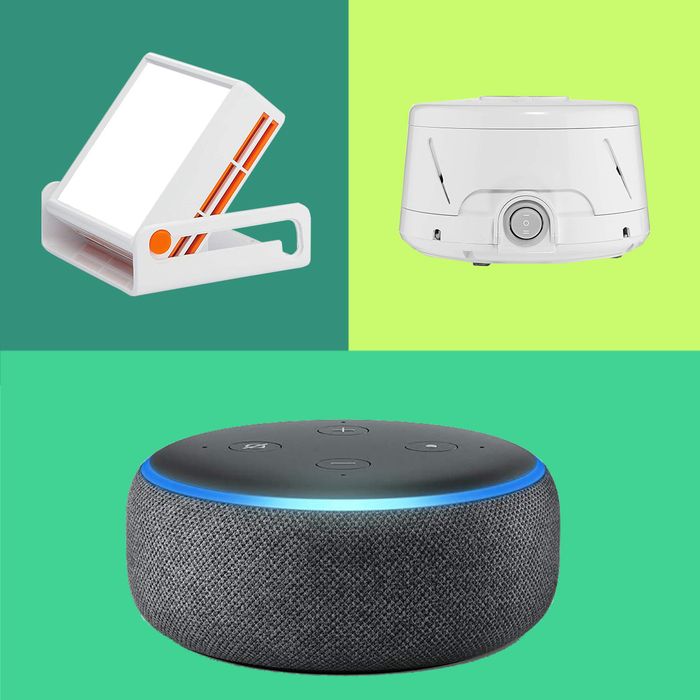 Photo-Illustration: Retailers
Most people associate the best tech gifts with the highest price tags. But there are plenty of great tech-gift ideas that won't decimate your budget and can still improve your life. Whether you are shopping for a self-described nerd or just a casual tech user, you don't have to spend a lot to find functional accessories for their new iPhone, gadgets that'll make their home a little smarter, or streaming devices that can give them access to hundreds of shows and movies. To help you find the perfect (affordable) tech gift, we put together the below list of 22 of the gadgets and gizmos that we think most anyone will be delighted to unwrap — and use, because the worst thing about a tech gift is when it sits in a corner collecting dust. All are under $50 and available on Amazon, but we found some of them elsewhere, too, for those who like to shop around.
If they're constantly losing their keys or misplacing their wallet, the Tile Sticker will be a revelation. The Bluetooth tracker is about the size of a nickel and will stick to nearly anything they care about. So the next time they misplace whatever it is, instead of starting a frantic search, all they have to do is open the Tile app to find it.
Apple purists may prefer the brand's AirTag, which works similarly to the Tile Sticker, but has the added benefit of a tiny built-in speaker that can make sounds when they're trying to find their keys or phone. While it works best with Apple gadgets, this can be used with stuff from other brands, too.
If you're shopping for someone who spends a little too much time staring at screens, pick them up a pair of these blue-light-blocking glasses. (While doctors have told us that such glasses may not do much for digital eyestrain, we've heard from plenty of folks who wear them at computers and claim they do.) These may not be the most stylish, but they are Strategist best sellers.
If your recipient would prefer blue-light-blocking glasses that have magnification (and a little more style), these tortoiseshell frames are a nice option.
Smartphone games are great, but there's something endearing about an old-school Tamagotchi. Especially for a kid at heart.
Carrying a lightweight and compact portable charger while on the go takes at least one stress out of someone's day — especially that friend whose battery always seems to be at 4 percent.
If they're obsessed with the Nintendo Switch, get them a memory card with more storage. With this, they can buy games online and have access to their entire gaming library without having to swap cartridges.
These dimmable LED light bulbs are both energy efficient and actually look really good (and are a nice home upgrade if for anyone who is trying to be more ecofriendly).
If they're into mood lighting, this LED light bulb can be tuned to any color of the rainbow using the accompanying smartphone app.
New York Magazine deputy editor Alexis Swerdloff's favorite white-noise machine isn't the most high-tech thing in the world — just the most effective.
Photo: retailer
Here's a nifty gadget for anyone whose phone is full of photos they've yet to back up. As Strategist contributor Chris Schalkx explains, the Qubii "has a USB plug on one side and a USB socket on the other, plus a slot for a MicroSD memory card. To back up my photos, all I had to do was sandwich the Qubii between my iPhone's wall-outlet adapter and power cord and plug it in to my phone." (The model shown is only compatible with iPhones and doesn't come with a MicroSD card, but you can get Android-compatible versions and Qubiis that come with memory cards if you're willing to spend a bit more than $50.)
The Speck case has a simple design, a sleek matte finish, and a dual-layer construction that's purported to be better at absorbing damage. It also has a raised bezel around the edge of the screen that should help prevent scratches.
If you're shopping for someone who keeps their phone in a pants pocket, you might need something even slimmer. This iPhone case doesn't add any unnecessary bulk but still protects the phone from scratches and scuffs.