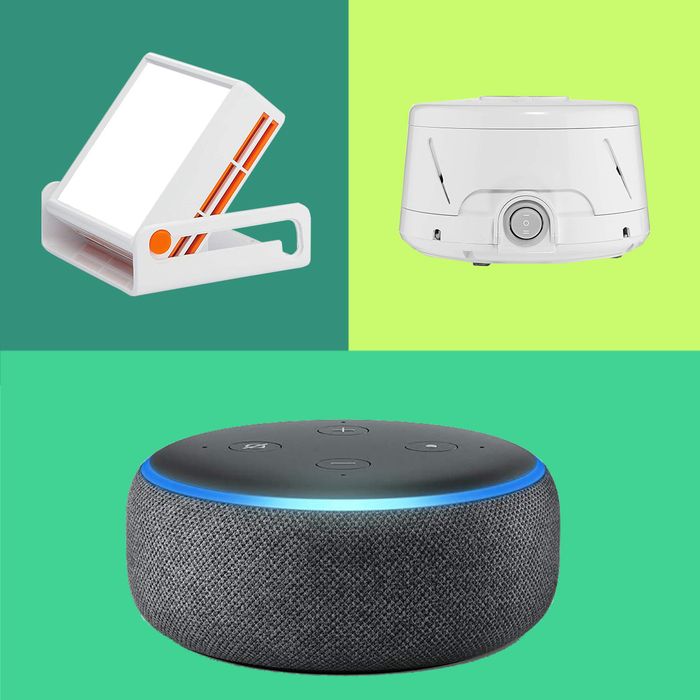 Photo-Illustration: Retailers
Most people associate the best tech gifts with the highest price tags. But there are plenty of great tech-gift ideas that won't decimate your budget and can still improve the life of any mom, whether she's the most serious nerd or just a casual tech user — like accessories for her new iPhone, gadgets that'll turn a regular home into a smart one, streaming devices that can give you access to hundreds of shows and movies, and even an Alexa-enabled singing fish. To make your Mother's Day hunt for tech gifts a little easier, we found 24 of the best gadgets and gizmos to bring a little joy to your mom this Mother's Day. They're all under $50 and in stock. While all of the things on this list are available on Amazon, we've found many of them elsewhere, too, for those who like to shop around.
If your mom is constantly losing her keys or misplacing her wallet, the Tile Sticker is a simple Bluetooth tracker, about the size of a nickel, that will stick to nearly anything she cares about. The next time she loses something with a Tile Sticker, instead of starting a frantic search, all she has to do is open the app.
This hand-crank radio has a built in flashlight and a phone charger, making it ideal for camping or in case of weather emergencies (or for peace of mind during a worldwide pandemic). If you crank the hand turbine for 60 seconds it can power the radio for up to 20 minutes — or just let it charge out in the sun with its built-in solar panel. Plus, it's approved by the American Red Cross.
If she'd prefer blue-light-blocking glasses that have magnification (and a little more style), these tortoiseshell frames are a nice option.
Smartphone games are great, but there's something endearing about an old-school Tamagotchi. Especially for a mom who's still a kid at heart.
Carrying a lightweight and compact portable charger while on the go takes at least one great stress out of her day. (Or at least it will once she's allowed to leave the house again.) It's especially useful for moms whose batteries always seem to be at 4 percent.
If your mom is obsessed with her Nintendo Switch, get her a memory card. That way she can buy games online and have access to her entire gaming library without having to swap gaming cartridges.
These dimmable LED light bulbs are both energy efficient and actually look really good (and are a nice home upgrade if mom's trying to be more ecofriendly this year).
If she's really into mood lighting (better not to ask) or needs to feel like she's on the set of a music video (definitely ask), this LED light bulb can be tuned to any color of the rainbow using the accompanying smartphone app.
Nearly 35,000 reviews on Amazon (verified purchases, mind you) will tell you how floored people are by the quality of these very affordable wireless headphones.