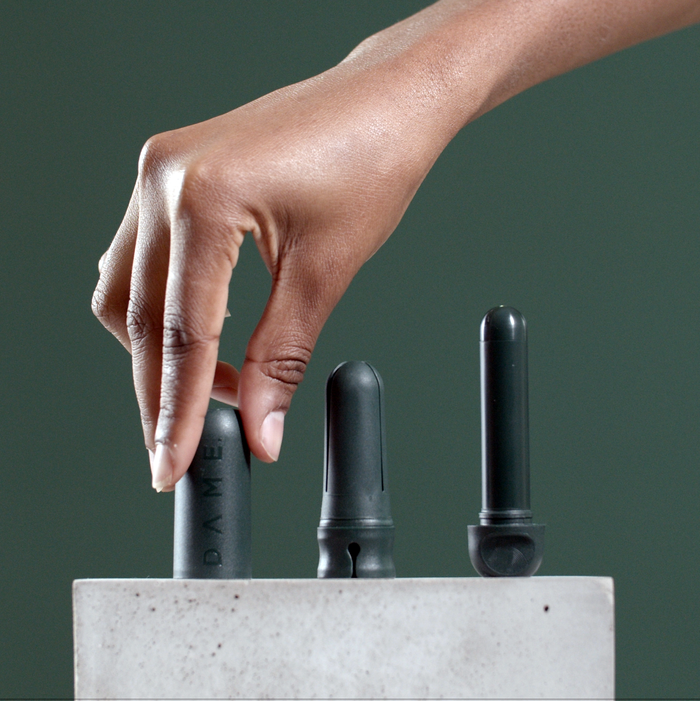 After however many months spent indoors with three roommates and one 13-gallon trash can, my big resolution this year was to cut back on waste. I've since eliminated a considerable amount of single-use plastic from my shopping list, but I was hesitant to take a closer look at one monthly purchase in particular: my tampons. I've always been partial to plastic-applicator tampons — they're comfortable and quick to insert, and they're easy to repackage for discreet disposal. The drawback, however, is the waste, which includes not only the tampon itself, but the single-use plastic applicator and its accompanying plastic wrapping — all of which, when dumped into a landfill, can take hundreds (if not thousands) of years to biodegrade.
It's no secret that menstrual products aren't exactly sustainable. A single menstruator will use anywhere from 5 to 15 thousand pads and tampons — that's 138 thirty-six-count boxes, on the low end — by the time they hit menopause, which amounts to a lot of single-use plastic. Part of the problem is that there are few enticing (yet still sustainable) alternatives. I'd tried the most sustainable option, menstrual cups, in the past, but I could never manage to insert the cup comfortably, let alone get it to stay in the correct spot. (It doesn't help that I have a pelvic-floor disorder, which makes insertion even trickier.) I then moved onto cardboard-applicator tampons, which, while better for the environment, were painful to insert, and still created needless waste. And the idea of sitting in my own blood in a pair of period underwear — beloved by some — sounded more like a punishment than a solution. The final and most appealing option was a reusable tampon applicator, which combines the comfort of plastic-applicator tampons with the waste footprint of those without. Although it's still not as sustainable as a menstrual cup, it does cut back considerably on plastic waste, and it's the easiest to use for those with pelvic pain.
Unlike menstrual cups, reusable tampon applicators are hard to come by. There are only two — one from Thinx and this one from DAME. While their materials and price points differ, both models use the same technology as a traditional applicator: Remove the cap, pull out the plunger, load the tampon, replace the plunger, and insert. I tested out both models, but it was DAME.'s that convinced me to make the switch. The applicator is made from medical-grade plastic, which — critically — has a smooth, semi-gloss finish, much like the plastic-applicator tampons I'd been using. (Thinx's model is made from silicone, which I found to be far less slick.) The plastic is also woven with so-called Sanipolymer fibers, a safe, naturally sterilizing plastic that's nontoxic and non-leaching, and exceptionally easy to keep clean. And despite its slightly larger size, it's just as comfortable as a traditional applicator and can be used with tampons of all brands and absorbencies. The first couple of insertions may require a bit of fumbling to ensure that the tampon is properly released (use the removable plunger to your advantage), but after one or two tries, I found it to be just as easy as a traditional applicator.
I was at first skeptical about the cleanup, but DAME.'s applicator has always rinsed clean, and dries quickly — even when capped. It doesn't seem to hold any smells, either (you're welcome for checking), which I credit to its self-sanitizing plastic and breathable design. And while some may not be too keen on washing a tampon applicator in a public restroom, who cares? I've rinsed my used applicator in the bathrooms of both JFK and T.J. Maxx, and I've yet to receive a dirty look. (But for the truly apprehensive, a quick swipe with toilet paper will more than do the temporary trick.)
I've used DAME.'s applicator for two periods now (that's 30 fewer plastic applicators in a landfill, thank you very much) and I don't see myself ever going back. While I do like the brand's own organic cotton tampons, I've been using o.b.'s that I buy in bulk. They're much cheaper than organic cotton, plastic-applicator tampons from other brands, and they're just as absorbent. According to DAME., the applicator can be used up to 12,000 times, which should last the average person until menopause. It's available to buy on its own, but I recommend getting the whole set, which includes a cotton carrying pouch and a metal storage tin. The tin fits the applicator, pouch, and around 40 applicator-less tampons, and since it's waterproof, you'll never have to worry about leaks or spills. If you're going to have something until your 40s, you may as well go all in.
The Strategist is designed to surface the most useful, expert recommendations for things to buy across the vast e-commerce landscape. Some of our latest conquests include the best acne treatments, rolling luggage, pillows for side sleepers, natural anxiety remedies, and bath towels. We update links when possible, but note that deals can expire and all prices are subject to change.