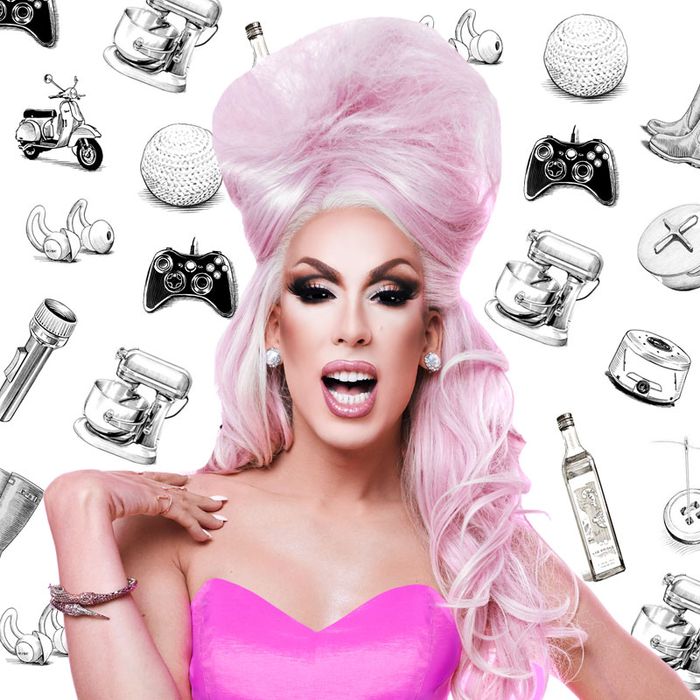 Photo-Illustration: The Strategist; Photo: Magnus Hastings
If you're like us, you've probably wondered what famous people add to their carts. Not the JAR brooch and Louis XV chair but the hair spray and the electric toothbrush. We asked drag queen Alaska Thunderfuck, who just released a memoir called My Name's Yours, What's Alaska?, about the water bottle she stole from her mom, her no-makeup-makeup tinted moisturizer, and the mascara-like brow product she actually sleeps in.
I went to Pittsburgh to visit my drag sister Lola, and she said, "You've got to try this new tea I got. You're going to love it." I'm sort of a tea freak and really set in my ways. I have my routine with specific tea I always get. So I was super-skeptical, but I tried it. I immediately ordered some online after basically one sip, and now I have it every day. It's Earl Grey crème or cream — Teavana says crème to be fancy, but I say cream because I'm not — and it doesn't even need honey or anything else in it because it has cream infused into the tea. It's fabulous and luxurious. It comes in a tea bag that looks almost like silk. I've tried the brand before because it's what they sell in Starbucks, and they do a really good job with tea.
This isn't even a drag product for me. It's a day-to-day product. I did this out-of-drag photo shoot once, which happens sometimes, and when I showed up, they said, "Okay, we're going to do your makeup now." And I was like, "Whoa, makeup out of drag? What is this?" They ended up doing some wild witchcraft to my brows, and I looked so great in the photos. I asked what the product was immediately. It's this mascara-like product for your brows. It thickens your brows and makes them more even. Now, I will never be seen without this product on my eyebrows. It lasts the whole day, and I even sleep in it.
This is another everyday product for me. When I'm out of drag, sometimes I have to be on-camera or on social media or just in the world, and this just makes me look a little fresher. It has almost translucent coverage — it doesn't look like I'm wearing makeup, but it evens out my skin tone and counteracts any redness, especially under my eyes. But because it's such a light product, it doesn't make my skin break out.
This is my general body wash. I love that they infuse it with natural scents. It's really invigorating and soothing and does the job. You can clean your body with it. You can clean your car with it. You can clean almost everything with it. The bottle is also covered in these mini-articles about really interesting studies. The brand puts out a really great product, but they also have a really strong point of view, which I love in a brand. It's definitely not strong enough to take off drag makeup, but it's a good everyday wash.
I use Albolene to take off my drag makeup. It's a petroleum-based oil that breaks up the makeup, then I scrape it away with paper towels. If I'm in a hotel and don't have paper towels, I ruin one of their really nice white towels instead. It does the job, but I don't lose moisture in my skin. I know a lot of people use Dawn detergent to get it off or other just really insane things, but that stuff scares me. Thinking about putting Dawn on my face makes my face hurt. Albolene as a makeup remover came down from the mountain of drag wisdom that is Chad Michaels, who is the No. 1 Cher impersonator in the world. If anyone knows makeup and drag, it's definitely Chad Michaels. She swears by this product, and as soon as I got into it, I never looked back.
I use this for smoothies after I work out. And honestly, the only reason I work out is so that I can have a smoothie after. This makes everything easier because I can clean it quickly, and it's the perfect size. Then you can drink it right out of the smoothie cup. You don't have to pour it into another cup that you would also have to clean.
I exist because of sparkling water. I love La Croix so much because their flavors are so nuanced, but they still have all the classics, like you can get a lime or a lemon, or you can get really wild. I've been having this black-raspberry flavor lately. It gets me together. It's a little bit more exciting than just plain old water, but there's not the calories of soda. It should be illegal because of how good it is. I've tried other brands, but nothing is as good as La Croix. They do some magic over that with the flavor.