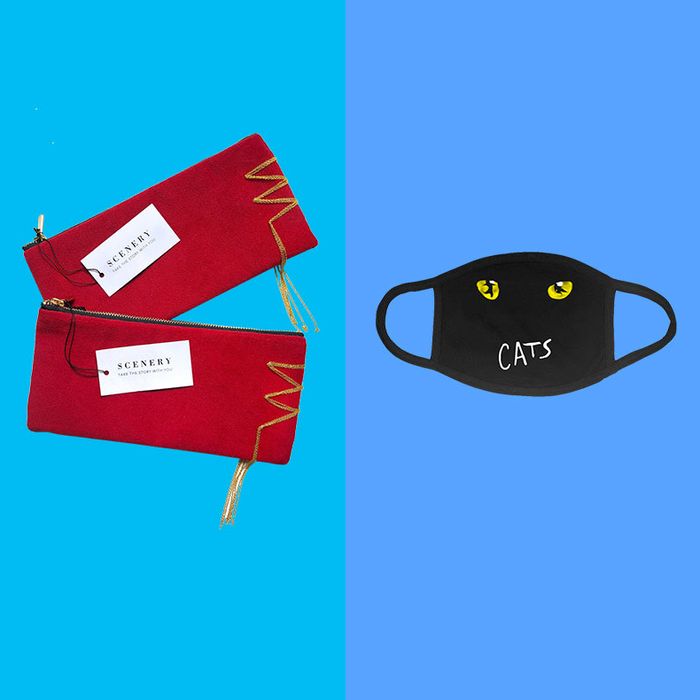 While many folks have found new ways to safely enjoy old hobbies in our new era of social distancing, there are a few pastimes that are still hard — if not near impossible — to indulge in. Live theater, of course, is one of them, and even the most optimistic of timelines may not allow Broadway-lovers to return to their seats for the better part of a year. Since theatergoers will likely need an even bigger dose of holiday cheer this year, we decided to ask seven Broadway experts — from podcast hosts to critics to producers to dancers — for their thoughts on the best gifts to delight people like themselves. From subscriptions, to services that stream Broadway productions, to zipper pouches made from the Kinky Boots curtains, to a cult-favorite pair of dancing shoes, any of their 21 recommendations below will surely be met with applause from the theater-lover in your life.
Music and books
Perhaps the easiest way to bring a bit of Broadway to a theater-lover's home is through song, which is why we were not too surprised to hear five of our experts mention cast recordings as worthy gifts, whether you stick one in a stocking or wrap it up in a bow. Three of those five, including theater and culture journalist Diep Tran, specifically recommend this new holiday album from the cast of smash hit Hadestown, which Tran notes was recorded "while they've been stuck at home." The album, she adds, "features holiday favorites and original songs from Hadestown composer, Anaïs Mitchell, and the gorgeous three-part harmonies of Yvette Gonzalez-Nacer, Kay Trinidad, and Jewelle Blackman, the trio that leads Orpheus and Eurydice down to the underworld in the show." Writer Ashley Steves also says this album would make for a great gift, calling it a "lush, hypnotic, and serotonin-inducing take on both classics and new songs." Its third fan, Matthew Wexler, a culture writer and the lead editor of the Broadway Blog, adds that his favorite part is "the signature sound of the band's trombonist, Brian Drye."
Next to music, "I don't think you can ever go wrong with a coffee-table book," says Steves, "even if, like me, your recipient doesn't have a coffee table." Working on a Song, she explains, takes readers inside the lyrics of Hadestown, offering a "behind-the-scenes look at the work that goes into the show." Steves owns a copy and says, "I always find joy going through it."
For a look at the work that went into more than one show, playwright and theater critic Marcus Scott recommends this book that he calls "an oral history of one of America's greatest theatrical institutions, as told by its legendary founder, Joe Papp, his contemporaries, and the stars that shined on its various stages." Whether they've been to the Public Theater or not, Scott says this book is a "must-have for any lover of theater made in the last half-century."
According to theater critic and journalist Nicole Serratore, this album will delight more than just kids. As Serratore tells it, she "walked into this Broadway musical a skeptic and came out a Bikini Bottom evangelist." The production, she says, is a "smart, radical, inclusive show about community, friendship, environmental disaster, and immigration that manages to be both progressively political and joyful." The cast recording of its songs, she adds, is the perfect thing to put on "whenever I need a pick-me-up."
Scott told us about this historical book that takes a closer look at the Black people who have shaped the culture of Broadway — and American entertainment in general — over the centuries. He explains that "since 1866, out of 11,328 plays and musicals produced on Broadway, only 21 have been staged by Black directors." While that is a startlingly low percentage, Scott says that Black entertainers have had a "gargantuan influence on Americana," and this book "penned by one of the biggest theater producers on both sides of the Atlantic chronicles virtually 140 years of Black entertainment."
For a cast recording your recipient might not be as familiar with, Serratore suggests this album featuring the music from Michael R. Jackson's "bold, bittersweet, Pulitzer Prize–winning Off Broadway musical," A Strange Loop. The record features the "heart-swelling score and 'Oh, he went there' lyrics" from a play that she says "addresses the white gay gaze, Grindr, Tyler Perry, Liz Phair, and the ardent longing of a fat Black gay man looking for sex, love, and affection."
Broadway dancer Beth Nicely (who is also Jennifer Garner's personal trainer) told us about this book that offers a more entertaining way to brush up on Broadway history. It's "a fun way to learn about the numerous shows and people that have graced the Great White Way," she says, which in turn will make recipients feel even more like they're a "part of Broadway."
Scott recommends gifting this original cast recording to any musical fans who also love rock music. "If Hair is the Magna Carta of rock musicals, then Passing Strange is the Declaration of Independence," he says. "A synthesis of blues, rock and roll, gospel, punk, jazz, and psychedelic soul, the music lambasts the Tin Pan Alley sound while tipping its hat to Black music, Black culture, and Black storytelling traditions."
This subscription, according to Scott, would be great for aspiring playwrights or anyone who enjoys reading plays as much as watching them. The service, he explains, sends recipients "a box of seven plays, four times a year," for $36 a shipment. Scott describes the mix of selections as "popular, obscure, and in between," calling the service a "gold mine for theatergoers and scholars alike."
Virtual gifts
For those theater-lovers who want gifts that will bring them even closer to the entertainers and productions they love, our experts recommend a number of virtual gifts that bring the best parts of Broadway out of the theater and into your home. One such gift is a MasterClass subscription, which Scott calls a "no-holds-barred symposium for dreamers and working actors alike" because of its "classes from award-winning artists like Samuel L. Jackson, Helen Mirren, Aaron Sorkin, and Natalie Portman" (many of which we've written about before). While an annual subscription is not cheap, it does offer access to all of the platform's more than 90 courses (which offer lessons on cooking, how to build a better wardrobe, and more) — and, for a limited time, comes with a free second subscription that you could gift to yourself or anyone else who might be interested in the courses.
According to theater producer Robert Diamond, the founder of BroadwayWorld, a subscription to streaming service BroadwayHD would be a gift that does good, too, because the company is "putting money back into the hands of artists and theaters." (As for how it puts money back into those hands, the service's owners reportedly compensate show creators for letting them film their productions.) The platform, which costs $9 per month, has a Netflix-like interface and viewing experience and currently counts shows like Driving Miss Daisy, Les Misérables, Cats, and Oklahoma! among its more than five dozen options to stream.
"Just because the lights of Broadway are dark does not mean that American theater is in hibernation," Tran reminds us. "The Geffen Playhouse did an interactive magic show, and the Oregon Shakespeare Festival just did a livestreamed concert with Laura Benanti." That's why she suggests "buying a ticket or even a subscription membership to a favorite theater" because such gifts can not only grant access to live events being staged while Broadway has gone dark, but they also help theaters keep their virtual (and physical) doors open. If you're not sure where to start with such a gift, may we suggest this membership to the Public Theater, where Hamilton premiered: The flat annual fee of $100 grants a recipient access to "a wide variety of streaming content as well as Public artists and staff in conversation," according to the company.
If your theater-lover already has ways to watch their preferred form of entertainment, Scott says they might appreciate a membership to the Criterion Channel for some variety in their programming. For $11 per month, the cult streaming service grants access to a library of critically acclaimed films from the 1930s to today. Describing it as "an inventory of the greatest works of cinema," Scott says that "lovers of footlights and greasepaint can basically earn an M.F.A. in storytelling and stagecraft" with a Criterion Channel membership.
Steves says this unique wine-subscription service sits "at the intersection of food and theater." Basically a way for theater-lovers to grab a drink with some of their favorite stars, the