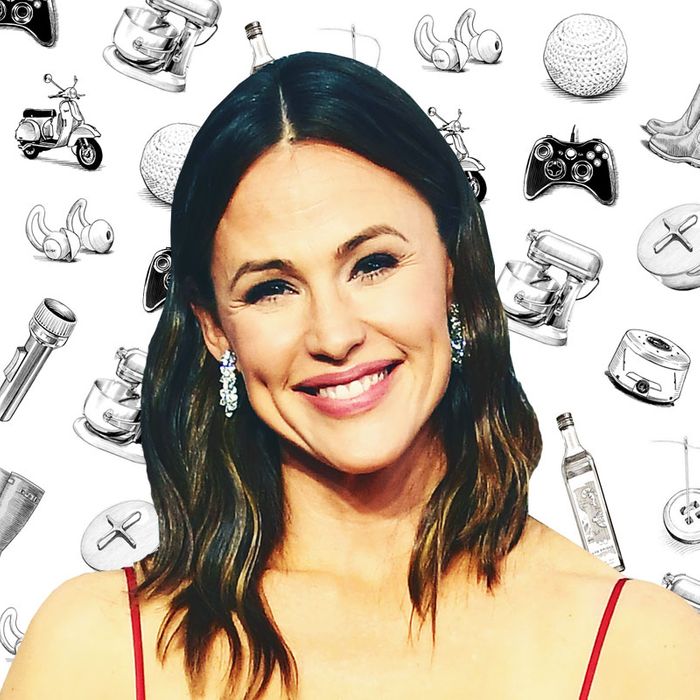 Illustration: Joe McKendry, Photo: Steve Granitz/WireImage/Getty Images
If you're like us, you've probably wondered what famous people add to their carts. Not the JAR brooch and Louis XV chair but the hair spray and the electric toothbrush. We asked actress Jennifer Garner — the co-founder of organic-food company Once Upon a Farm, who recently partnered with hair-care brand Virtue Labs — about the online classes, notebook, and cookbooks she can't live without.
Photo: retailer
I'm someone who takes notes on every phone call, every Zoom, every meeting. People will say, "We're going to give you a handout," but I tell them if I don't take notes, I'm not listening. I get so panicked at the idea of not having a pen with me. If you look in my bag when I'm really busy, there are about ten in there. I like the drag and friction of felt tip on paper more than I like a rollerball. Some felt-tip pens are more like little markers, though, and they will bleed through. You cannot live life with a pen that's going to bleed to the other side. The great thing about the Paper Mate Flair pens is that, while they have a bold pigment — you never mistake what you've written — it never bleeds to the other page.
Photo: retailer
I first bought this notebook with gridded pages years ago — by accident. But I loved it because you can write notes up and down and then you can turn the page sideways and still take notes. It's very versatile. My current one only has another week or two left in it; I started using it in September. Sometimes I cheat and have a love affair and start another notebook, but I always come back to this one eventually. My next one is already on the way, with a monogram.
Photo: retailer
My hair goes up and down anywhere from three times an hour to three times a day. Even if I already have one of these in my hair, I need one on my wrist for a girlfriend or my daughters. That's just being a strong woman: You always have a hair tie for a friend. And when you give it to them, you want to tell them why Smoothies are the best. They have no metal in them, so they don't break your hair, and they have just the right amount of give. They're not so tight that they're going to pull the hair out of your head, but they're tight enough that you can have a great workout without having to redo your hair in the middle of it. I don't feel complete without one.
Photo: retailer
At the beginning of quarantine, the women who work with me were sheltering in place with me. I was doing "Save With Stories" for Save the Children, so my assistant–social-media manager–right-hand friend and I were working around the clock on that. My kids' nanny was also here, because I have three kids and we were trying to keep the world running. So I called one of my favorite trainers, Beth Nicely, and asked her to train us all together. She's a Broadway star, a former Rockette, and runs marathons. She was training all kinds of people — people who wouldn't necessarily want me to say their name here. Now she does all these online classes, including dance parties on Saturdays, which have raised tens of thousands of dollars for various charities. They're just amazing. She's like sunlight over your Zoom.
Photo: retailer
I've used this Peony blush as long as it's been out. I don't know if it's been all of 20 years, but it feels close to that. I love it because you're never going to put it on and look like a clown. It also layers up really nicely. You can use it to give some color to the apples of your cheeks, your lips, your eyelids, wherever. It's perfect in that way. I don't wear much makeup; I probably replace it twice a year.
I've been using these forever. It's another great option for putting your hair up. I can use it to make a bun easily if I'm going out, and it looks like I've done something when I have not. It's pretty and sturdy, legitimately just a great hairpin. I have two gold ones and one white one.
If I'm going on location with my kids, I will always take a couple of cookbooks. One of them is always a Barefoot Contessa cookbook. Modern Comfort Food recently came out, and in the last couple of days, I've made several things from it already. The waffle-iron hash browns — delicious. An incredible new chocolate-chip-cookie recipe. The bittersweet cake. Emily Blunt shares a roasted English potato recipe that's delicious. I have 12 of her cookbooks — I just counted — including duplicates of a lot of them. Family Style has our favorite mac and cheese; Barefoot at Home has our favorite breads; Barefoot Parties! has our favorite vanilla ice cream. The thing about Ina is she taught us all how to cook. Her recipes are so accessible; they taste exactly how you want home cooking to taste. I don't know how many hundreds of times I've made her roast chicken, but it's the exact perfect roast chicken that every woman in America makes. Ina does it in a way that makes you feel included, smart, and capable.