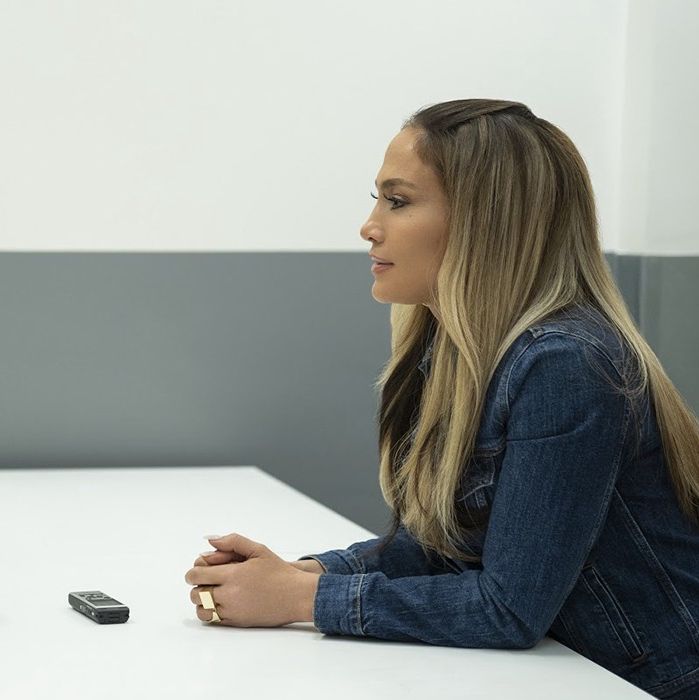 Photo: Gloria Sanchez Productions, Nuyorican Productions, Annapurna Pictures
Hustlers, the movie based on Jessica Pressler's 2015 New York Magazine story "The Hustlers at Scores," came out last week. Yes, the action centers on a ring of scamming strippers, but the film is also about the reporting of Pressler's story itself — and, like all great journalism-inspired movies, the recorder used by "reporter" Elizabeth (a.k.a. actress Julia Stiles a.k.a. Pressler) features prominently on screen. There are scenes where Elizabeth interviews strippers Destiny and Ramona, played by Constance Wu and Jennifer Lopez, and the camera zooms in on the recorder — a tell-tale sign that the interviews are serious. And although our attention was laser focused on the dancers' every word about drugging and fleecing their Wall Street clientele, in true Strategist spirit, we couldn't stop thinking about another detail: What recorder, exactly, was Elizabeth using? To find out, we called up Matthew Milstein, prop master for Hustlers, to ask about the recorder and how it came to be used in the film. Read on for the model he chose — and for three other recorders that some of our New York colleagues (including Pressler) swear by.
The one used in the movie (and by no less than four New York writers)
Milstein told us that his hunt for the just-right recorder began with reading reviews of recorders from 2013 and 2014, when Elizabeth/Stiles/Pressler would have been reporting the New York article. The reviews pointed the props team to the Olympus WS-852 Silver, which, though new around 2013–14, was still available on Amazon during filming. "I think it was reviewed on one of those CNET sites, or one of those tech review sites," Milstein says. "I showed the director, Lorene Scafaria, a couple different options, and we all decided we liked the look of the Olympus. It still had a bit of a vintage look, with a really nice screen. And it was easily controllable production-wise; we were able to repeat resetting it pretty easy, and it was easy for Julia to use during the filming."
When asked if Milstein and the props team consulted with any reporters before putting the WS-852 in the film, he says that they didn't, but that he would have liked to. "I think if the whole story had been based around the reporter, we probably would have had more time with sourcing and talking to actual reporters, but we were more based around the girls and the Wall Street guys," he explains. Still, "it ended up being a very important prop," he says. While the props team didn't talk to reporters about the recorder, an inquiry around the New York office about what recorders reporters use proved that Milstein and his team were spot on. While most writers here have switched over to using their iPhones, New York contributor and Tabloid: The Making of Ivanka Trump host Vanessa Grigoriadis told us that she uses the WS-852, as do Strategist senior writer Karen Adelson and I. Strategist writer Dominique Pariso just ordered one, too.
Of her go-to (and now celebrity) recorder, Grigoriadis says she's had hers "forever" and that what she likes best about it is that it's "small — and you push and it records."
Three other recorders used around the New York office
Jessica Pressler, staff writer, New York
I have been using Voice Memos for like ten years, even though I know better. It's just that it's … right there. Its unobtrusive, and the sound quality is good enough, and you can airdrop the files to yourself really easily. And apparently I like to live on the edge, because it has seriously screwed me over a couple of times, notably when I was doing a story on Anna Kendrick. We had such a good time! We went out, we had cocktails, we got stuck in traffic forever, we talked about everything. I felt like I really got to know her. And then the next day I went to opened the file and I saw Voice Memos visibly eat it. It was just gone. I had to call Anna Kendrick's reps and be like, "Um can she repeat some of these thoughtful and intimate things that she said?" And they were like, "Hm, no." Now I try to bring a backup. A while ago I asked former New York Mag writer and current New York Times tech columnist Kevin Roose what he used, because he seemed like he would be on it, and he told me about the Livescribe Echo pen (which is a kind gizmo that records and syncs with your notebook). But it looks like a pen, so I lost it immediately, and it was expensive. So recently I ordered this Sony recorder that was on some list as being the best and it is in fact easy to use and also handy in places you can't bring phones, like jail. But still mostly I use Voice Memos. It's only once every few years that it really shits the bed, so I get lulled into a false sense of security.
Jackson McHenry, staff writer, Vulture
Because I'm a nervous person, I actually carry around three recording devices with me, just in case one fails and I need back up. Primarily, I use a Sony IC Recorder (the ICD-UX560 model), which has USB storage and also charges via its USB port. I bought it about three years ago once I started full-time at New York. It's a little expensive, but the audio quality's great, the interface is easy to navigate, and the playback on the recorder is pretty good in case you need to transcribe anything quickly. It also makes me look sleek and professional, which is nice. At one point I thought I'd lost that recorder (turned out it was just buried under a pile of magazines in my room, but anyway) and I bought the cheaper, AAA battery-powered Sony IC Recorder (the ICD-PX370) model, which has a little worse audio quality, but works as a reassuring back-up, and is also useful in situations where I need to charge the first recorder or forget to clear the storage on it (I once had it fill up while doing red-carpet interviews at the Tonys, which was stressful). As another back-up, I also tend to record interviews with the Voice Memos app on my iPhone, which I typically set down on the table next to a recorder during the interview. That just ensures I have backup in case one device fails, and also makes it seem like you mean business, which can sometimes relax a subject (or make them intimidated, which is also a mood you can work with).
Alex Jung, staff writer, Vulture
I use a Tascam DR-40 4-track audio recorder. I don't really know what any of those words mean, but I bought it on the recommendation of a filmmaker friend after another (smaller! cheaper!) recorder conked out on me during the middle of an interview sending me into a miniature spiral. It looks like a lot of recorder, but it's fairly easy to use and has always delivered clean, crisp audio even if someone is using their whisper voice. Usually it's a good conversation starter, and people will look at it and say things like, Oh, is that a taser? Are you going to electrocute me? Ha ha. Sometimes directors/below-the-line creatives will be impressed that I'm using such a hefty piece of equipment I definitely do not need. Most recently, I bought a little fuzzy windscreen for it that goes over the top like a beanie, giving it the effect of a soft rodent. I've had it for more than three years now, which is long enough that it has since been replaced by a newer model (the DR-40X, apparently), but it's still going strong.
Anthony Rotunno, senior editor, Strategist
I bought my Sony recorder back in 2013, so it's very much Hustlers-era, and was even reviewed by CNET. I remember starting a new job and in my first week I was asked to interview a chef. For whatever reason, I didn't want to use my iPhone (I don't remember their recorder function being as de rigueur at the time), so I went to B&H Photo on Ninth Avenue, where I picked up the Sony — which, according to B&H's website, has been discontinued, which is why there aren't tons available online anymore (and why some of the ones that are come at unusually high prices). The device is digital, but shows its age because it is battery-powered. To be honest, I don't think I've ever used all of its features, but when it comes to it's main function of recording, the thing has never failed me. It's got 2 GB of built-in memory, and in the six years I've had it, I've never reached that capacity (but I've deleted recordings off of it as they've become irrelevant). There's also a memory-card slot for even more storage if necessary. The recorder's microphone is quite powerful; in another past job, I regularly interviewed a lot of designers and artists at their often cavernous studios, and I really can't remember a time when I couldn't decipher anything while playing conversations back. For telephone interviews, I had to buy an accompanying earpiece that I plug into the recorder, and that never failed me either. Files can be downloaded to a computer via an included USB port. Sadly, I haven't really used the recorder a lot recently, but I still keep it on my desk, because I would not be where I am today without it.
The Strategist is designed to surface the most useful, expert recommendations for things to buy across the vast e-commerce landscape. Some of our latest conquests include the best acne treatments, rolling luggage, pillows for side sleepers, natural anxiety remedies, and bath towels. We update links when possible, but note that deals can expire and all prices are subject to change.