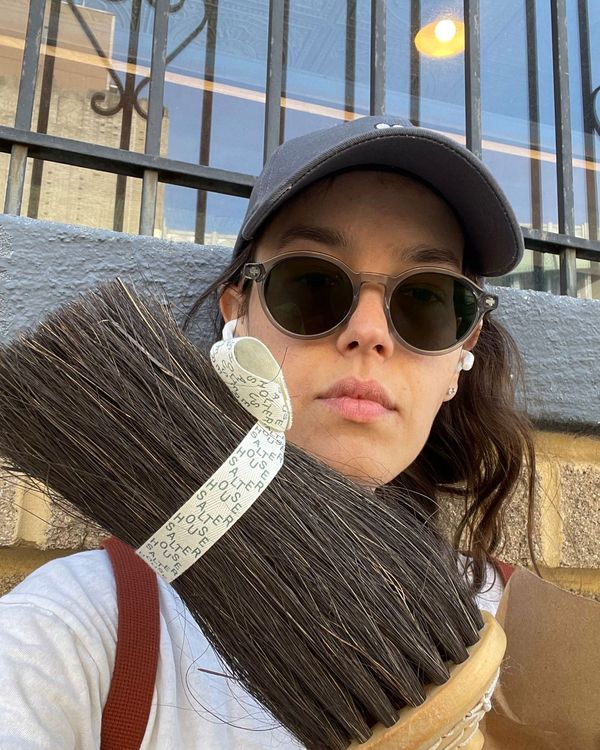 Now, I'll admit when I first saw the porch broom at Salter House—an elegantly mawkish shop of quilts, nighties, and the like in Brooklyn Heights—I thought it was kind of funny. How is this broom different from other brooms besides that it is $80? Standing less than two feet tall with a cylindrical brush and a straight handle, it looks as if it were made for a tiny witch. As a sweeping enthusiast, and the owner of brooms of tall and short height, I wanted to see how this strange tool could perform against its cousins. So I bought it.
Day 1
I don't have a porch, but I figure that porch broom might be just a term of art. To use it requires you to bend over like Kate McKinnon in those Verizon ads, but when I first swipe it across my hallway floor, I am filled with delight: What a smooth sweep with the élan of an ice dancer.
But the broom's function doesn't seem to extend far beyond gliding across a wooden floor. Its long bristles are not packed tightly enough to make it useful for creating little piles of detritus. So far, it excels in moving hair from one end of my hallway to the other.
Day 2
I learn that the porch broom is made in Sweden by a company called Iris Hantverk, founded in 1870 as a workhouse for the visually impaired, a tradition that continues to this day. According to the company's website, the fact that its brooms are made by the visually impaired brings "new dimensions to the concept of sensitively made by hand."
The broom is indeed beautiful and sensitive. Its fibers, made from Arenga, a type of medium-size palm found in Southeast Asia and northern Australia, are thinner than those of my Quickie's and rougher. The handle is smooth and pleasing to hold. The Arenga fibers may go akimbo from time to time, but this broom is built to last.
Day 3
I pick up the book Seasons of a Magical Life: A Pagan Path of Living. From it, I learn that a porch broom tends to be repurposed from an area of the home that more urgently needs cleaning. "When the house receives its new broom, the old one will begin service as the garage broom or the porch broom and continue on a while longer as a vital part of the family," the book says. There aren't many mentions of porch brooms in American literature. The only other one I can find is from the book Captain Kismias Journey to Skeleton Island, in which the hunky Captain Kismias, traveling to seek Spain's fortune, plucks a bristle from a porch broom to remove ham from his teeth.
Day 4
I go visit my friends KB and Lily just outside the city. KB is one of the most aesthetic and reasonable people I know, so I ask her if she would buy a porch broom for herself. At first she is not sure. "I imagine if I had a porch, it could be useful to prop by the door and use for seasonal foliage," she says. "For petals in the spring and when my wreath drops boughs in the winter." But I see her gears start to turn as she considers it more: "We all have to do our household tasks every day, so why not romanticize it? You cannot just leave the leaves at your door."
Day 5
In further pursuit of answers, I email Sara Edhäll, who co-runs Iris Hantverk. She explains that in Swedish the porch broom is called
brokvast, which refers to the entrance of a classic Swedish house. "The short-handle porch broom, I think, is mostly used for removing dirt and snow from your shoes and children's overalls," she writes. God, it makes so much sense! Here I was, struggling to make my house tidy when I could have just been leaving the porch broom outside my front door to clean my shoes or my dog's paws (gently). The porch broom serves the inside of your home by existing on the outside. Use it as you're entering and you won't track in as much dirt. When you're leaving, use it to sweep out the dust behind you. It's called cleaning in the margins, and it's beautiful. (In a pinch, I imagine the handle could be used to beat a rug, or to pound raw chicken for dinner, or even as a primitive Theragun on sore muscles.)
Day 6
I didn't think it was possible to be humbled by an $80 broom that makes you bend over to use it, but here I am. Yes, it is as much an object as it is a broom, but that has emerged as a virtue rather than a flaw: My cynicism has melted in the face of the visually impaired Swedish workers collective and its members' elegant, soulful artistry. Sweeping isn't just about cleaning, after all. It's about tending to your own margins and accepting that you live in your own dirt.
The Strategist is designed to surface the most useful, expert recommendations for things to buy across the vast e-commerce landscape. Some of our latest conquests include the best acne treatments, rolling luggage, pillows for side sleepers, natural anxiety remedies, and bath towels. We update links when possible, but note that deals can expire and all prices are subject to change.