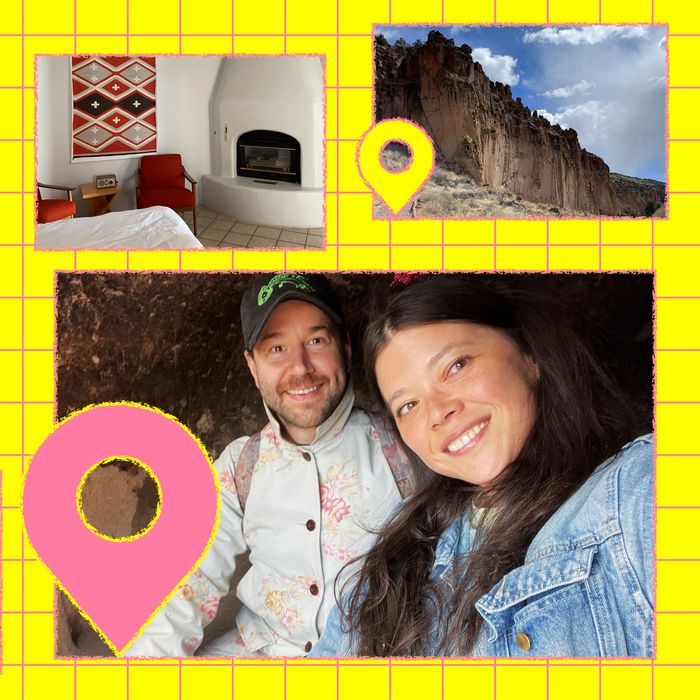 Photo-Illustration: The Strategist. Photos by Natasha Pickowicz.
Everyone knows that person who spends weeks sniffing around travel blogs, going deep into Tripadvisor rabbit holes, collecting Google docs from friends of friends, and creating A Beautiful Mind–style spreadsheets to come up with the best vacations and itineraries possible. In this recurring series, we find those people who've done all the work for you and have them walk us through a particularly wonderful, especially well-thought-out vacation they took that you can actually steal.
Natasha Pickowicz hadn't taken a real vacation since 2018 until she and her boyfriend spent six days driving around northern New Mexico in early spring. It was a trip to celebrate her shooting the second half of her cookbook and some well-earned time off after years of working stringent restaurant hours and then pursuing a jam-packed freelance schedule. "This really felt like such a restorative, serene, and special trip," Pickowicz says. It was also, undeniably, very much about the food.
The pair followed a loose itinerary based on recommendations from friends who know the area (namely, Eric See, the owner of Ursula in Brooklyn, and Todd Heim, better known as Steak Diane, and his partner, Gabriel Fredericks Cohen, who co-owns Fredericks & Mei) as well as the recently released list of James Beard Awards nominations. "I like having structure but only just enough," says Pickowicz. "There need to be moments where you can do whatever you want." So with a few restaurant reservations and an even longer list of potential places to visit, they flew into Albuquerque, picked up the rental car that would be their companion for the week, and headed — quite literally — into the New Mexico sunset. Here, Pickowicz shares the springs they soaked in, the enchiladas they ate, and more.
7 p.m.: Pick up the rental car
On Saturday, I flew from San Diego, where I had just finished my project, to Phoenix, where my boyfriend, Steven, was visiting his family. We met at the gate there during my layover and flew into Albuquerque together.
At the Albuquerque airport, we picked up our Hertz rental car, an SUV that made us feel like we were in an Uber Plus. Because Albuquerque was our starting point, we kept the loop of the trip to Albuquerque, Santa Fe, Ojo Caliente, Taos, and then back down to Albuquerque. Driving was a big part of the whole thing, but none of the drives was more than an hour and a half or two hours long, just enough to appreciate the surreal landscapes.
From the car-rental pickup, it was only 15 minutes to Hotel Andaluz (125 2nd St. NW) in downtown Albuquerque; it's a historic building that was one of the first Hilton properties. As we drove, the sun was setting out the back window. Immediately, you get this sense of these incredible vistas, the breadth of the sky, and the mountains.
8 p.m.: Try all the moles
Since it was dinnertime, we dropped off our stuff, got back in the car, and headed ten minutes over the Rio Grande to a James Beard–nominated Oaxacan restaurant called La Guelaguetza (816 Old Coors Dr. SW). We had the specialty, this pizza birria, which is basically a giant $22 quesadilla topped with avocado, sour cream, and herbs — but it also comes with beef consommé. So you're dipping this griddled cheesy double-decker quesadilla that they cut into pizza-shaped slices into a superrich, delicious beef broth.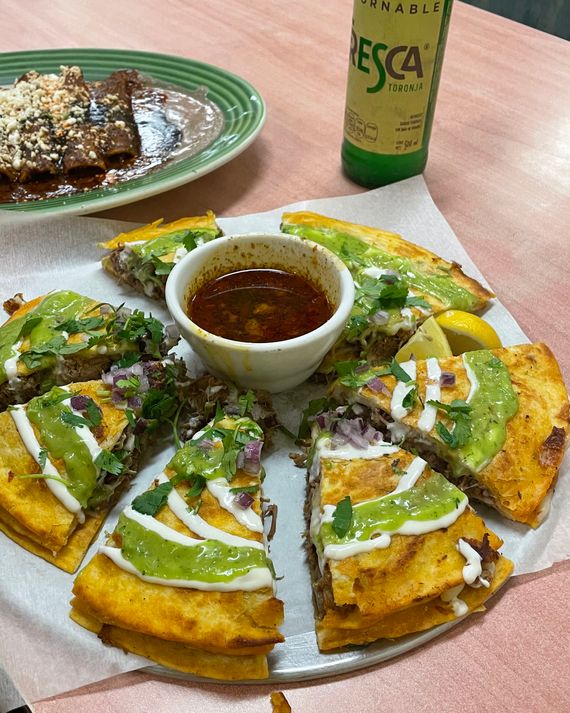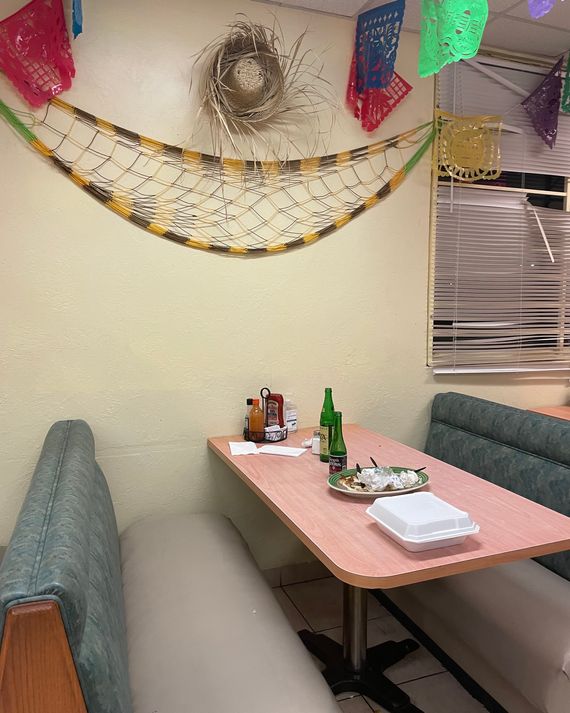 I also asked if we could try all their moles since I couldn't decide between them: a traditional one with a deep-mahogany color that tastes chocolaty, a red mole, and a spicy mole. We got the enchiladas, and the chef did a stripe of the different moles down the plate.
10 a.m.: Grab green-chile croissants for breakfast
There was one bakery I wanted to visit before we left for Santa Fe, so we drove over there on our way out to get iced coffee and pastries. It's called Ihatov (3400 Central Ave. SE), and I found it because I saw that my favorite Japanese restaurant in Greenpoint, Ashbox, follows them on Instagram. My mentality was that I wanted to try anything that had green chiles on it, so I got the green-chile–and–cheddar croissant. It was absolutely delicious. Steven got this giant sourdough cinnamon bun with cream-cheese glaze that was eight inches across.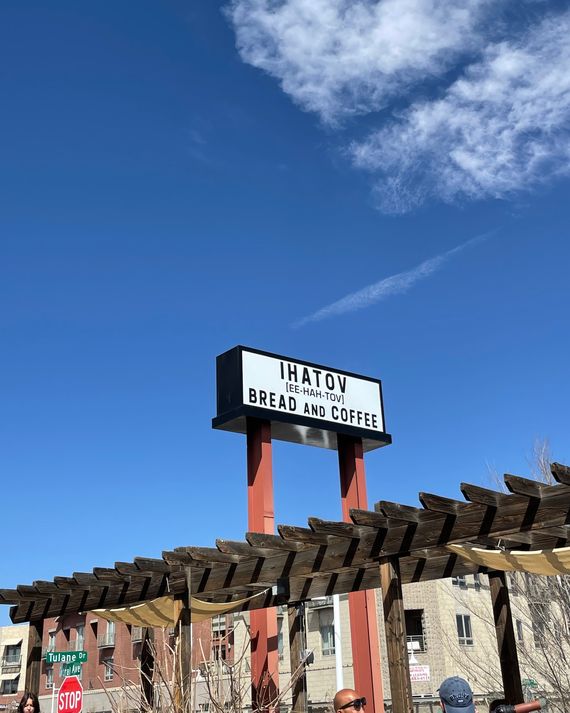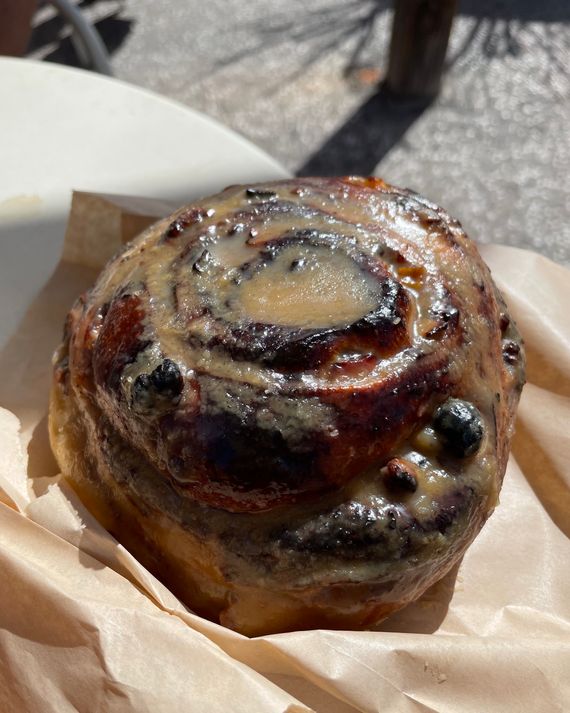 12 p.m.: Arrive in Santa Fe
After about an hour's drive northeast, we got into Santa Fe. It was much hotter there. You're walking around with these giant blue skies and the big sun. I'm all of a sudden feeling that I'm 7,000 feet above sea level. That was definitely an adjustment. We drove straight to our hotel, El Rey Court (1862 Cerrillos Rd.). It's very stylized, with a record player in the lobby, kilim rugs in every room, and a cute bar. From there, we drove to the center of town, a straight shot down Cerrillos Road. It's not very walkable or scenic, more like an artery to get to the downtown area, which has narrow roads and difficult parking. We ended up having to go to a paid parking lot, but I just wanted to not stress about it and be able to explore.
1 p.m.: Walk around downtown Santa Fe
First we went to a cool record store called Lost Padre Records (31B W. Water St.). Steven is a musician, so we had to check it out. They had a New Mexico section, and for me, it's interesting to see all of the old vinyl that's local music or Indigenous music.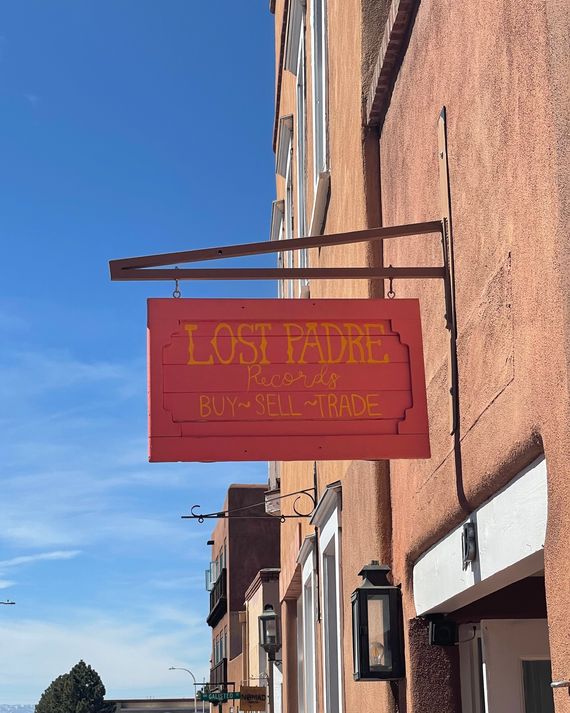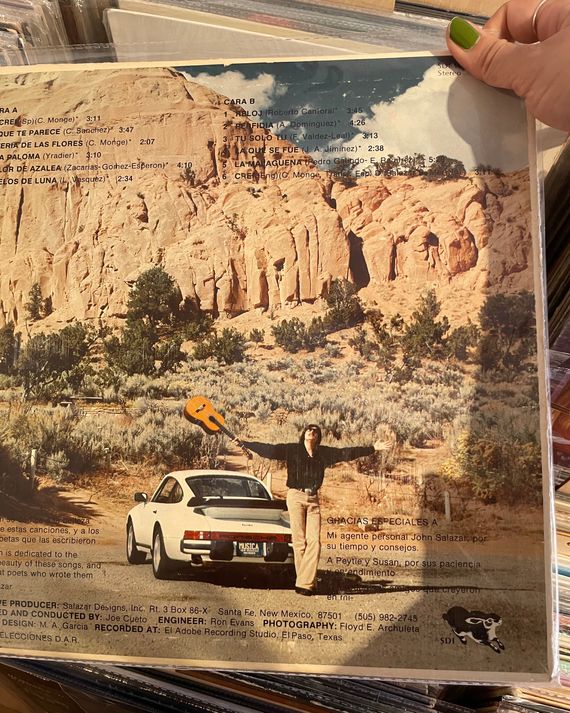 Picking lunch was difficult. I got more recommendations for where to eat in Santa Fe than for any other place in New Mexico. But in fact, a lot of places are closed on Sundays and Mondays, so we ended up just walking around until we found something.
When I was in San Diego, I went to this used bookstore that I love and bought this cookbook from a place called Coyote Cafe (132 W. Water St.), more for design purposes than for content. It was published in the late '80s or early '90s.
As we were walking around, I saw the image that is the cover and realized it's still open. So we had to go. We got all this delicious food: queso, their Caesar salad with croutons of fried polenta, green-chile–posole soup. We sat on the rooftop, and I had a drink that was a mix of a light beer and a frozen margarita.
After that, we had had plans. Todd and Gabe told us, "Do not miss the Museum of International Folk Art," which is like a ten-minute drive outside the city. But after one drink, with the elevation and sitting in the sun, I felt like I was hammered, so we ended up going back to the hotel. I had a very, very deep sleep and woke up super-hungry and ready for a cocktail, which is the best feeling.
7 p.m.: Listen to live music and order takeout
On Sunday nights, El Rey Court has live music in the bar. We had mezcal margaritas and saw a three-piece band that reminded me a lot of classic Southwest groups like Calexico and Giant Sand. It was the kind of bar filled with locals listening to the music.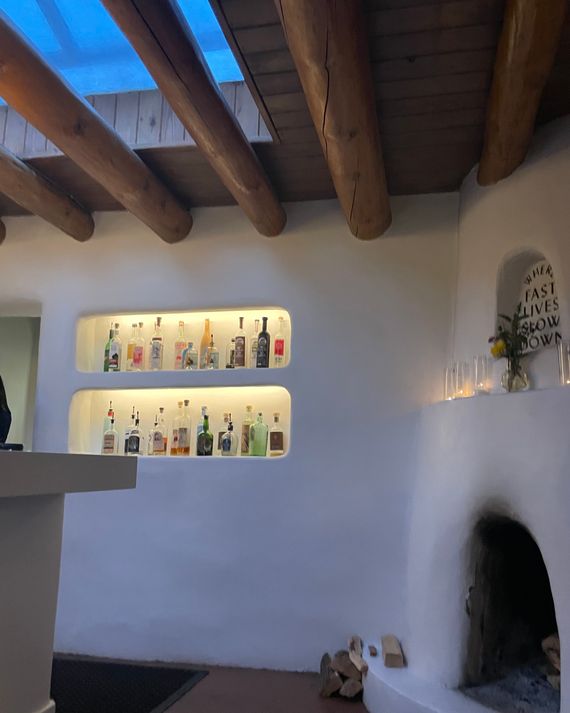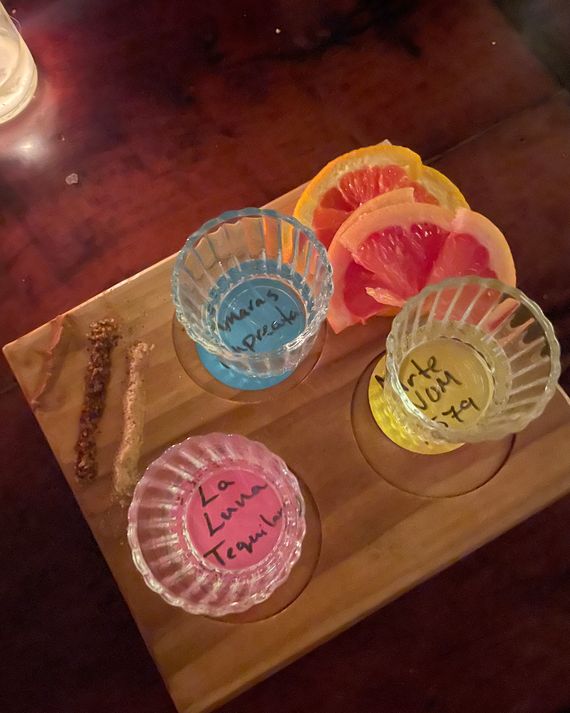 For dinner, we wanted to go to Paloma (401 S. Guadalupe St.), a Mexican restaurant known for its mezcal menu. But when we got there, it was completely booked for the evening. So instead, we ordered takeout. The restaurant had a big bar area, and we did a tasting flight of mezcals while we waited for our food. We got shredded-duck-confit flautas, steak tacos, and braised black beans. They packed it all up for us, and we brought it all back to El Rey Court, where there's a big firepit and picnic tables where you can sit and eat outside. We stopped by the Whole Foods, too, which is off of that main road, and got some New Mexican beers and Modelos to go with our meal.
10:30 a.m.: Head to Ten Thousand Waves
On Monday, I had us booked for a half-day at Ten Thousand Waves (21 Ten Thousand Waves Way), this unique spa that's inspired by Japanese mountain hot springs and the resorts there that have onsen-style spas. You can stay there, too, but we wanted to be closer to the city center. It's nestled into the mountainside about a 15-minute drive outside of Santa Fe. There's a discrete little pull off the road and all of a sudden, you feel like you're in Japan, with all the structures and landscaping. The atmosphere is incredibly serene and meditative as well as secluded. We really didn't see anybody the whole time we were there, barely even the staff.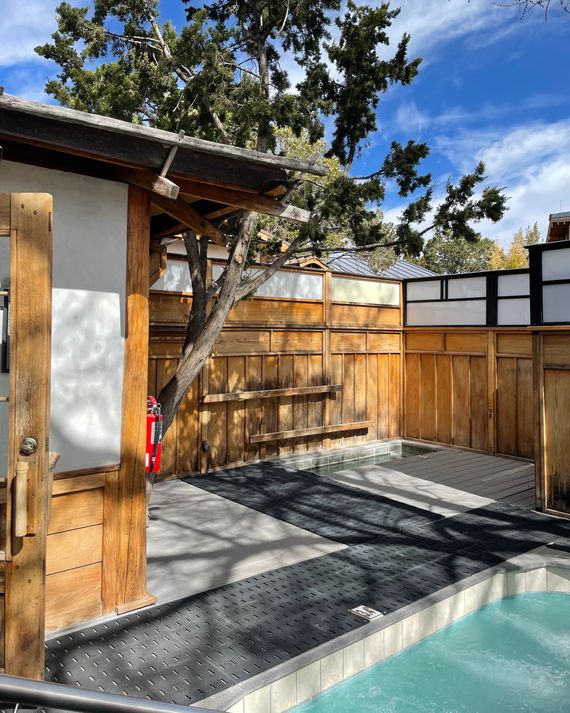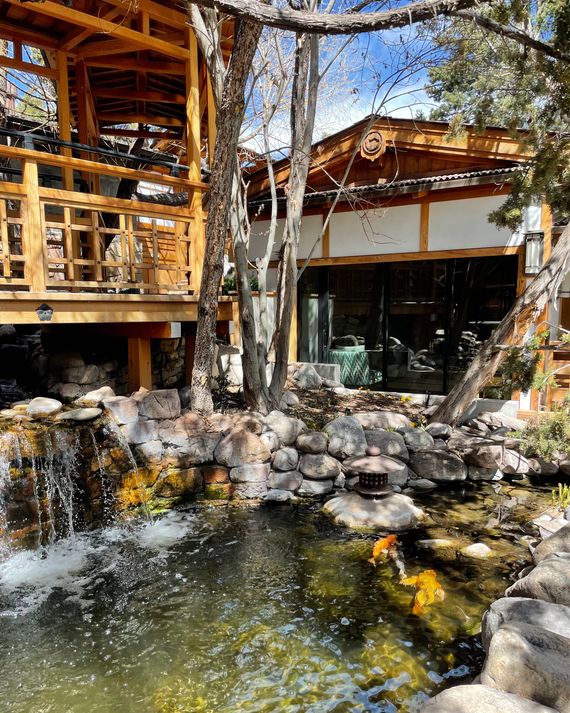 You can get all different treatments, but we just booked a private hour and a half in a soaking tub for $75 per person. There was the hot tub, a cold plunge, a giant sauna, and a shower and changing area. All of it is enclosed in your own little terrace with super-high walls, though you can see the giant pine trees on the mountainside. We went in this cycle of getting too hot, then going into the cold plunge, then sitting in the sun, and then getting in the tub. We were like slugs on the pavement, just completely wrinkled. It was the fastest 90 minutes of my life.
12:30 p.m.: Have a long izakaya-style lunch
When we checked out, they made us a reservation at their beautiful izakaya-style restaurant, which is part of the property. We had tempura shrimp on skewers and grilled eggplant and this yuzu layer cake with barley ice cream. We drank hot tea. We sat there until 3 p.m. and really took our time.
7:30 p.m.: Taste more mole
That night, we sat at the wide, polished wooden bar at Sazón (221 Shelby St.), another Mexican restaurant where the chef, Fernando Olea, was nominated for a James Beard. He's an older man, and he walks around the dining room checking in with everyone. It was the fanciest restaurant we went to, with gleaming terra-cotta tile and mirror mosaics and stapled-leather banquettes. But there was also all of this local art on the walls, a lot of which was for sale.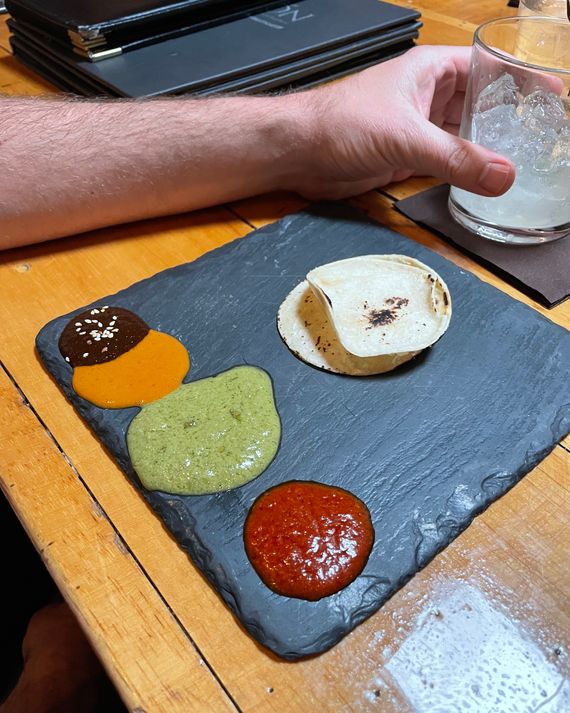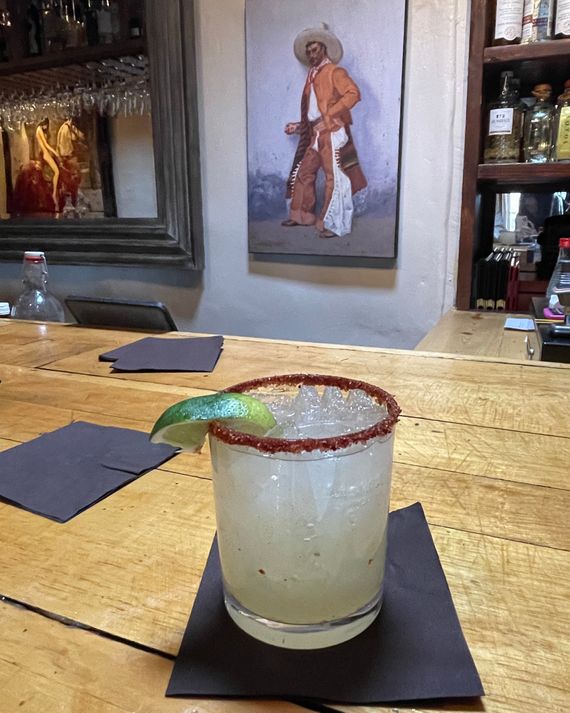 We did another mole tasting, only for this one, they bring you a piece of slate with like five moles on it and tiny tortillas the size of a potato chip. You drag your tortilla through the sauces, then, based on which one you like best, you can pick a protein and they'll cloak it in that mole for you. I had a duck enchilada with a poblano mole. I also had one of the most delicious black-bean soups I've ever had. It tasted like duck fat. It was so unctuous and thick and rich.
10:30 a.m.: Stop in Bandelier National Park
Tuesday was our drive to Ojo Caliente — but first, we made a very important stop at Bandelier National Monument (15 Entrance Rd., Los Alamos), about a 45-minute drive northwest of Santa Fe. Ojo Caliente is basically directly north, so we went in a bit of a triangle out of our way, but it wasn't that big of a deal. Before we left Santa Fe, we stopped at Whole Foods and got some hiking lunch food: a baguette, turkey, sprouts, some cheese, apples.
It's in a national park, so there's a $25 fee. Bandelier is known for 33,000 acres of calderas and mesas that were created by volcanic activity and erosion. Part of that volcanic activity created this really soft volcanic rock called tuff — it's so soft that ancient ancestral pueblo communities were able to carve dwellings into it; they're some of the oldest dwellings you can visit on foot in the United States. You get access to them through these elaborate path-and-ladder systems, which you're allowed to explore. We took the main loop trail, which is the one you go on if you want to see all of this.
Because Bandelier is so massive, after we were done, we decided to drive 25 minutes to another trailhead called the Tsankawi, which isn't so much about the dwellings. It has a bigger focus on nature and being outside, and it was definitely a less populated trail. It was really nice to have both of those experiences.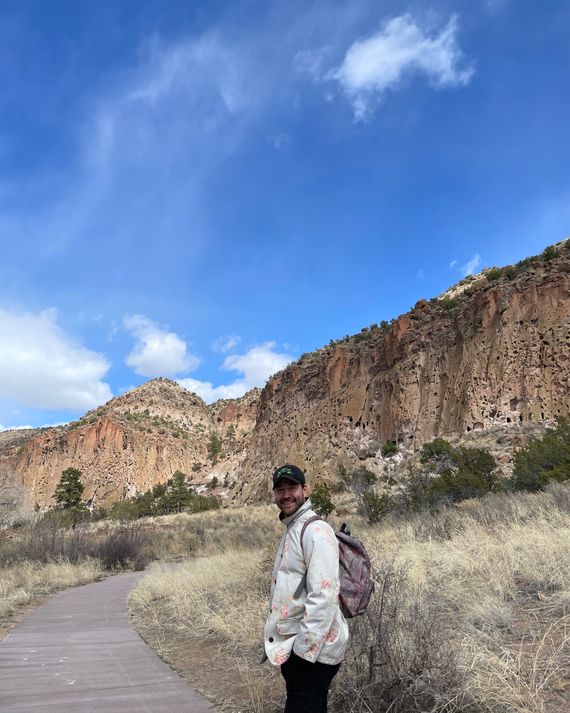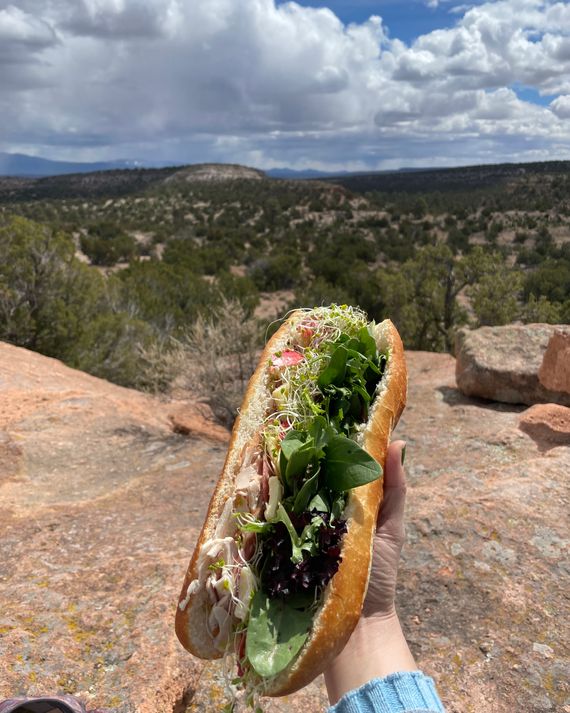 3 p.m.: Drive to Ojo Caliente
Ojo Caliente is another 45-minute drive away. The main — and kind of the only — draw there is this cluster of 11 or so natural hot springs also created by volcanic activity. A hotel, the Ojo Caliente Mineral Springs Resort & Spa (50 Los Banos Dr.), is built around them where we stayed, but you can also buy a day pass and go, which is what a lot of locals do.
We checked into the hotel at about 4 p.m., immediately put our stuff down, went to the locker rooms to shower, and then got into the springs so we could watch the sunset while we soaked our muscles after hiking. The pools are fortified with minerals, but depending on which one you use, they have different qualities and are different temperatures. My favorite was the iron pool, which runs at about 103 degrees and is lightly carbonated. They have a very strict whisper policy with no cell phones allowed, so it's serene.
We were there for about two hours, hopping from pool to pool, basically staying for as long as we could stand to be in them. There aren't really restaurants in the immediate area, so we did everything on-site there, including dinner that night at the more casual wine bar. We had a green-chile cheeseburger, green-chile fritters, and local beer.
10 a.m.: Start the day with a hike
After breakfast, we decided to go on another hike, and it ended up being the most unbelievable one of the trip. There are trailheads that start on the perimeter of the resort. You walk two minutes and all of a sudden you're off the hotel property and in the backcountry. The trail I picked is called Joseph's Mine Trail, a five-mile hike to a cluster of mica mines.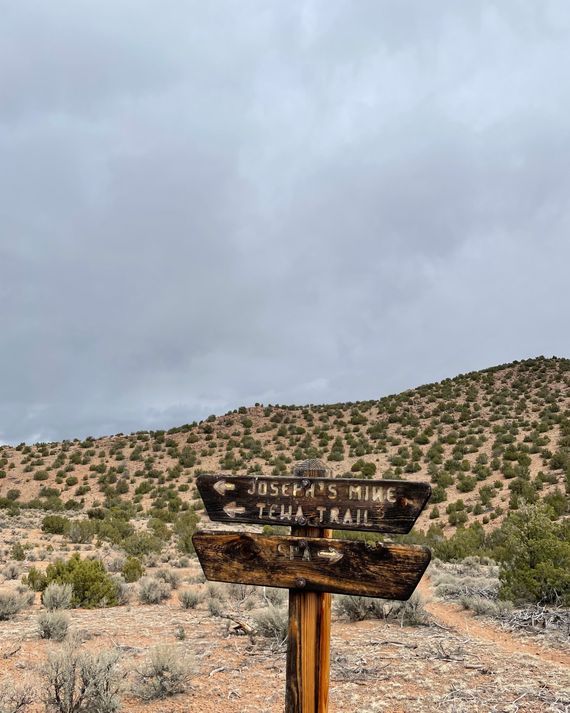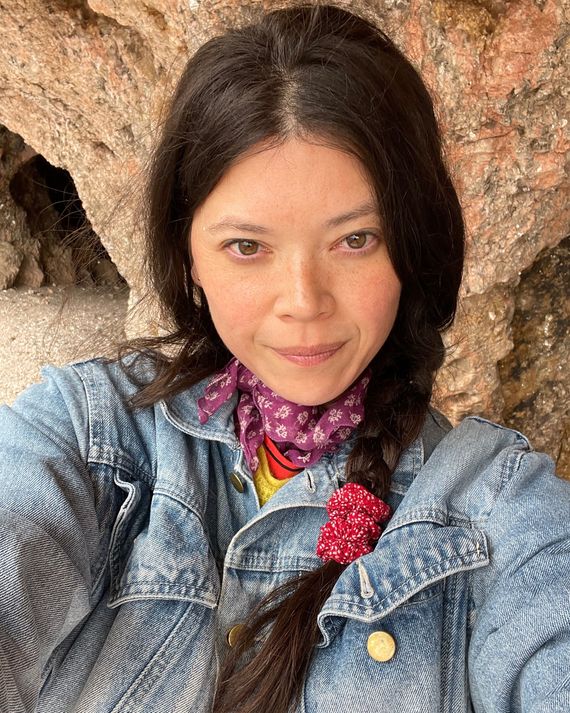 You start walking through what seems like an open plane of dry calderas, low shrubs, and juniper sage. As the hike goes on, it gets higher in elevation, and eventually you start to see pearlescent shards of mica and pink granite littering the sides of the trail, which is mind-blowing. When you reach the mines, they're carved out of a cliff. They're completely tiled with mica. Every surface has this sparkly, mirrored look that makes you feel like you're inside a disco ball.
By the time we got back, it was lunch, and we went to one of the few spots outside of the hotel, Mesa Vista Cafe (35323 US Hwy 285). It was like a little kitschy dinette, but it felt good to drink hot coffee and Diet Cokes and eat chili cheese fries after the hike.
2 p.m.: Head to Taos
After that, we were so reenergized that we decided to take a day trip to Taos, about a 45-minute drive away. The landscape on that route was unreal; we passed through incredible mountain ranges, dramatic skies, these wide planes. You drive over the deepest point of the Rio Grande, about a 650-foot drop, via a bridge where they filmed the infamous marriage scene in Natural Born Killers. The air smells like wet grass and mountain sage, and it even snowed for a bit.
I really wanted to see Earthship Biotecture (2 Earthship Way, Tres Piedras), which is, I think, the world's largest self-sustaining residential community. The occupants live off the grid via a system of solar power and DIY thermal insulation that was developed by some hippie scientists in the '70s. Buildings like theirs could be just pragmatic structures, but I was blown away by how wacky-looking the architecture is — kind of like Antoni Gaudí meets Mad Max with do-it-yourself assemblage. Afterward, we drove into town and had cold martinis at a hotel bar called Anaconda (317 Kit Carson Rd.), a cavernous lounge with a giant fish tank and rain-forest-esque interiors. Then we drove back to Ojo Caliente, did another round in the hot springs, of course, and had a late dinner at the sit-down restaurant at the hotel.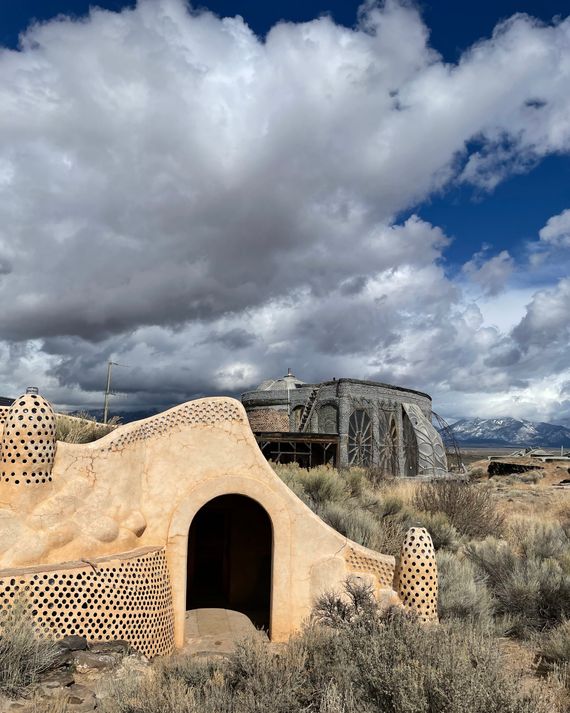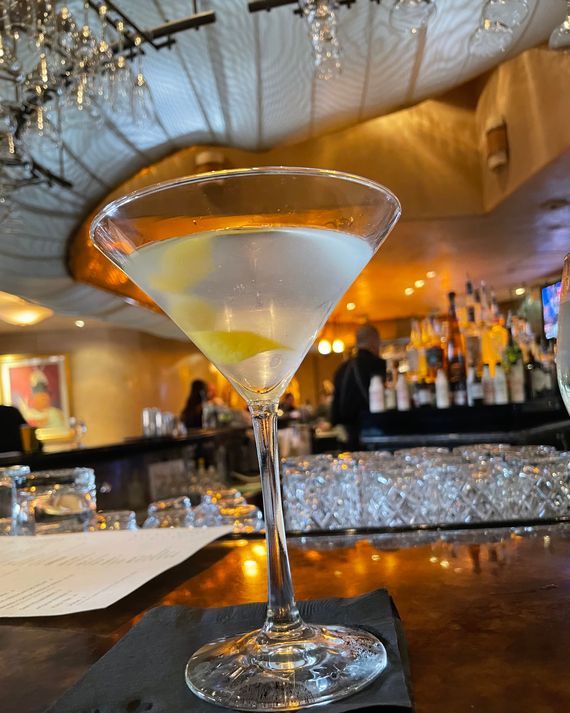 10:30 a.m.: Take another Santa Fe detour
We were supposed to drive straight back to Albuquerque to go to our hotel, but we loved Santa Fe so much that we decided to drive back through one more time and hit up a bunch of places we weren't able to go to the first time. We basically had a triple lunch.
The first place we went to is a small bakery called Bread Shop (1708 Lena St., Suite 101). It has beautiful sourdough focaccia by the square that was really soft and fluffy. We ate one with Castelvetrano olives and preserved lemon, and another with just red tomato sauce on top, plus a hazelnut-and-chocolate brownie. Then we drove to Ras Rody's (1312 Agua Fria St.), this vegan Jamaican food truck in a lot maybe five minutes away from the city center. There are only a few things to get: a soup, a combo plate with different spicy vegan stews and stir-fries, and a juice of the day. We opened the back of our SUV and tailgated briefly.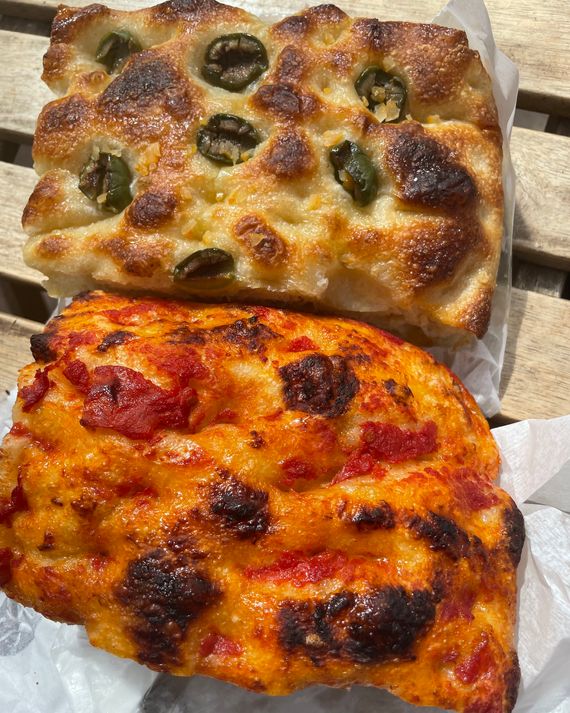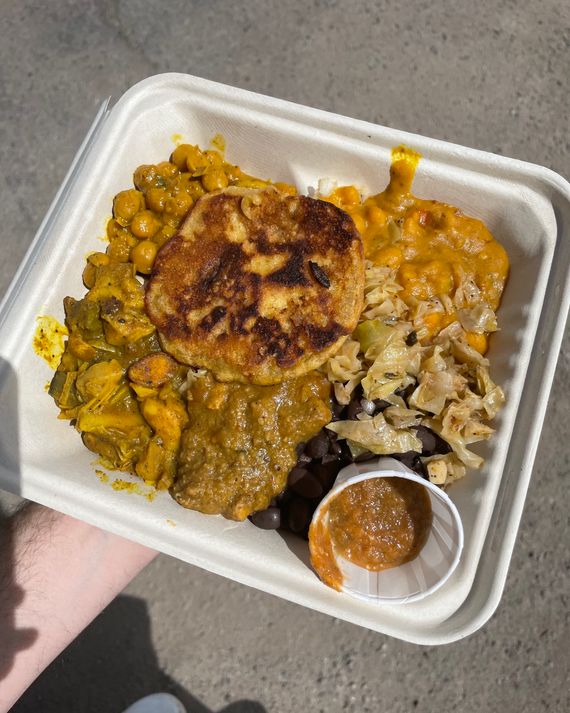 Finally, we had a reservation at this place called Plants of the Southwest (3095 Agua Fria St.), an open barn structure in the back of a native-plant nursery that's 15 minutes outside of town (we made it earlier that morning when I found out it was open for the first day of the season). It had such a good energy. I'm still thinking about it. The kitchen is completely open, facing maybe eight tables. There's one chef, Olive Tyrrell, and she makes a set menu every day. All the food is very thoughtful and studied, but it also feels a little bit loose and casual and homey. It reminded me of a Moosewood meets Chez Panisse.
We had iced tea with fresh oregano sprigs and a salad with many different small radishes sliced in half, toasted fennel seeds, poppy seeds, pumpkin seeds, and tons of torn herbs; it was dressed in this nutty vinaigrette. The second course was half of a roasted sweet potato on braised heirloom beans with a drizzle of Tyrrell's housemade hot sauce, her housemade wood-roasted flatbread, and torn parsley.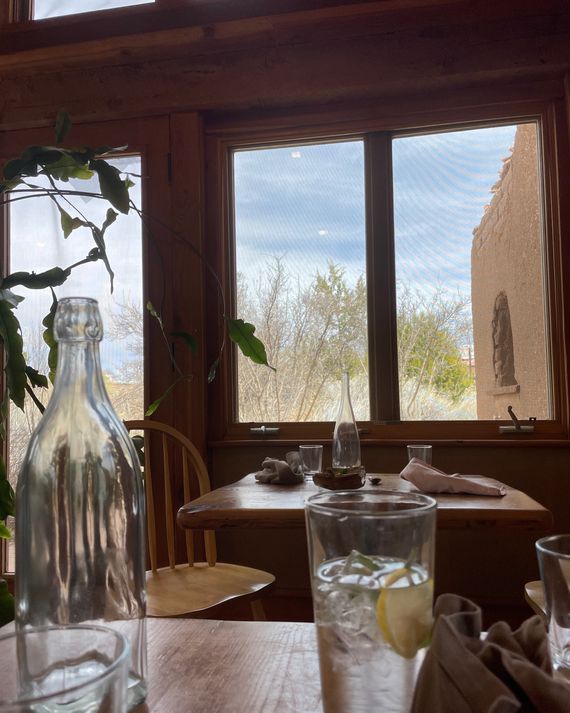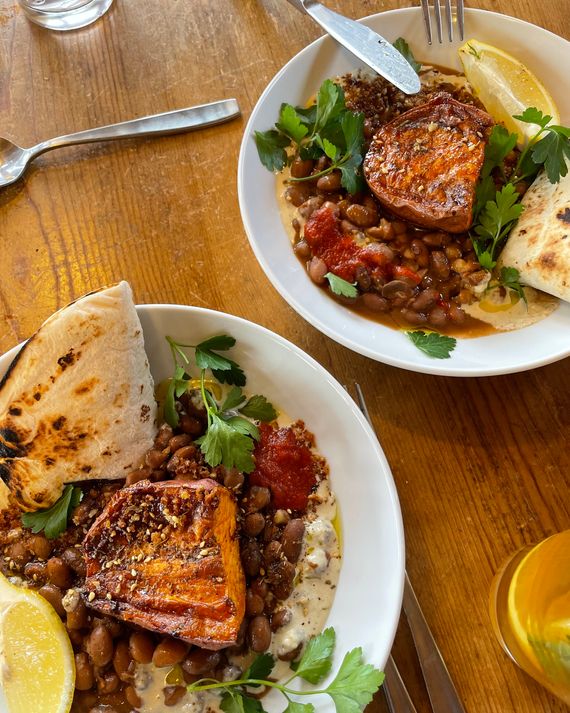 We drove into Albuquerque from there and checked into our hotel, Los Poblanos (4803 Rio Grande Blvd. NW), which is actually a working lavender farm. The grounds were stunning with all the rows of lavender bushes and that scent in the air. We stayed in a freestanding cottage that had a fireplace. We ate dinner at the restaurant — a cavatelli pasta in a carrot cream sauce with chicken-skin bread crumbs and a quinoa chile relleno. We ordered room service from it the next morning before we flew out, too — warm tortillas, green-chile sauce, bacon, and scrambled eggs. It was just a really nice punctuation on the trip.
Natasha's New Mexico packing list
Sleeping in a new bed, even when it's in a fancy hotel, is always a little tricky for me. For longer trips, I slip a box of Rose Delights into my suitcase and pop one a few hours before bedtime.
(They're also incredibly fun taken before a three-hour hike to a deserted mica mine, just saying.)
My boyfriend turned me on to these Tums "Naturals," which taste just enough like a piña colada
that I don't gag them down. Necessary purchase in case you plan on eating as much cheese, Hatch chiles, and spicy salsa as we did.
Were we seasoned hikers with cool canteens and rugged backpacks? No, we were not. We wore clogs and Converse and drank cans of LaCroix on the trails to stay hydrated. We picked
up a few cases to keep in our Hertz rental (and kept chips and salsa in the car console because I never stop snacking).
We all have our skin-care habits when traveling, and for my dry skin in the dry desert at the tail end of winter, this rose-scented toning mist by the amazing Fran Miller was
always close by.
The best thing about a road trip is the soundtrack you make for yourself. I always have multiple Spotify playlists downloaded on my phone for long car trips (a must for those open stretches of road with no cell service). Most cars have a spot to plug in a USB cable so you're not stuck listening to bad conservative talk radio.
The Strategist is designed to surface the most useful, expert recommendations for things to buy across the vast e-commerce landscape. Some of our latest conquests include the best acne treatments, rolling luggage, pillows for side sleepers, natural anxiety remedies, and bath towels. We update links when possible, but note that deals can expire and all prices are subject to change.