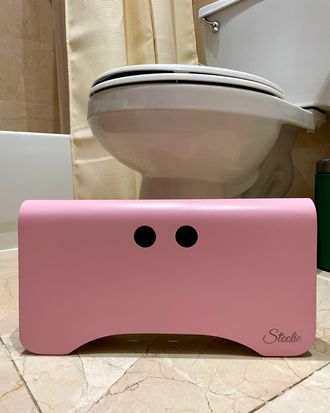 It is my unfortunate lot in life to be basically constipated 24/7.
Ever since childhood, my trips to the bathroom have consisted of sitting there, twiddling my thumbs, and reading the backs of shampoo bottles. It's not that I suffer from neurosis around pooping, like coprophobia or an aversion to public toilets; it's just that the urge, for some reason, hardly ever strikes. And when I do manage to go, the level of effort and straining involved is never commensurate with the quantity evacuated, if you catch my drift.
So I have long envied people who wake up in the morning, plunk down on the toilet, and manage to pass last night's dinner with ease and aplomb. Such people, I imagine, float through life in a blissful stupor, the living embodiment of the phrase "health is wealth." I bet they have never once wondered whether it is possible to die from not pooping, a question that I have, alas, Googled more than once after 20 minutes of hunching atop a vacant toilet bowl.
At this point, I've tried pretty much everything under the sun: prune juice, fiber pills, psyllium husk, herbal supplements, prebiotics, probiotics. I've consumed more yogurt and less yogurt. I've performed gentle abdominal massages and vigorous pelvic exercises. I've trawled IBS Reddit and gastroenterology forums for tips. (And yes, I have consulted a doctor, who advised me to do all of the above.) Nothing seemed to make much of a difference, until — until — I bought a Stoolie toilet stool.
The purpose of a toilet stool, according to WebMD, is that it forces your body into the optimal position for having a bowel movement. In the standard toilet-sitting position, the muscle responsible for controlling your bowels remains engaged, but when you're squatting, the muscle relaxes and your colon straightens out, forming a clear path for the poop to go on its merry way. There have only been a few high-quality studies conducted to test the efficacy of toilet stools, but they all seem to conclude that squatting really is a more natural stance for going No. 2 — and well, it's not like I had anything to lose, so I decided to give it a go.
Back in 2016, Strategist editor Jessica Silvester championed the OG toilet stool, the Squatty Potty, but let's be honest: A hefty hunk of white plastic is not exactly good-looking, and she even admits she feels the need to "hide this supposedly inconspicuous footstool in the shower before guests come over." So I went searching for a slimmer, somewhat more comely version for my diminutive New York apartment bathroom, and found exactly what I was looking for from Canada-based brand Stoolie.
The Stoolie boasts a very sleek, simple silhouette, allowing fuss-free foot elevation without the extra bulk of other toilet stools. It's seven inches tall, which is the same height as the original Squatty Potty and should provide sufficient lift for most people, but eliminates the Squatty Potty's cumbersome, superfluous footrests and instead features a gracefully curvilinear pyramid shape. It's available in a lovely natural wood finish or a variety of mellow shades such as creamy beige, soft dove gray, and lagoon blue, but I felt like my bathroom would benefit from a less anesthetizing colorway, so I went with the millennial pink option. It's even designed with two holes in the front panel for easy lifting, like a bowling ball. When it's not in use, I simply stash it to the side of the toilet; since it has such a svelte profile, it can easily be nestled into any nook or cranny. (The Squatty Potty does come in a few more refined materials, like teak and bamboo, but they all possess an obtrusive bowl-hugging curve that's much more likely to get in the way when you go for a midnight whiz.)
Each Stoolie is hand-crafted by a family-owned Quebec manufacturer, using a traditional woodworking method called steam bending. The wood is sourced from sustainably-grown white birch trees certified by the Forest Stewardship Council, and the final product is finished with stains and paints that contain no toxic chemical additives. Plus, a portion of every Stoolie sale is donated to Plastic Oceans International, a non-profit organization committed to reducing plastic waste through education and ocean clean-up initiatives.
The Stoolie is attractive, practical, ecofriendly, and most importantly, effective. Whenever I feel like my rectum could use a bit of spring cleaning, I simply plop down, hoist my knees, and wait — and lo and behold, I do eventually feel a stirring in my gut. The position really might be sending a signal to my colon, or it may just be the placebo effect, but why question the method as long as it's getting the job done? Pooping hasn't magically become a breeze or anything, but at least I no longer have to send up a prayer every time I go to the bathroom.
I am now a Stoolie evangelist through and through, here to preach its gospel to all my constipation-afflicted brethren. I display my Stoolie proudly and encourage all my guests to give it a whirl. It does, perhaps, border on slightly self-parodic for me to have bought an artisanal toilet stool, but I've found that amid intestinal struggle and strife, the Stoolie as an understated symbol of stylish efficacy can serve as a soothing presence, a reminder of our higher functions even as we grapple with our base animality. I'll sing the praises of the Stoolie until the cowpats come home.
The Strategist is designed to surface the most useful, expert recommendations for things to buy across the vast e-commerce landscape. Some of our latest conquests include the best acne treatments, rolling luggage, pillows for side sleepers, natural anxiety remedies, and bath towels. We update links when possible, but note that deals can expire and all prices are subject to change.