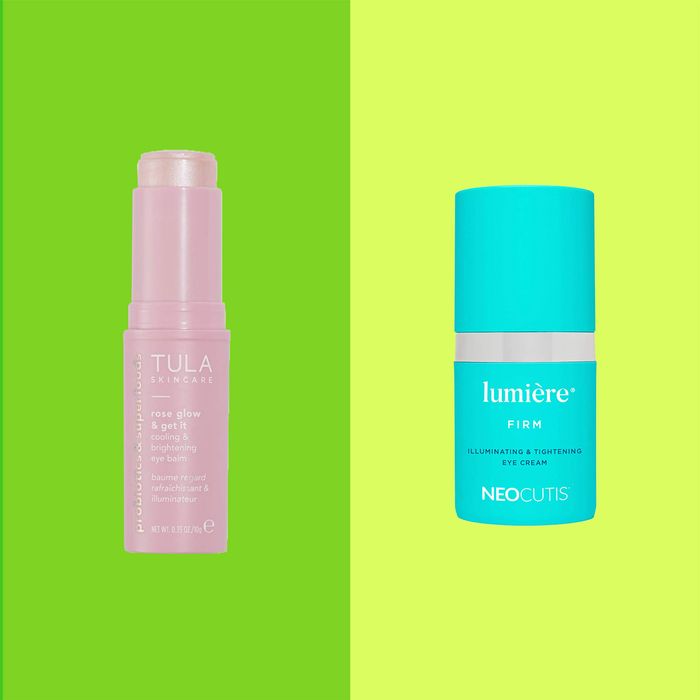 Photo-Illustration: The Strategist; Photos: Retailers
Nature is a marvel: Just as fine lines become real wrinkles and dark under-eye circles take up permanent residence, our ability to see things up close starts to go. But put on your readers and damn, the crepey skin, crow's feet, and sagging lids come into sharp relief.
"Eyes, then neck, then hands," says Marina Peredo, MD, dermatologist and associate clinical professor of Dermatology at Mount Sinai Hospital in New York. "That's the order in which you'll see the signs of aging first." The reason for that is twofold, explains Doris Day, MD, dermatologist and clinical associate professor of dermatology at the New York University Langone Medical Center, who offers a little anatomy lesson: "The skin around the eyes is the thinnest skin on the body. It's also an area with very little structural support since the eyes sit in a hole called the eye socket. The eyeballs are held in place by muscles and ligaments, but the skin there has very little support."
That thin skin is why the right eye cream can make a difference: Active ingredients can penetrate more easily there than on other parts of your face and body. "By using an eye cream in your 30s, you can delay using toxins, fillers, and lasers around the eyes," says Paredo. "But in your 50s, you'll want to use an eye cream in addition to those modalities." Here, the eye creams that the doctors use and recommend, and the improvements that you can — and can't — expect to see.
The Best Eye Cream for Crow's Feet
When the little crinkles around your eyes start to look more like full-on wrinkles, there's one ingredient every dermatologist loves: "When I'm trying to stimulate some collagen, retinol is the gold standard," says Michelle Henry, MD, a New York City dermatologist and Mohs surgeon. The original Skin Better Science AlphaRet face cream picked up all kinds of awards for its synergistic blend of retinol plus an AHA; we have similar expectations for the brand new eye-area version. Keep in mind, the skin around the eyes is awfully sensitive for some, and retinols in general are notoriously drying and irritating. If you experience sensitivity, Henry suggests the "sandwich method": a simple, moisturizing eye cream directly on your skin, then your retinol, then a moisturizer on top.
Best Drugstore Eye Cream
"Not many retinol creams are well tolerated around the eye, but the Olay retinol eye cream is really nice," says Henry. That's because it's packed with hydrators to counteract retinol's drying effects. It also eliminates other irritants like fragrance and synthetic dyes. The niacinamide in the formula tag-teams with the retinol to tackle fine lines and wrinkles, while peptides help firm the skin.
Best Eye Cream for Dark Circles
Before you treat dark circles, it's important to pinpoint the cause, because there's more than one: It could be that the area under your eyes is dark because the skin is thin and you can see dark blood vessels showing through. You could have hyperpigmentation darkening the surface of your skin. Or it might be because you've lost volume underneath your eyes, leaving you with a hollowed-out look that creates dark shadows. Or maybe it's all three! The first two scenarios can be improved with an eye cream; but according to all of our docs, the not-so-lovely-sounding tear trough deformity (undereye hollows) is beyond a cream's capabilities. Says Dara Liotta, MD, FACS, a dual-board certified facial plastic surgeon in New York City, "You need filler for that."
Caffeine, unsurprisingly, can help wake up the look of your eyes by constricting the blood vessels underneath, clearing away some of the darkness, while vitamin K is known to strengthen the walls of the vessels. You'll find them both, along with peptides and plumping hyaluronic acid, in this super-lightweight treatment (perfect under makeup) created specifically for women in the stages of menopause.
Best Eye Cream for the Other Type of Dark Circles
For surface hyperpigmentation, most of our docs recommended vitamin C, an antioxidant that's best known for its brightening powers. "Right now, I'm struggling a bit with hyperpigmentation," says Henry. "If I'm not actively treating it, I can get little raccoon eyes." She uses this C treatment, which omits parabens and fragrance, because it's super-safe for her sensitive eyes.
Best Eye Cream for Undereye Puffiness