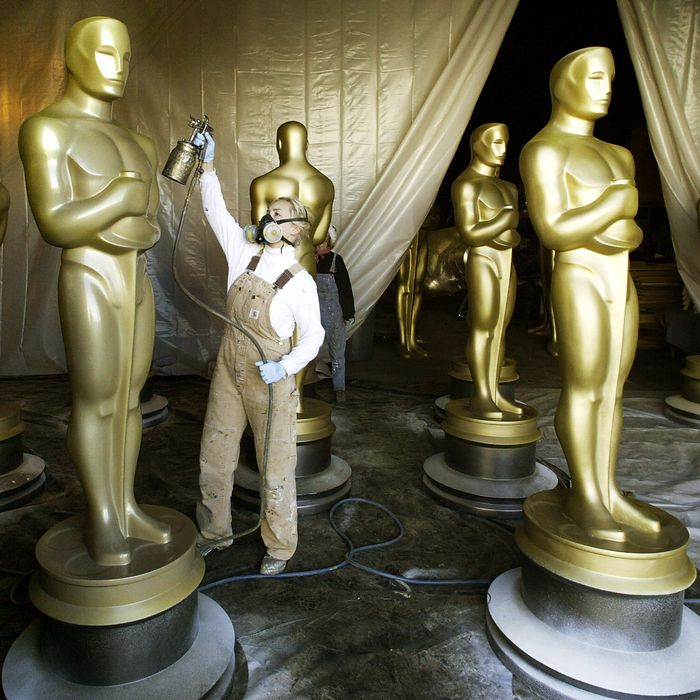 Photo: ROBYN BECK/Getty/AFP via Getty Images
As someone who has bought and restored two houses in frightening states of disrepair, I have deemed myself an expert in all matters of renovation. (It helps that my fiancé is a professional contractor.) I always offer the following three pieces of advice to anyone who asks — and to quite a few people who don't:
1. Splurge on a Makita drill.
2. Basement issues aren't always a deal-breaker.
3. Rolling or brushing on paint is for suckers. Paint sprayers are the only way to go.
My love affair with the paint sprayer goes back only a few months, to when my fiancé and I bought a dilapidated 1850's house — a place that made the first dilapidated house we bought look like a brand-spanking-new condo. There is not a single surface of this place that doesn't need a new coat of paint.
A quick word about me and painting: I am not exactly a careful or detail-oriented person when it comes to painting. The split between paint that gets on the walls and paint that gets on me is usually about 50/50. So when my fiancé suggested buying a paint sprayer, I assumed I didn't have the skill to handle it. But I also thought about all the ceilings that I would have to roll if we didn't buy a sprayer. Have you ever painted a ceiling with a roller? It's actual torture: sore shoulders, sweaty goggles, paint in your hair. I decided a sprayer was worth a try.
I started my search where we all start our searches for products: Google. But when I couldn't find a single good article about paint sprayers, I gave up, and we asked my fiancé's painter subcontractor what he uses.
He recommended the Titan High Efficiency airless sprayer, which was a whopping $300. As a person who considers cheapness part of her personal brand, the price almost caused me to turn back. But my fiancé reminded me of all of those ceilings, and we added it to our cart.
When it was time to paint, I set up the sprayer without the help of my fiancé, who was occupied with more high-profile projects like ripping off one side of the house and putting it back together again. I watched one This Old House video about how to use it (not featuring Tommy Silva, my fave of the TOH gang, unfortunately), and I was off.
The first thing you notice when you use a paint sprayer is that it's fun. And so satisfying. You pull the trigger and a fine spray comes out, covering the wall in front of you with basically zero effort. It looks a bit like the mist that comes out of a can of dry shampoo, except, unlike dry shampoo, a paint sprayer actually does something.
I've heard good things about this sprayer, which is more compact and half the price. It's a little slower and the mist isn't quite as fine as what we get with the Titan, but it's plenty capable for most home projects.
You want to start at the top of your wall, sweeping back and forth as you work your way down, keeping your wrist straight and the sprayer about a foot away from the wall. Be sure to overlap your lines by about 25 percent, and put on thin coats! That's the key to a really great paint job. There is definitely a learning curve — the paint comes out pretty quickly — so I would advise starting somewhere not a lot of people are going to see, like the inside of the closet. If you do mess up, and you get drips, you'll need to quickly roll the spot with a paint roller. Or you can always cover your mistake.
My first room, the biggest in the house, took only 40 minutes to do two coats, including the ceiling, which was probably the greatest joy of the whole process. It was a breeze! Though, like an idiot, I did not wear any hair protection and was brushing paint out of my hair for weeks. There are no brush strokes, and the thin, uniform coats mean faster drying times. With a roller, that room would have taken me at least three hours.
The prep work is a little more time intensive with a sprayer — you need to put down more floor protection than you might if you were paint rolling, to catch all of the overspray — but since I am such a bad roller I usually use a lot of extra drop cloths anyway. Also, sprayers must be thoroughly flushed with water, otherwise paint will get stuck in them and they will be ruined.
The true test came a couple of days later, when my mother, a professional real-estate lady and perfectionist, came over to check on our progress. Knowing her expectations, I had already rehearsed excuses in my head for all of the faults she pointed out. ("Well, these are plaster walls, Mom, not Sheetrock!") But as it turned out, I didn't need to make excuses. Even she was impressed by how smooth and clean the walls looked. And if she noticed the paint in my hair, she was nice enough not to say anything.
The Strategist is designed to surface the most useful, expert recommendations for things to buy across the vast e-commerce landscape. Some of our latest conquests include the best acne treatments, rolling luggage, pillows for side sleepers, natural anxiety remedies, and bath towels. We update links when possible, but note that deals can expire and all prices are subject to change.