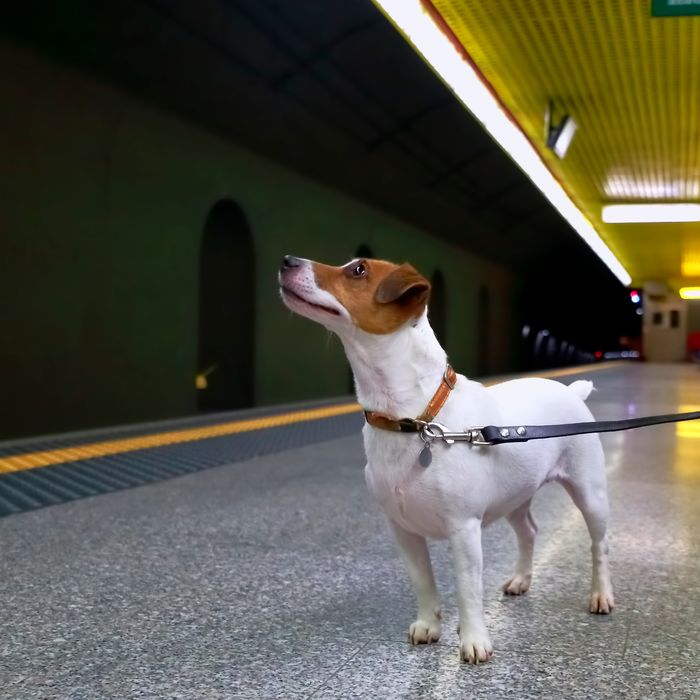 Photo: Getty/Getty Images
Before my move to Brooklyn from Austin, I prepped myself for some major adjustments. I stocked up on cold-weather gear and comfortable walking shoes; reluctantly downsized on furniture; and (afraid of looking like a lost tourist) made sure to study the MTA map. But one thing I overlooked was how my dog, Maggie, would adjust to the move.
In Austin, she moved with me from apartment to apartment without any issues or anxiety. So I thought this transition would be like the others, just a little farther and colder. But on our first day in the city, I tried taking her to Prospect Park, and it became clear that there were more roadblocks than our usual strolls in Austin. Sirens whizzed by, buses made their rounds, construction was at every corner, and Maggie was overwhelmed. She jumped at any sudden noise and clung to my side instead of her usual curious sniffing. We barely made it halfway to the park before I knew it was time to turn around.
Since then, I've done my research and spent lots of time working with Maggie, and we're now able to make it all the way to the park without her anxiety going through the roof. But looking back, there are plenty of things I wish I knew ahead of the move. To help other dog owners who might be making a similar transition, I consulted six dog trainers — five of whom are based in the city — about the best treats, leashes, harnesses, carriers, and other tools that will help adjust your furry friend to the city.
If you have time before your move and know your pet is nervous around loud noises, two trainers we consulted recommend desensitizing your dog to city sounds ahead of time. "It's pretty typical here to hear five to ten ambulances a day, fire engines, and construction, but for a dog that lives in a neighborhood, they've maybe heard it a couple times pretty spread out. It can be jarring at first," explains Shelby Semel, senior dog trainer and founder of Shelby Semel Dog Training. She suggests searching YouTube for city sounds and playing them on low on a Bluetooth speaker while your dog is eating or playing. "If your dog is pretty comfortable with that, you can make it a little louder until, for example, there's a fire-engine sound blasting while they're eating and they're totally cool with it," says Semel.
While YouTube videos aren't completely the same as being in the city, "it will make your job so much easier when you're already dealing with the stress of a move and being in a new place," says Amanda Gagnon, founder and training director of Amanda Gagnon Dog Training and co-founder and chief training officer of Gentle Beast. She adds, "And then once you're in the city, you can reassess and ask yourself: What did I miss? What is my dog still uncomfortable with now that it's a noise and a vibration?"
Walking
your
dog
in
the
city
Once you've made the move, establishing a routine is "crucial" for your dog to find a "sense of normalcy in an otherwise unfamiliar environment," says Yuruani Olguin, dog trainer and founder of Yuruani Olguin Dog Training, Inc. That means setting up an area in your apartment that's their own — whether that be a crate or space for their bed — and sticking to a consistent schedule for walks and meals. Walks come with their own set of potential issues, so having plenty of patience and the right gear on hand is important. And if you can, our panel of trainers suggests finding more residential, quieter streets to start walks on, especially in those first few weeks, so your dog can build confidence.
Best training treats and treat pouches
All the trainers we spoke to recommend bringing lots of high-value treats on walks. "It helps dogs build positive associations with these new sites and sounds," says Nicole Ellis, dog trainer at the Rover Dog People Panel, who adds that it's important to "spend some time just sitting with your dog. Watch the world go by and reward your dog." The treats dogs respond best to depend on the dog, but some of the trainers recommend those they use with clients and their own pups.
"Look at your dog and figure out what makes them the most excited. What are they really going to respond to like it's ice cream, like it's their favorite thing?" says Gagnon. Since you might be giving your dog more treats than usual on these initial walks, she suggests opting for nutrient rich, one-ingredient ones. Her favorites are from Crumps, and she especially likes the beef liver option. They come cut in smaller pieces, so "you can give your dog a lot of them without worrying as much about their weight."
Annie Grossman, owner and co-founder of School for The Dogs, suggests this one-ingredient treat because "most dogs really like it, and it's not highly processed." She adds, "Perhaps most important, it breaks up really easily in your hands, and it doesn't get super-greasy or crumbly."
[Editor's note: This product is sold by a store that Grossman owns.]
Since you'll be carrying around lots of treats to reward your dog, you're going to need a fuss-free treat bag. Gagnon prefers this pouch, which features a magnetic closure as opposed to a drawstring or Velcro one. "Velcro ends up covered in food, and the drawstring ones don't close on their own," she explains. "You can reach your hand in and out of this very easily and it closes on its own." Plus it comes with multiple pockets for poop bags.
Olguin recommends a bag that "has both a clip and a strap, because if you're wearing yoga pants or something that doesn't have a strong waistline, the clip isn't as effective." A strap makes it more versatile, so you can wear it like a messenger bag or fanny pack. This pouch has both, and it features a magnetic closure for easy access to treats.
For dogs that get more excited over creamy treats, Grossman pointed us to these dog-treat dispensers her store sells and lickable dog treats in squeeze pouches from the company Bark Pouch. She says both are "good ways to continuously reward your dog as you walk past something that might be a potential trigger, like a truck backing up or another dog. You can use it to distract your dog by having them lick peanut butter away from the potentially scary thing, while also creating a new and good association." Another plus is that it doesn't require you to take off your gloves or get your hands dirty.
Best leashes for the city
A good leash is important to protect your dog and other people and dogs around you on walks. The trainers we spoke to advise against retractable leashes since they can "cause injuries to other people, other dogs, and even yourself," according to Ellis. Instead look for something that's short — somewhere around four to six feet long — and sturdy, like the following.
Olguin recommends a four-foot-long nylon double-loop leash, like this one from Good2Go. It has two handles — one at the end and another down the middle — so it "helps you have a little better control" and you're "minimizing the risk of your dog lunging and potentially getting loose."
"I always recommend a four- to six-foot leash, no longer," says Ellis. "In a big city there are people walking, people on bicycles, cars. I don't want my dog getting nervous and darting into the street." This Sleepypod leash "helps me make sure my dog is close by and safe," she says, since it also features a second loop. Additionally, it comes with an aircraft-grade aluminum snap hook to attach to harnesses or collars.
Grossman is a "big fan" of hands-free leashes, like this one from the brand Found My Animal. "When your dog is on a leash and a leash is in your hand, the allowable radius of where your dog can be changes based on your hand and shoulder movements," she explains. "If it's attached to your waist, a dog learns a more fixed radius." Grossman adds that a hands-free leash is "extremely useful outside" since it should also make it easier to reward your dog with treats.
"On a crowded city street, plenty of people think that it's okay to interact with your dog, when it's not the right thing for every dog. A lot of dogs can't handle someone running up to them and trying to pet them or having other dogs try and greet them," explains Grossman. A simple leash sleeve is an easy way to help keep people and dogs on the street from getting too close.
Anthony Newman, canine behavior expert at Calm Energy Dog Training, recommends this 25-foot nylon leash for working on obedience off leash in large dog parks. "Daily off- leash social play is super-helpful for channeling most dogs' physical and social energies," says Newman. "And the light long line allows us to do this while still putting safety first. Your dog can't run away, but it allows us to work on various leadership routines and obedience exercises effectively." He points out that it comes with some difficulties, like making sure you don't accidentally trip people or wrap other dogs, "but if used properly it can be a godsend, allowing people to start getting their dogs off leash immediately and reaping the rewards."
Best harnesses for the city
A harness comes in handy in city settings, especially if your dog tends to pull. As our panel of experts explained, it's important that the harness fits your dog properly to make sure they can't escape. So it's best that you test out a harness in the safety of your home before taking to the streets.
Ellis's favorite harness comes from Blue-9 and features a clip in the front and back. "In busy environments, if you have a leash with two clips, you can put one on each end to really have control and make sure your dog doesn't escape or get away," she says, adding that another bonus is that every strap is adjustable. "It really does fit every size dog, whether you have a pug or a basset hound, which might be able to back out of some harnesses."
Another recommended two-clip harness is the Freedom No Pull Harness by 2 Hounds Design. Gagnon says it gives dogs "more feedback than a regular harness, which might encourage a dog to pull." This harness also features an inner velvet lining, to help prevent any uncomfortable rubbing or chafing.
Taking
your
dog
on
the
subway
For most dogs that have just moved to the city, the subway is a totally new experience. Similar to walks, our panel of trainers says to take it slow. This means your dog's first introduction to underground transit shouldn't be a whole 30-minute commute. Olguin says even before you go near one, it could be helpful to find YouTube videos of NYC subway sounds to play in your home, similar to the desensitization exercise with city sounds.
As far as introducing your dog to the train in real time, Ellis recommends first sitting at the stairs before going down to the platform and rewarding them with those previously mentioned high-value treats. "We want to get them used to it versus just 'now we're on it and it's scary, loud, and different,'" says Ellis. Once they're more comfortable, you can try bringing them down to the platform so they can see trains go by, while also receiving treats. And eventually, you should be able to take them on the subway, starting with a quick ride that is one or two stops away. Just be sure to pay attention to your dog's body language and that they're comfortable enough to receive treats.
If you're going to be bringing your dog on the subway frequently, you'll need to carry them in a dog bag. But if your dog has never been in one before, getting them used to a carrier can be another process on its own. "First, get them used to being in a bag without going on the subway, so they don't associate going in the bag only with being in a noisy, crowded place," says Grossman. Once they're used to being in the bag in your home, you can start bringing them in the bag to other places that are more crowded or noisy, and eventually build up to going on the subway using high-value treats as a reward.
Best dog bags for subway rides
Our panel of trainers say both safety and comfort is important when picking out a dog carrier. Ellis prefers Sleepypod's carriers because they are not only great for train rides, but they're airline-approved and crash-tested, too. She points out that it's "super-plush and super-cozy inside" and "has tons of ventilation to let them see outside things and be cozy, which is what it's all about."
This backpack by K9 Sports is "very popular" with Grossman's clients because it comes in a wide variety of sizes. The largest size can fit a dog 26 to 29 inches long (from collar to tail), and because it's a backpack, owners can carry larger dogs with less difficulty than a tote. "It can take a little bit of training to get a dog used to being in a backpack," says Grossman, "but it's definitely worthwhile training if you're going to be riding the subway a lot with your dog,"
For smaller dogs, Olguin recommends owners purchase a sling carrier because it keeps them closer to your body. "You can feel how your dog is taking in the situation in a sling. If all you can see is their little head popping out in a carrier, you're not seeing the full picture," she says. "They might be shaking or have their tails tucked, but if they're literally hugging your body, it's quite easy to feel if they're shaking or showing any signs of fear."
Olguin also likes this carrier bag from Sherpa because it opens from the top and the side. This allows dogs to pop their head out of the top, if needed, and it makes carrier training that much simpler. "It's always much easier to train a dog to go in through the side," she says. For added safety, it comes with a clip on the side to make sure your dog is fully secured.
This dog collar releases pheromones similar to a dog's mother's when activated by the dog's body heat. "It can help a dog feel a sensation of calm and comfort wherever they go," says Olguin, who adds that the brand sells collars with chamomile and lavender scents, which can also be calming for dogs. The collar lasts up to 30 days, and while Olguin notes she's seen about a 50 percent success rate with her clients, it's "such a benign tool that it's definitely worth trying."
Something that could help both you and your dog with city noises is a white-noise machine. "We hear all these sounds outside, and those sounds make us jump. It's the same with our animals, especially in a new environment. That's all escalated," says Ellis, who recommends using a white-noise machine during the day. This portable, easy-to-use one was written about when New York magazine deputy editor Alexis Swerdloff said it helped her fall asleep in an apartment with paper-thin walls, and we think your pup might benefit from it too.
This treat dispenser can be used in a variety of ways to train your dog, but Grossman finds it helpful for dogs that bark and run to the door whenever there's a visitor. Grossman suggests attaching its button to your front door, having visitors ring it when they approach, and setting the dispenser in an area far away from your door — whether that be in another room or your dog's crate or bed. "It's a clever way to outsource some training and create a new behavior through that association of noise in the hall, meaning good stuff happens over there," says Grossman, adding that it's important to fill it with treats your dog really likes.
The Strategist is designed to surface the most useful, expert recommendations for things to buy across the vast e-commerce landscape. Some of our latest conquests include the best acne treatments, rolling luggage, pillows for side sleepers, natural anxiety remedies, and bath towels. We update links when possible, but note that deals can expire and all prices are subject to change.