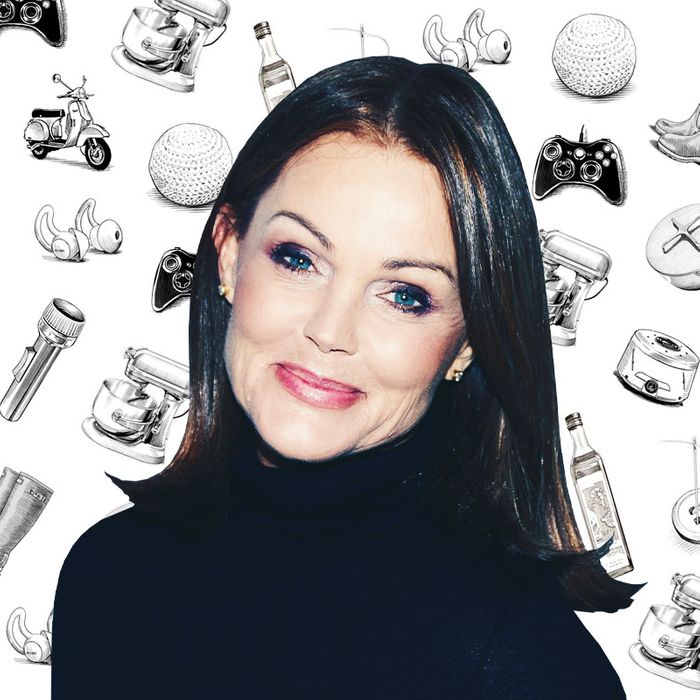 Photo: Charles Sykes/Bravo/NBCU Photo Bank/Getty Images; Illustration: Joe McKendry
If you're like us, you've probably wondered what famous people add to their carts. Not the JAR brooch and Louis XV chair but the hair spray and the electric toothbrush. We asked Belinda Carlisle — a solo artist and the lead singer of the Go-Go's, who recently collaborated with Too Faced on a lipstick— about the reading light, moisturizer, and planner she can't live without.
I read all the time and finish about 30 to 40 books per year. As I got older, I needed glasses and more light in order to read in bed. Traditional reading lights are fussy. You constantly have to redirect the light and it takes forever to get it right. This is very sleek. I wrap it around my neck and there are two flashlights on either side. You can direct them up or down or in any direction you want. When I'm sitting in the dark, I can't see anything except for the flashlights. My husband makes fun of me for using it, and I even made fun of it when I first saw it because the light is so ridiculous-looking. But now I own two — they're rechargeable, so I always have the spare one charged in case the other goes out in the middle of the night.
I lived in Asia for seven years. They're really into their gadgets there. I saw a warmer like this in the kitchen department of a store — you had to walk through it to get to the grocery section. At first, I was like, "Please. That is the stupidest thing I've ever seen." But after a year or so, I thought, "Why not? Maybe they know something I don't." I swear to God, it has changed coffee-drinking for me. If you don't finish your coffee in a half hour, it's lukewarm or cold unless you refill it or heat it up. That's why this is the best invention ever: I can put my coffee cup on it and it will stay hot for hours if I keep it there. I couldn't bring the one I bought in Asia to the U.S. when we moved back and was worried I wouldn't be able to find a replacement. But, sure enough, there this was on Amazon, because it has everything.
Everybody is digital now, but I like writing things down. I like to see my weeks one at a time. I know you can do that with Google Calendar or whatever, but a planner is more special. I keep all of my old ones in a big envelope so I can revisit everything I've done in past years. I've always used Filofax, for close to 30 years now. I know what to expect. I like the format. It's consistent. I'm very old-school. I turn off all of my phone notifications because I don't like being disturbed. I don't know when anyone texts or calls or emails me. I look at my phone when I want to, not when it alerts me. My husband doesn't understand it, but I prefer life this way.