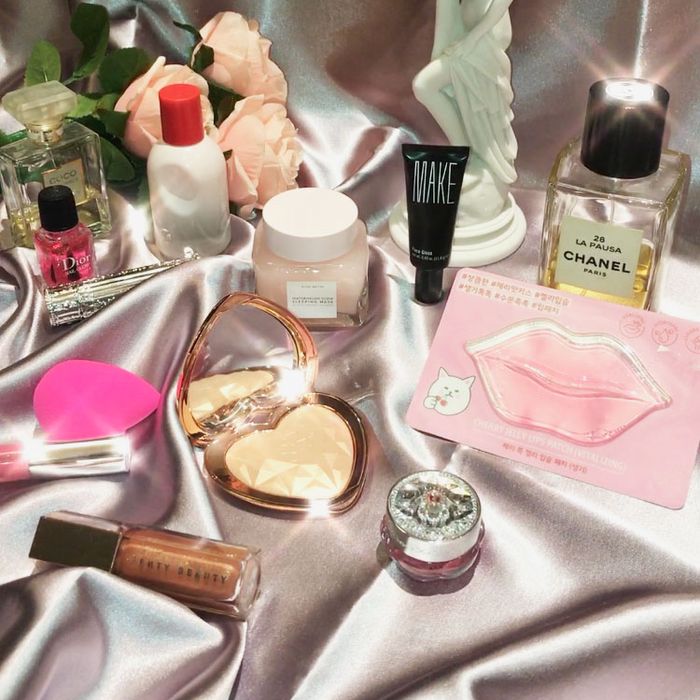 All of my favorite gifts (with added sparkle effect).
Photo: Rio Viera-Newton
Valentine's Day can be overwhelming for many reasons, but the inevitable "you don't need to get me anything, but you better get me something" gift exchange makes for a particularly stressful February 14 lead-up. The situation is only made worse when, a week out, you suddenly realize that you know absolutely nothing about that niche thing your significant other is into, which inevitably results in panicked Google searching as you desperately try to remember something they mentioned liking once in passing.
So let me try to make it easier for you: If your valentine has a very cluttered bathroom sink, or if you often find yourself waiting patiently at the entrance of Sephora, you're in luck, because I can help. The beauty industry loves nothing more than Valentine's Day, making it easy to find something that's cute and seasonally appropriate. But not every product repackaged in pink is actually quality. Which is where I come in, with a list that will help you to weed out the "eh" products and ensure that you purchase the cosmetics and products that your beauty-loving significant other will be happy to use year-round.
These heart-shaped blushes from Too Faced are so damn cute, they make me want to scream! I should also note that this is a really effective, long-lasting blush. Shock your valentine by saying, "This blush is great for giving your look a nice, warm pop of color, especially in the winter when you tend to start looking gray. It's highly pigmented, so a little goes a long way, but really easy to blend out, so don't let that scare you."
If there's one thing I know for certain, there's no makeup lover out there who would be upset to receive this lovely set of beauty blenders. The technology behind beauty blenders allow them to evenly and naturally disperse makeup for the loveliest coverage, without absorbing all the product.
I've written a few times about how much I love this brand, and I'm happy to say that they continue to be some of my favorite masks on the market. My Beauty Diary masks not only fit well and don't tend to drip down your neck (something that constantly frustrates me about sheet masks), but you also really see the results they promise, and fast. From blemish control, to brightening, to hydration, you will have your skin concern covered with this mask bundle. If you're shopping for a person who likes masking, definitely consider this.
I've long been a fan of this company Floss Gloss — I almost always get complimented on my manicure when I'm wearing one of their colors on my nails. There's something about their pigments — they are just so lively and different. This V-Day set from them is so fun and versatile — with hot pinks, nudes, and mauvy browns, your valentine will have a bevy of colors to get them through the rest of the winter.