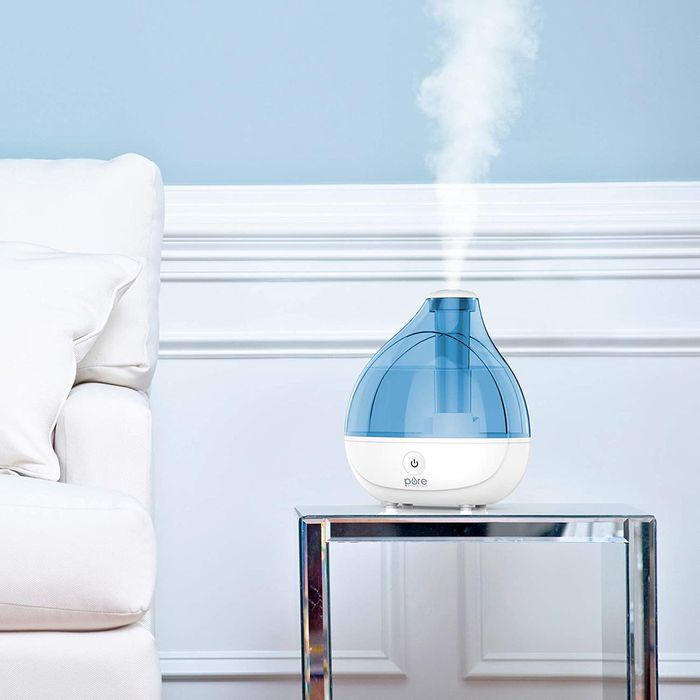 While any humidifier helps keep your skin (and nasal passages) from drying out through the colder months, a cool mist humidifier is more energy efficient and safer if you have kids or pets, since there's no heated water involved. To help find the right one for you, we found the best cool mist humidifiers as praised by the most enthusiastic reviewers on Amazon, including the best choice for large rooms, small bedrooms, and even one that changes colors. And if you're looking for more ways to improve the air quality in your home, we also have roundups on expert-recommended air purifiers, regular humidifiers, and even a deep dive on finding an actually good humidifier.
Related Articles: Why Is It So Hard to Find a Good Humidifier?
Best-rated cool mist humidifier
Dozens of reviewers bought this cool mist humidifier because they were fed up with dry, stuffy noses in the morning. The tank is deceptively small, according to one reviewer, which made her question "its effectiveness," but the mist lasts up to 16 hours. After using it, she writes, "WOW. I can't believe how much better I can breathe at night and I don't wake up with the sniffles." Another wonders "how [she] lived without this thing," explaining, "My biggest love for this thing is no more dry throat in the middle of the night which I didn't notice was THAT bad until it was gone." She says the humidifier is easy to set up, fill up, clean, and use, and that ease of use is why over 45,000 reviewers give it a five-star rating. And if you're still not convinced, another customer "was amazed" after just one use. "Easy to use; plugged it in; worked perfectly. IT WAS SO QUIET. I can't even hear it's running, and it helped my congestion tremendously."
Best-rated (less expensive) cool mist humidifier
Reviewers are similarly impressed by this less expensive Levoit model, with dozens calling it a "great little humidifier." One such reviewer, who lives in New York, says that "this little cutie works great to increase humidity" in their apartment, so much that their "lips don't feel dry and cracked any more. It's even fixing my dry and clumpy makeup issues!" Other reviewers call out its low price point, including one who says it's "affordable, easy to clean, and quiet." They were "shocked" by the smaller size of the unit upon arrival but reassure that "it's small but powerful. You'd think with the tank being so small you'd have to constantly refill it, but you don't." And a third reviewer with asthma says it's "perfect" since it "does not take up a lot of space," "it throws off the right amount of mist," and is "so quiet." They write, "This is a game changer. I breathe better at night, I sleep better at night — it's a win-win for me!"
Best cool mist humidifier for large rooms
"I was looking for a big room humidifier and boy did I get it!" starts a five-star reviewer. "This thing will fog up my entire house overnight. The big tank is long-lasting, even at full force." Sentiments like this are repeated by hundreds of other reviewers because this Levoit has a six-liter tank — one of the biggest listed — and is therefore excellent for humidifying large areas. Another reviewer uses it in their living room but notes that "it actually helps in the whole house," and even on the coldest, driest days, "this wee thing runs all day with no fill ups," they write. "It automatically adjusts steam and heat level to get the humidity to a perfect 50 percent." Others are impressed by all the features it comes with, including a humidity sensor, warm or cool mist options, timer, and remote control. "I had a list of features I was looking for, and this Levoit unit checked them all off," a third reviewer celebrates.
Best (less expensive) cool mist humidifier for large rooms
Reviewers looking for a more affordable cool mist humidifier with a large tank laud this Everlasting Comfort unit. While it doesn't come with nearly as many features as the Levoit above, it's the "best bang for your buck," according to one reviewer. They suffer from "intense pressure in my sinuses" during the winter and report that after running this "straight through the winter using distilled water, over the course of a few weeks, my symptoms disappeared." Another reviewer, who owned a different big room humidifier, thought it worked well "until I got this one." "For someone who deals with really bad dry mouth when I sleep, it's been an absolute boon," they write, adding that the "output is great, even at the lower settings, and it can last for daaays without needing a refill." And a third reviewer, who replaced their more expensive humidifier with this one, says it helped with their "nasty spell of a sinus infection. I'm a happy camper, I will not ever be without a quality humidifier such as this unit ever again."
Best cool mist humidifier with night light
While other humidifiers on this list light up, this particular Pure Enrichment one features a light that changes colors, and over 240 five-star reviewers appreciate it. One such reviewer says the light "creates a soothing atmosphere that relaxes you," adding that they "like that you can use each function (light, humidifier, or diffuser) independently." Another notes that the light colors are "soft to the eyes and serve as a great night light." They plan to purchase more of the "whisper quiet" devices for their office and meditation space. And as for the humidifier setting itself, reviewers are just as pleased. A reviewer who bought theirs as a replacement for another unit likes that this one is "sleek and unassuming," "puts out an impressive amount of mist even on low mode," and is "WAY quieter than any other diffuser/humidifier I've found."
Best silent cool mist humidifier
Plenty of the humidifiers listed here are described as quiet, but over 250 reviewers claim this AquaOasis one is "silent." A reviewer who runs theirs overnight reports, "I sleep two feet away from it, and I can't hear it running," adding that it "holds a great amount of water." Another reviewer who's a light sleeper originally bought this for their living room and ultimately moved it to their bedroom after it "did such a nice, quiet job humidifying." Plus, they like that it's "very easy to open, clean, and fill." A third reviewer says they and their wife are "finally able to sleep all night long again" thanks to their AquaOasis. "This little machine takes up so little room and silently adds moisture to the air we breathe," they write. After several weeks, it's been a "huge help at getting a great night's sleep. No more dry sinus problems. No more reaching for my inhaler in the dark in the middle of the night."
Best cool mist humidifier for children
Because this Levoit humidifier is easy to clean and on the smaller side, customers say it's great for kids and kids' bedrooms. "Other tanks you can't clean and mold grows in them. This one you can clean well and feel good knowing your kid's health is not at risk," says one parent. They had a much larger humidifier before buying this one, but her daughter broke it "because it was too heavy and cumbersome to carry" and she insisted on filling it herself. This one can be filled "with a small pitcher," so "her bedtime routine is a breeze." She even thinks it might actually worked a bit better than her larger, more expensive model. Another mom also appreciates how quiet it is, so it doesn't keep her kids up, and it even "has a sleep mode" that turns off the light. "My kids aren't disturbed by the light and I don't have to worry about adjusting the humidity due to the internal sensor." She says it's "SO easy to fill with water and clean" but by the morning, the tank is empty, so if you have a large bedroom, this might be too small.
Best top fill cool mist humidifier
Photo: retailer
"It's simple to add additional water right through the top so refilling is a snap," says one reviewer. The humidifier supposedly cannot be filled with the top on, you really do have to take it off, but one reviewer says if you're feeling lazy, it "seems to work fine with a slow pour." And that's not the only feature that's "a snap" to use. Apparently "cleaning is a snap as you just wipe out the reserve" and you don't have to "worry about filters." If you have a large room, this will fill the space. One customer calls this humidifier "FAN-FRICKIN-TASTIC" because it fills his entire "master bedroom which is about 550 square feet" on top of being "quiet, easy to use, and gets the job done if used in the appropriate sized space." If you're still on the fence, he goes on to say, "My wife and I have both slept better, felt more rested, and in general, have a more pleasant environment in our room."
The Strategist is designed to surface the most useful, expert recommendations for things to buy across the vast e-commerce landscape. Some of our latest conquests include the best acne treatments, rolling luggage, pillows for side sleepers, natural anxiety remedies, and bath towels. We update links when possible, but note that deals can expire and all prices are subject to change.