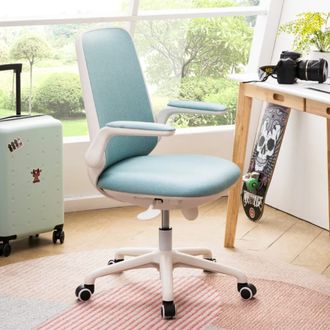 Photo-Illustration: retailer
With many schools across the country keeping their classes online for the foreseeable future, setting up the right workspace for your child is a big step you can take to ensure remote learning goes smoothly. At the minimum, any little learner will need a desk (we've rounded up a bunch of expert-approved ones here) and a place to sit. But not all chairs are created equal.
"It seems straightforward, but depending on the kids' ages and their level of learning, the expectations for them to achieve or maintain certain postures for a certain amount of time will be different," says Dr. David Kwon, a physical therapist who works as the general manager at Next Level Physio in Woodcliff Lake, New Jersey. That's why he and the other experts we spoke to recommend looking for chairs that are adjustable (and therefore more ergonomic), because they can be tailored to fit a child's needs and, according to California-based chiropractor Dr. Brook Sheehan, "help with keeping and supporting an upright posture." To find the best desk chairs for kids, we spoke to Kwon, Sheehan, and two more experts — some of whom are parents themselves — about the ones they'd recommend. Their eight suggestions below are divided into two categories, chairs designed for kids that they say are better for the youngest of learners and chairs designed for adults that they say are just as good for growing children as they get older.
Best kids' desk chairs designed for kids
These chairs are specifically designed for younger kids and are generally sized for children ages 4 years and up. Because of their adjustable nature, our experts say the chairs below can be used up to age 12 and, depending on how much children may (or may not) grow, even beyond.
Best overall kids' desk chair
"The things we're looking for in an ergonomic chair are an adjustable footrest, an adjustable seat, and armrests," says Kwon. Footrests are important — especially for younger children who may not be tall enough for their feet to reach the floor when seated — because they help prevent "feet from dangling all day," which Kwon says can cause unnecessary fatigue. Armrests give kids more places to rest limbs, he adds, and "a seat that can adjust up and down in height and lean back" will also help kids sit properly and comfortably. This chair from SitRite has all of these features and comes recommended by both Kwon and Dr. Gbolahan Okubadejo, a spinal and orthopedic surgeon with offices in New York and New Jersey. Okubadejo notes the chair's foot bar not only gives kids a place to rest their feet, but also allows for their legs to be bent at around 90 degrees, which our experts say is the ideal angle when seated. (The bar can be removed for older kids whose feet reach the floor.) He also likes how the chair is "well-cushioned, with adjustable mechanics to raise the height or lock the chair's angle," features that Okubadejo says can "prevent a relaxed, slouched position that can affect the alignment of the spine."
Best (less expensive) kids' desk chair
While it doesn't have a footrest or armrests, Sheehan says that this less-expensive chair is still a solid option for those who want to spend a little less, because it has an adjustable seat and a backrest that can move between 21-to-32-inches high. She also likes that the chair has a locking caster base that allows it to swivel 15 degrees to the left and the right when engaged. "The locking mechanism stops the chair from swiveling too much," she explains, "keeping the child in a proper, stable position, but also allowing for easy exit should they need to stand up."
Best kids' desk chair with a fixed footrest
This chair, recommended by Kwon, has a fixed footrest that's larger than the so-called foot bar on the model we named best overall, making it a better option for kids who need more surface area to plant their feet and "support their body weight from falling or pulling to the ground," he says. (That said, if you're looking to save some money, Kwon admits that a box or stool you already own can serve as a basic foot rest.) The model, which also comes in pink, features other ergonomic details, including armrests that fold from zero to 90 degrees and can be raised or lowered, a split-back backrest that can be raised or lowered and has rotating panels, an adjustable seat (along with helpful markings so you can keep track of your child's preferred height), and self-locking wheels.