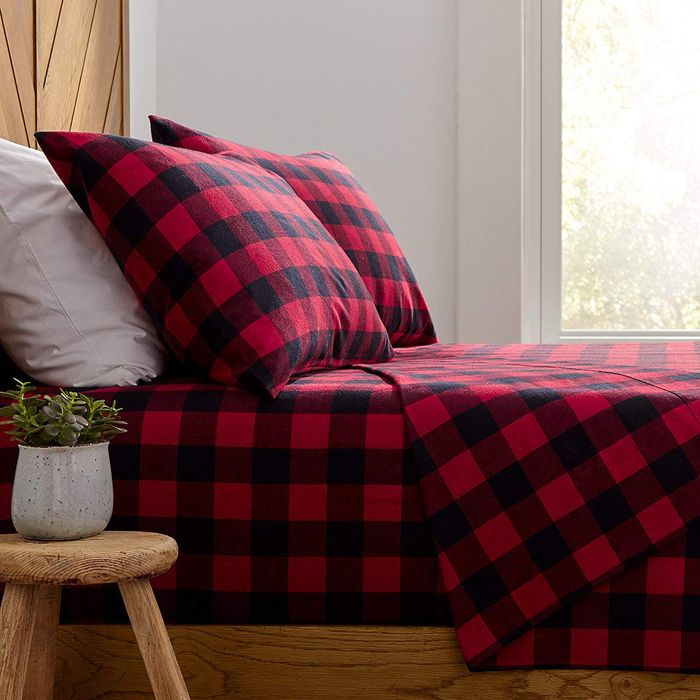 Photo: Courtesy of the retailer
Here at the Strategist, we like to think of ourselves as crazy (in the good way) about the stuff we buy, but as much as we'd like to, we can't try everything. Which is why we have People's Choice, in which we find the best-reviewed products and single out the most convincing ones. (You can learn more about our rating system and how we pick each item here.)
And while we've written before about all sorts of bed sheets — including the best sheets for sweat sleepers, and a detailed overview of the linen sheet market — here we've rounded up the best flannel sheet sets as praised by the most enthusiastic reviewers on Amazon.
Best-rated flannel sheet set
With over 4,500 reviews, this flannel sheet set is repeatedly praised as warm, soft, and long-lasting. One typical reviewer writes, "Oh. My. Heavens … Getting into bed at night with these feels SOOOOOO warm compared to our other sheets." And hundreds of five-star reviewers note that these sheets don't pill. "Typically a set makes it through one season and gradually becomes pilled and somewhat harsh to the touch," one reviewer explains, adding, "These have not pilled at all and have remained as soft as suede through numerous launderings. Really an excellent buy, especially when the lasting softness factor is considered." Another speaks to the longevity of these flannel sheets, saying, "These continue to amaze, remaining soft and scrumptious even after the third year of wear."
Best-rated (less expensive) flannel sheet set
"First class quality sheets at an unbelievable price," writes one purchaser of these flannel sheets. "I LOVE these flannel sheets" says another, who claims these are better than another set they bought for double the price. "The fit, the feel and the quality [of these] are all excellent," they add. Another says, "I've had flannel sheets before, but these are so soft and cozy that I look forward to getting into bed." One dozen reviewers also call attention to the fitted sheet's deep pockets. "I like that the pockets are deep enough for my very thick Tempurpedic mattress," one writes. Others say "deep pockets" mean that it's much easier to accommodate foam mattress toppers, and there's another benefit, too: "No more tugging and pulling when making the bed."
And now, some micro-picks for every type of flannel sheet set you might be looking for
Best plaid flannel sheet set
"The best plaid flannel sheets I've ever come across," writes one purchaser who also describes them as, "heavy-duty and soft with a beautiful pattern." Dozens of reviewers mention how much they love the look of these plaid flannel sheets. "The colors and patterns are really handsome," writes one, and another highlights how the design is equally clear and "true on both sides" unlike some flannel sheets where "the colors on the reverse side are 'faded' looking." Hundreds of reviewers describe these sheets as "soft and warm," as well. As one enamored reviewer shares, "I slipped into these sheets at bed time and my body experienced a bliss that it has never felt. Words cannot describe the satisfaction that I now sleep with. There is no review or star rating high enough for these sheets." Some also mention that these are not the thickest flannel sheets, but for many five-star reviewers, that means they're versatile. They're "not too heavy, so you could definitely use them for every season," explains one purchaser.
Best solid colored flannel sheet set
These flannel sheets from Stone & Beam checked all the boxes for one purchaser who "was looking for affordable flannel sheets for my guest room in a neutral color." Others praise the color palette of these sets: "I bought the toast color and it is lovely," writes one, while another says the "heather" option is a "great grey color." And plenty of happy purchasers vouch for the quality of the flannel, with one calling them, "the softest flannel I have ever felt. I can't speak of the longevity of these sheets because I haven't had them that long, but they look and feel like they are going to hold up quite well." Reviewers also appreciate the included carrying bag which is a "really great touch," says one. Another adds the bag is "very helpful for storage."
Best patterned flannel sheet set
"Absolutely love this brand," writes one reviewer of these flannel sheets from Pointehaven, adding, "I have expensive sheets from JCP, Kohls, and Macy's and these are by far the best quality. They are much thicker [than a sheet set] I paid double this price for." One purchaser who lives "off the grid" with only a pellet stove for heat says that these flannel sheets help stave off the cold: "On a very cold night, getting into bed with these is like slipping into a warm hug at bedtime." The snowflake pattern is big draw for purchasers, too, with one reviewer describing the blue color and snowflake pattern as "soothing" and "peaceful."
Best floral print flannel sheet set
"It's hard to find flannel sheets in prints that aren't childish or winter-themed," one reviwer writes, noting that they were "pleased to find these high quality, very soft sheets in a lovely floral print." Adding to the year-round appeal is the flannel's lighter weight, which one purchaser calls "a nice midweight flannel." Others seem to agree and say these strike a happy medium in terms of warmth, like one who calls them, "Soft and cozy but not too thick. To me they're a perfect flannel weight. I don't care for the 'extra heavyweight' style because it's too hot to sleep under. These are breathable."
Best winter-themed flannel sheet set