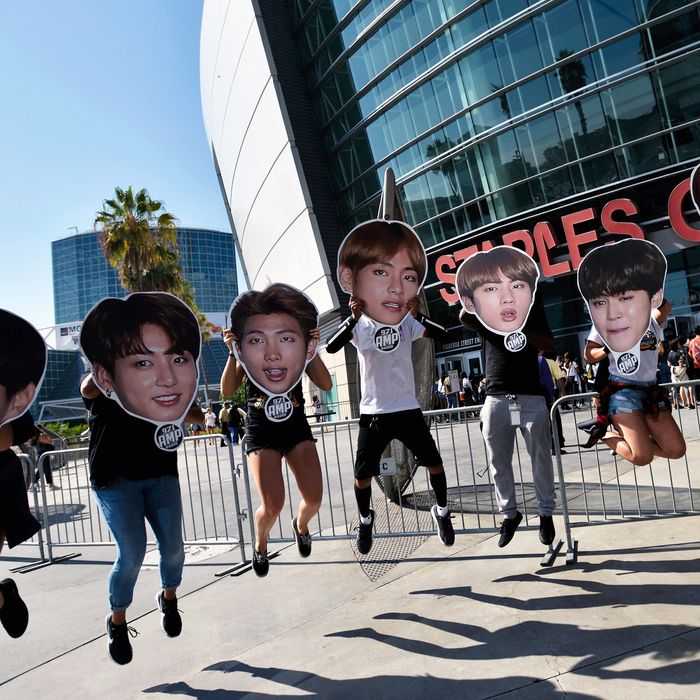 Photo: Chelsea Guglielmino/Getty/Getty Images
Aside from mobilizing earlier this year to sabotage a Trump rally, K-pop fans are perhaps best known for their devotion to their group of choice. While you might think that would make it simple to pick out a gift for a superfan, finding the right one, especially if you are not familiar with the ins and outs of their favorite group, can prove trickier than it seems. To find out what sorts of things K-pop fans might really want to unwrap, we asked a bunch of them about the types of gifts they think will delight people like themselves. From official merch to virtual concert tickets to CD players made for listening to K-pop albums, any of their 16 recommendations below are sure to be a hit with the superfan in your life.
With December 25 just eight days away, and the pandemic's ongoing stress on shipping and delivery systems, know that the items from niche retailers on this list will now probably arrive after Christmas. As of today, however, the bigger-box retailers say there's still time to get stuff before the big day — but that window will become smaller with each passing day, so don't dillydally.
Three of the folks we spoke to say that one of these light sticks would be a great gift for any fan that does not have one or collects them. As K-pop fan Rov R. explains, "A light stick is something unique to K-pop and each group has its distinct style." Jini R. adds that fans like herself love light sticks because they "show your full support toward the group." Typically used at concerts or other live performances, this year has seen more fans "cheer for their group with their light stick through a screen, too," explains Aamina M. She warns that light sticks sold by groups' official merch stores often sell out quickly, but other fans told us you can find them at retailers like Cokodive, K-Pop Town, Ktown4U, and even Amazon.
While you might not be shocked to hear that albums came recommended as another thoughtful gift, you may be surprised by the reason why: "K-pop albums are a little different," explains Nikki B., "as they often include extra goodies in addition to the CD, like photo books, photo cards, posters, and stickers, making them the perfect all-in-one gift." Two other fans agree, including Kate L., who says "gifting albums is a great and simple way to make a fan's day and support the group at the same time, because you're buying their products." Gifting an album might require you to do some snooping to find out which ones your recipient may not yet own; however, if you know they have not bought any new albums this year, you'd likely be safe with one of these three, as they are each band's latest album and were all released in 2020.
Another surprising fact we heard about K-pop albums: While fans collect them, it's not always so they can play the CD inside, according to Rov R., who told us "the CDs can end up collecting dust in their cases." Giving this gadget would encourage your recipient to actually listen to their CDs, she says. "It's designed especially for K-pop albums, so you can both play and display the CD in your room in an aesthetically pleasing way." She loves how it "can be hung on a wall or placed on a desk or nightstand," telling us that, either way, it won't take up much space.
Evie W. pointed us to this more affordable CD player as another one she thinks K-pop fans like herself would enjoy. It, too, can be mounted to a wall or set on a flat surface, and this also has a cover that shows off whatever CD is inside. "It's relatively small, looks nice, and can work as décor as well," Evie says. What's more, this can also function as a DVD player because it has a port for a cable you can use to connect it to a TV or projector.
This clear iPhone case also came recommended by Evie W., who told us a lot of K-pop fans like to display the photo cards of their "bias" — or favorite group member — on the back of their phones. "Some people get fancy and decorate them with stickers," she adds.
Speaking of photo cards, an album is just one place where you can get them. If you'd simply like to supplement your recipients' photo-card collection, Evie W. told us that "you can usually find large quantities of photo cards for any group on Amazon," like this set of NCT cards that she directed us to.
K-pop group BTS created its BT21 line back in 2017; it features eight cartoon characters, including a brawny bunny and a sleepy koala, designed by members of the boy group. "The line has plushies, blankets, outfits, school supplies, phone cases, and AirPods cases," explains Aamina M., who says that any item from the collection is sure to bring a smile to a BTS-obsessed recipient's face. "People love owning the merchandise since it has a sense of style and the characters are extremely cute," promises Aamina, who notes that while they're made for BTS devotees, "any K-pop fan can enjoy them."
If you can get your hands on some, T-shirts or other official merchandise from a group i