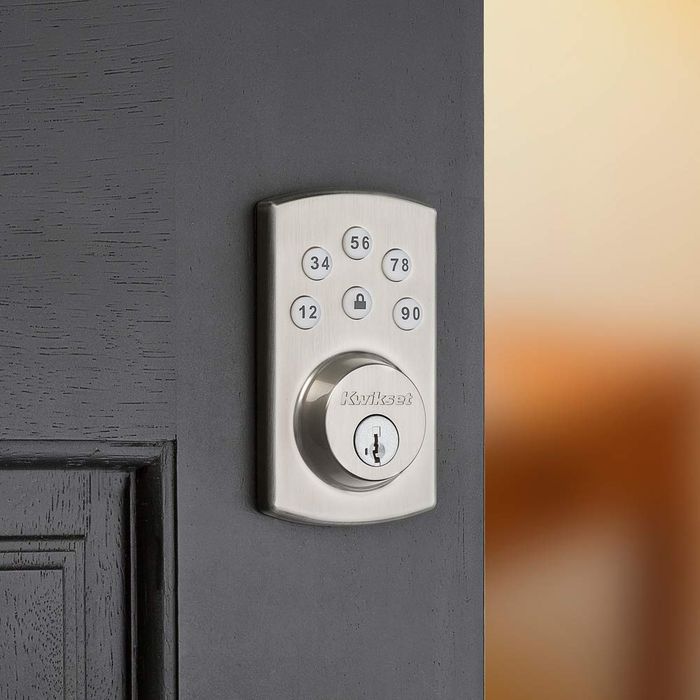 Photo: Courtesy of the Retailer
Here at the Strategist, we like to think of ourselves as crazy (in the good way) about the stuff we buy, but as much as we'd like to, we can't try everything. Which is why we have People's Choice, in which we find the best-reviewed products and single out the most convincing ones. (You can learn more about our rating system and how we pick each item here.)
And while we've written about lots of security products for your home before — including security cameras, smart locks, and a safe for valuables — here, we've rounded up the best smart locks, as praised by the most enthusiastic reviewers on Amazon.
Best-rated keyless door lock
Over 4,000 reviewers give this smart lock a five-star rating, with about 10 percent of them describing it as "secure." One woman wanted to make sure her ex could no longer have unfettered access to her house once he moved out, so she installed this on her front door. "It's super easy to program your own 4-digit code, and just as simple to remove a code you've programmed," she writes, adding, "I find this especially helpful for when the ex needs to come pick up the kids. I can program a temporary code for him, then delete it after he's got the kids." Another reviewer bought this lock back in 2015, calling it "heavy-duty and nice looking." She projected that the "battery won't drain so fast" because of the manual lock feature, and in 2019, she updated her reviewer, since she "did finally have to replace the ORIGINAL batteries in the deadbolt," but she notes, "I think four years is an excellent battery life."
Best-rated (less expensive) keyless door lock
One once-skeptical reviewer "was hesitant to go with an Amazon branded lock versus one of the established, big vendors," but reports, "It worked out great. The lock looks even better in-person, took less than 10 minutes to install, and works flawlessly." Another ponders, "Where have you been all my life?" He explains, "I can't tell you how many times I was working in my shop only to come around to the front door and find that my kids left and locked me out of the house. Then there's the times when you're in your car and you have to go back in the house because you forgot something. All those things are no longer a problem." This lock also has a customizable auto-lock. Customers can choose between 10 and 99 seconds how long they want the lock to wait before auto-locking. And reviewers seem to love that. One reviewer says it's "easy to program the auto re-lock" and he plans to buy more for his store.
And now for some micro-picks for every type of keyless door lock you might be looking for.
Best keyless lock with LED light
"I know it's silly, but this door knob has been a life changer," writes one reviewer who thinks it's "wonderful to not have to worry about keys anymore." They say it's easy-to-install and love that it locks automatically, but the built-in LED light takes it over the top. "The LED light is bright and illuminates the key pad and beyond." One more reviewer enjoys how sensitive the keypad is compared to others he's tried in the past. "Often my hands are full with bags so I end up using my pinky finger or knuckle to hit the buttons and it works just fine," he writes. He also notes that a delightful perk is that "you can push the handle down or up to open the door." Another loves that this lock actually has more memory than most, since it "allows for up to 19 different 4-number codes to be programmed into the memory." And according to him, "Programming is very easy."
Best auto-lock keyless door lock
Like most keyless locks on this list, this one is described by many as easy-to-install and easy-to-use. But one feature that gets cited often by five-star reviewers is the auto-lock functionality. "If someone (the kids), comes in or leave and forgets to lock the door, it will auto lock after 30 seconds," one reviewer explains. Some question how long the battery will last since auto-lock features tend to wear it down. But one reviewer confirms, "I've had this installed for about 6 months now on my primary door to my house.I lock and unlock it multiple times a day. It's still on the first set of batteries." Another who has installed six of these in her house appreciates that they all take "the same key so you only have to pack one key for all of them and the only reason you need a key is if you let the battery die." She says in four years she has never "had a problem with any of them."
Best manual keyless door lock