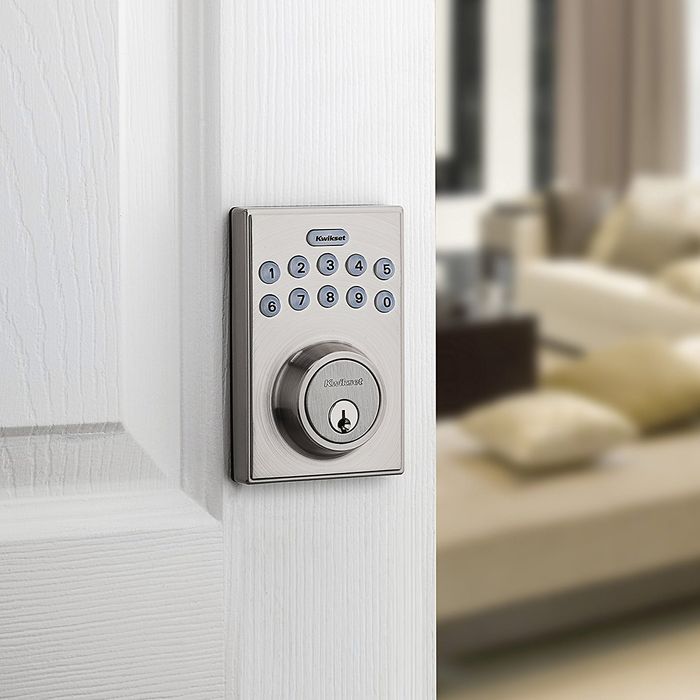 Photo: Courtesy of the retailer
Here at the Strategist, we like to think of ourselves as crazy (in the good way) about the stuff we buy, but as much as we'd like to, we can't try everything. Which is why we have People's Choice, in which we find the best-reviewed products and single out the most convincing ones. (You can learn more about our rating system and how we pick each item here.)
And while we've written about lots of security products for your home before — including security cameras, a doorbell that scares off intruders, and a safe for valuables — here, we've rounded up the best smart locks, as praised by the most enthusiastic reviewers on Amazon.
Best-rated smart lock
This August Smart Lock pairs with Alexa, allowing reviewers to easily lock their door with voice command. "'Alexa goodnight' now not only turns off the lights, but locks the smart lock," explains one reviewer. "To unlock the door with a smart home assistant device, you do have to say something like 'Alexa, tell August to unlock the door with PIN ####.'" Many reviewers specifically wanted a lock that could open with "more than Bluetooth range," as one reviewer puts it. She writes, "Having the ability to open and close the lock remotely from anywhere where internet was available was very important to me." But the best part for her is the "Door Sense" feature. "One of the problems I've had in the past with my front door is that it sometimes stays open if you're not careful about closing it. With Door Sense, it will alert you if this happens." And though several reviewers do say it's pricey, one reviewer writes, "C'est la vie, YOLO, and FOMO. Having had the lock for the better part of a year, I feel confident enough about it to recommend it to family."
Best-rated (less expensive) smart lock
With some smart locks, you have to enter your PIN code in order to lock the door, as well as open it. But this one only requires you to press one button. "It makes it quick and convenient to enter and leave. I love not having to get out my key. And leaving is super easy with the one-touch button," writes one reviewer. Another appreciates that he doesn't have to use his phone to lock his door — but he also doesn't need a key. "There is no need to pull out my cell phone when my hands full and try to unlock my phone with my fingerprint, and no need to go through pairing/repairing bonanza after the app update, iOS update, and all kinds of a software update," he says. And one more reviewer says that if the one-touch button isn't easy enough for you, the door also has an automatic lock feature, which helps for the more forgetful bunch. "I LOVE that it locks itself in about 30 seconds. Initially I just bought one for the front door. I went back last night and got one for the back door too. And OH, did I mention it locks itself?"
And now for some micro-picks for every type of smart lock you might be looking for.
Best automatic-lock smart lock
Half of all five-star reviewers call this lock "easy" to install and use. One customer never owned these "remote entry door knobs before" and wasn't sure if it would function as described. But he reports back, "I am pleased. It's easy to program and I like all the features, like being able to turn off the blinking LED light, turn the sound on/off, and the automatic locking option. I never have to worry that my husband didn't lock the door." Another reviewer got locked out of his house late at night and "swore" he'd never do that again after it took "two hours of sitting on our front porch and $100." He bought this instead of a key box: "It has been fantastic. We use this lock literally 5–6 times a day and it has never failed." He even thinks this lock has better security measures than other models, explaining, "I like the idea of having separate numbers on this rather than 5 groups of 2 (1-2, 3-4, 5-6, etc). To me that makes it harder to guess the combination. I also like that this can be connected to a security system and automated if that is ever needed."
Best smart lock for Samsung SmartThings
Reviewers like that this smart lock is easy to install. "It took less than 10 minutes to switch out my old deadbolt lock for this one," writes one reviewer. He explains that you can have up to six different codes and add in one-time user codes that delete immediately after one use. Many say pairing it with Samsung SmartThings takes no time. One reviewer bought this explicitly because "it can be used with SmartThings," and writes, "It was easy to install and works very reliably. I also love that I can double check to make sure my doors are locked from wherever I am. Did I forget to lock the door? No problem. I can lock it from work if I want to." Another reviewer just appreciates how easy it is to use. "Forget losing your keys, scrounging your pockets for them, and leaving spares around," she says. But in case you do forget the combination and extra key, she writes, "I actually locked myself out while testing the codes out one day because i forgot which code I was using and if you call the kwikset number, they can help you after an intensive verification process."
Best smart lock for Apple Homekit
This smart lock pairs well with the Apple HomeKit, which many reviewers say makes their life so much easier. "I like how well it works with HomeKit so that when I unlock my entry door it turns the lights on in my kitchen and in the courtyard," writes one reviewer. She acknowledges that it's "a little pricey," but she thinks the "Apple HomeKit automation" makes a difference. Another reviewer agrees that the HomeKit pairing is worth the price. "I can unlock the door with siri via my apple watch or my iPhone and it hasn't failed me yet. Works reliably. I get notifications of openings via HomeKit." He's also very into set schedules and enjoys that he can program the specific time each code will work for guests. "I've set up several users and schedules so that my housekeeper can only come in as per her exact schedule and I know when she is in and out." And one more agrees this smart lock is so easy to use. "Homekit automation asks if I want to unlock the door as soon as I'm within a few blocks of home, no fumbling with a key or phone trying to unlock the door when you arrive."
Best smart lock with remote access
"What a great product, easy to install, extremely versatile in terms of the number of codes and temp codes, but most importantly, I can lock and unlock the door remotely through Alexa, even from my car which is Alexa-fied," writes one reviewer. And lots more reviewers appreciate that they can remotely access this lock. Another reviewer accesses it from his SmartThings hub, which "will notify you when someone uses a code to unlock the door and you can even lock/unlock the door remotely from your phone." A few mention that the number buttons don't light up, just the lock button, but at least one reviewer doesn't see that as a dealbreaker. He writes, "We all carry smart phones so just the illumination from that screen is enough to see the buttons if dark."
Best smart lock with Wi-Fi integration
The difference between this smart lock with Wi-Fi and one with Bluetooth is that this one cannot sense your phone and open the door. But reviewers prefer that. One reviewer thinks that adds an extra level of security, plus questions why he would "need yet another piece of equipment to connect to Bluetooth," especially because Bluetooth locks typically require the purchase of a smart hub, like an Amazon Echo or Google Nest. Another reviewer just didn't need Bluetooth capabilities since she's using it for her vacation rental unit. "I needed to be able