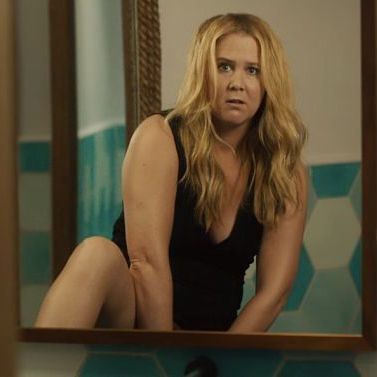 Perhaps out of necessity, the last few months have empowered lots of people to try things they never thought they would — especially in the personal grooming arena. Many of us have cut our own hair, shaped our own brows, and — believe it or not — given ourselves Brazilian waxes. We've written a lot about at-home waxing, and even covered bikini waxing, but going full Brazilian, which involves removing all the hair from the pubic area and beyond, is a whole new level of DIY. Not only is this procedure quite painful, but it's also not particularly safe. In fact, while many estheticians feel totally fine endorsing at-home waxing for other parts of the body, we want to be clear that the professional recommendation is not to do your own Brazilian.
"We don't recommend you do your own Brazilian," says Alix Shapiro, co-host of the True Beauty Brooklyn Podcast and esthetician at True Beauty Brooklyn. The skin in the pubic area is very thin and sensitive, and someone without experience runs the risk of burning themselves. "But we know people are going to do this regardless, because of the current situation," Shapiro adds, "so if you're going to do this, we should at least guide you and give you the best tips that we can."
With a Brazilian, the recommendation is always to go with a hard wax, never strip waxing. "The strip wax is very sticky and tacky," says Elizabeth Taylor, owner of True Beauty Brooklyn. "It's very messy to work with, even when you're trained — so if you're not trained, you're gonna get that shit everywhere." Taylor, who has waxed herself twice, also explains that the soft wax used with strip waxing sticks to your hair and skin, meaning when you rip it off, you'll feel the sting of the hair follicle being removed and the pull of your skin. Hard wax, Taylor says, really just grips the hair, not the your skin.
But it's not all about the wax. With such a sensitive area, it's important to prep the skin and take care of it afterward. We talked to Shapiro, Taylor, and six other at-home waxers about all the products they use to (literally) pull this off at home.
Everyone we spoke to recommends starting this process clean and fresh out of the shower, and Shapiro and Taylor note that it's important to further prep the pubic skin. Some of the waxing kits we'll get into below come with a pre-wax spray but "you need to clean the skin with an antiseptic," Taylor says. "You can use alcohol wipes or you can use witch hazel to get dirt, oil, or bacteria out." Witch hazel will not only clean the skin, and it also happens to be good for preventing ingrown hairs, so this can be used again after you're done waxing.
Lauren Napier, the founder of Lauren Napier Beauty, has waxed herself twice during the quarantine and found that exfoliating with the Luv Scrub pre-wax was a great way to prep and avoid ingrown hairs. She likes the mesh body exfoliator because "it's 18 bucks, it lasts you all year long, it doesn't collect bacteria, and it just helps to just keep your skin really smooth and sexy."
Napier pairs the exfoliator tool with Fur Silk Scrub, which "helps to reduce any ingrown hairs and kind of bring them to the surface."
Oils
Napier, Shapiro, and Taylor all like this Fur Oil for both pre and post wax. Before the wax, Taylor says you'll want to prep your skin with an oil "so that the wax just picks up the hair and doesn't pick up your skin." Plus, cleansing with witch hazel or alcohol will dry out your skin, and the oil helps keep it moist. Taylor says if you don't put oil — whether it's one of these fancier options or good ol' jojoba oil — in between the skin and the wax, the wax might adhere to your skin and you run the risk of pulling up the skin when you remove the wax.
This oil is another favorite of Taylor and Shapiro's. They like how lightweight it is, because you don't want the skin to be overly saturated pre-wax. And because it's a hybrid between an oil and a serum, it's especially nourishing. "It features squalane, as well as avocado and rosehip seed oil, plus it has water in it, which is where the hybrid element comes in," Karen Young, the company founder, explains. It's also fragrance free, so there's nothing in it to irritate the skin, which is so important with such a sensitive area.
Dry brush
Prior to her own hair removal, Young likes to dry brush. "It helps us to pick the hair up away from the skin as it's starting to grow back, and that way they're less likely to fall back into the skin and get trapped," she says. "So if you dry brushed before waxing, for example, it will help the wax to grab on to more of the hair, because the hair will sort of be standing on edge a little bit and you should achieve a closer wax that way."
Powder
Applying powder to the waxing area is technically optional, but almost everyone we asked said this was crucial to the process. "I think that you should have plenty of baby powder available," says Rebekah Austin. She's the owner of The Saditty Kitty, a waxing and sugaring salon in Buffalo, New York, who has gained over 100,000 followers on TikTok sharing her waxing advice. The wax won't harden if there's too much moisture, so if it's a hot day or you're sweating due to nerves, applying baby powder directly to the skin will absorb some of the moisture. Briana Pollard is a regular at European Wax Center, where she learned this technique, and she applied it to her own at-home Brazilians. She forgot to use it the first time around and had a much better experience round two. "I strongly recommend using the baby powder," she says. If you want an all-natural powder, one without talc, Taylor and Shapiro recommend arrowroot powder.
A small mirror
Everyone we spoke to said they do their Brazilians in front of a mirror. If you have a full length mirror you can position yourself in front of, that's great. If not, blogger Lydia Dinga (who has a step by step waxing video on her YouTube channel that's been viewed hundreds of thousands of times) recommends getting a handheld mirror — or a "coochie mirror," as she calls it. She says it should be a small handheld mirror that's lightweight enough to hold with one hand. That way, "you can see the lady bits and you can see exactly where you're waxing," she explains.