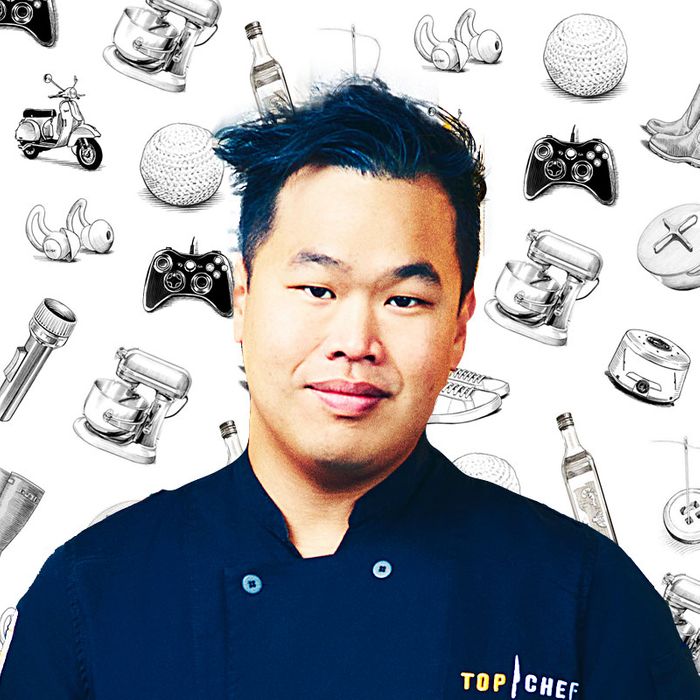 Photo-Illustration: The Strategist; Photo: Stephanie Diani/Bravo
If you're like us, you've probably wondered what famous people add to their carts. Not the JAR brooch and Louis XV chair but the hair spray and the electric toothbrush. We asked chef Buddha Lo of Huso, the winner of Top Chef: Houston who's currently competing on Top Chef: World All-Stars, about the "hospitality-friendly" clogs, easy-to-wash-out pomade, and minivan-esque e-scooter he can't live without. 
I have very thin Asian hair. I could either cut it all off or have a fringe that just goes above my eyebrows. If I wash it with shampoo, my hair would just flow into my face all the time. So I've been using hair products for a very long time. This is probably one of my favorites. A barber in Harlem introduced me to it. Certain hair products will give you automatic dandruff. This pomade doesn't give you any sort of bits that can dry up on your hair and start to fall down. You could use waxes. But, with wax, it's a soluble sort of thing — when you put it in your hair, it's very hard to get out, unless you're doing a really hot shower to melt it off. Layrite is the best of both worlds. You get that really nice hold. And when you have a shower, it comes completely straight out. Though this feels like gel, it doesn't work like gel. The pomade doesn't cement your hair into this glossy brick. It will still let your hair move around a bit.
I'm actually wearing them right now — I'm going for a run. But these shorts are incredible. My wife bought them for me before Top Chef for season 19 because I had to find things that weren't branded. So she went on this sort of plain-clothes shopping spree.
They're perfect, well-thought-about shorts. These have a lot of pockets in them, but they don't look like they do. I don't know how many pockets there are, or if I could count them.
There's a secret zipper in the left leg that fits everything — without moving whatever's inside around. I'm not exactly Adam Sandler, so I don't wear shorts below my knees — they'll be above the knees. But these aren't too short. They're super-elastic — if you're doing a workout or whatnot, the shorts are going to stretch. The pair isn't going to restrict you from doing anything. I wear them everywhere. Summer, at home, around. If I ever need to wear shorts, these will be them.
I think we chefs kind of made them fashion. Tokios were a thing, I would say, maybe 15 years ago. I would always wear them in the kitchen because they're so practical. The Tokios have a "super grip" on the bottom of them, so they're actually hospitality-friendly. If you spill something hot — let's say, you're wearing sneakers — you might not feel the burn straight away. But it's going through the mesh, the laces, your socks and then getting to your feet. With the Birkenstocks, there's no absorption. And you can take these off within two seconds — whereas, if you had footwear that was tightly laced, you'd have to untie those laces. It's a safety thing. The comfortability comes from the cork. You're standing on your feet. I remember one time I bought new Birkenstocks for a restaurant with Gordon Ramsay. I managed to break them in within a day. Usually takes a week, and I'm like, Oh my God, I just got these today, and I've already broken them in. But once they're broken in, they're the most comfortable shoes. These are kind of like my everyday shoes now. I wear them pretty much everywhere. When I'm at work, I wear them. When I'm out having a casual day, I'm wearing them.
I think if I wasn't a chef, I'd probably want to be in music production or a DJ. I listen to everything. Right now, I'm really into French radio. They've been producing some cool house music, more like Daft Punk, and they're really into old funk. And Bose is one of my favorite sort of sound makers, for sure. The fact that this portable speaker is smart — I walk into the house and ask it to turn on as soon as I get in. You're getting ready and there's music playing. I take it everywhere. I take it to the park. I can go out on the rooftop, to the beach. It's got a great battery, like three hours' worth of battery once you charge it. And there's a quality sound to it.
Chili crisps are everywhere now. But everyone knows that the inspiration came from this one right here. This is the OG. It's a constant staple of ours — when it comes to Asian food, there's probably hardly any dish that you wouldn't want to pair with this. If you bought some to-go that wasn't that great but you wanted to give it a try anyway, the Laoganma (literally, "old godmother") grandma will come help you out and make that thing all right. If it's a lazy night, and maybe you want some instant ramen, this would jazz it up. It's a key ingredient in some of my sauces. If I want to add a little bit of kick to a lobster bisque, I will use it as part of the aromatics I cook off. I pair it with burrata or stracciatella. I think it's the umami that comes with that chile crisp that works so well. It's not raging hot, but you get a little heat.
I've had a lot of pork buns growing up, but this one takes the championship trophy. There's a line outside Mei Lai Wah sometimes of people trying to get this baked pork bun. In terms of the bun itself, it's always freshly baked. You can see the bakers in the back walking in and out of the kitchen, refreshing new trays. And the pork in the bun — they've decided to use fattier instead of leaner cuts. Diced a little more properly, not too finely. So the meat actually feels chunky. The sauce is rich and darker and really flavorful. They get it perfect every single time. I'll make an excuse to go to Chinatown and have these pork buns.
The majority of roads in New York City are 25 miles an hour, especially if you're driving around Manhattan. So my scooter goes 20 miles an hour, only 5 miles under the max speed. If I were not to have my scooter, it would easily take me about an hour to get back home from work. It takes me 40 minutes with it. So (a) it saves me 20 minutes and (b) I go through so many landmarks. I go through Central Park every morning. I go over every bridge — Brooklyn, Manhattan, Queensboro. You might pass a little village festival. It really changed my life, especially in the workplace that I work and having the ingredients I have to source. I carry around this big tote bag where I put in all the eggs, brioche, and flowers from farmers markets. I would go to a cake shop. I'll go to Whole Foods. So all these missing parts where I had to grab a taxi, an Uber, or the subway — I could make it downtown faster than any cars can on my scooter. There's a video of me and my wife and our dog all on it going to the beach. We call it the family car. The 2023 Brooklyn edition.
I could go off and tell you about my knives, like one from Kyoto made by a blacksmith that my dad bought with my family's initials on it. But in terms of accessibility, Takamuras are easy to sharpen. (Obviously, "easy" coming from a chef.) I sharpen it on two different grades of stone. Some people could spend a half-hour sharpening high-end Japanese knives on five different grades of stone. But the Takamura's been handy. You're able to cut vegetables very easily. Great on fish, poultry. It hasn't slipped on me once. It's more of a European-style cut for the handle, not like the typical round-edged square that most Japanese [knives] would have. So it's easy to get around if you're going to be breaking down chicken or portioning. I use it generally for everything. And I love that red [wood]. It's something different. You can tell it's yours. Someone can look at it and go, "Yeah, that's a really nice knife."
I did a story on my Instagram showing it off, and all these chefs were going crazy over it. Staub is a well-known brand — I'll probably say it's in the top three of French cookware. What's great about this is the durability — regardless of the Supreme Staub–ism — that you'll probably see in your particular lifetime. It's expensive, but you literally will have that forever. I have cocotte pots that I got back in Australia, where we found them in vintage stores. They were probably around 40 years old, but we still cook with them. They don't buckle like a lot of cookware we get nowadays, especially the cheaper kind. It's not your classic wok or frying pan, but the amount of surface area on there and the heat the cast iron can bring out — you can basically do anything in one. I'll fry rice in there. If people have watched Top Chef, they'll be pleased to know that I've cooked Marry Me Pasta four times already in the two weeks I've had it. My wife's been craving it, and she'll call me at one in the morning, saying, "I'm coming home, can you cook me Marry Me Pasta?" It's just so much fun to cook out of it. It's cool when you see these sorts of pieces in your profession. It's nice that chefs got their little thing.
[Editors' note: Though this limited-edition Supreme x Staub collaboration has since sold out, you can find a similar cherry-red cocotte at Crate & Barrel.] 
I've been working with Marky's Caviar [as executive chef] since 2019. You'd think someone who works in the field of eating, trying, and tasting the same ingredient almost everyday would almost get sick of it. I can't get enough of it. It's one of those things that I don't think a lot of people get to try. Then, when people do try it, they really understand the difference that it makes when it's added to a dish. All the special events I've had with caviar I always remember. When I won Top Chef, I got a party basket with a kilo of caviar, I'm not going to forget that. But I can't remember what I drank that night. You know? I worked in kitchens where, if you get caught tasting caviar, you're going to get in trouble. But every now and again, if I'm putting caviar on a dish and there's a couple of beads left on the spoon that didn't make it on, I'm eating it.
The classic Kaluga is something I use a lot because it's delicate, it's creamy, it's buttery. And it's not too salty, not too fishy. That's why it's really nice to have by itself and as a beginner. It's more of your introduction [to caviar] because it's not too overwhelming. Kind of like your first glass of Champagne — you don't straight for a Dom Pérignon or a Krug. You step in with a Champagne you can taste all the flavors of. I use the Kaluga in a lot of my cooking because the price range is on the lower side. I add that to scrambled eggs, an omelet, or a baked potato. For my wife's birthday, I made her a full breakfast, but I ordered four McDonald's hash browns and we had the Kaluga as our caviar. The Osetra is a bit pricier. And whenever I have it, I feel like I'm getting this cool breeze from it, from the brine. It's got that little bit of an oceanic flavor. Not as creamy as the Kaluga. I tend to eat it by itself. That's what you would do when you start going higher up the caviar scale, where you just kind of leave it alone and not do anything. I can talk about caviar forever.
The Strategist is designed to surface the most useful, expert recommendations for things to buy across the vast e-commerce landscape. Some of our latest conquests include the best acne treatments, rolling luggage, pillows for side sleepers, natural anxiety remedies, and bath towels. We update links when possible, but note that deals can expire and all prices are subject to change.