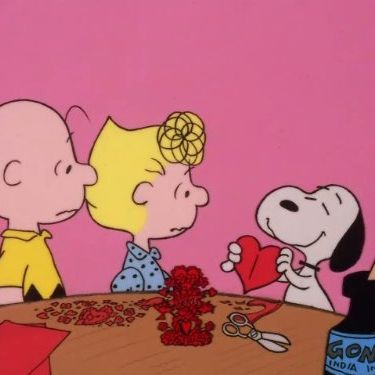 No matter what your (or your partner's) vibe is.
Photo: Courtesy of CBS
You've scoured the Strategist and found the perfect Valentine's Day gift, but the card is equally as important. How do you think a drugstore card will look to the Tony's Chocolonely chocolate bar you gifted her? Or next to the Jaxon Lane Bro Mask you got him? Gifts as thoughtful, and unique, and well-curated deserve a card to match, so, respectfully, we've banned anything from Hallmark or American Greetings from this list. Instead, we've rounded up the most tasteful, punny, and slightly suggestive Valentine's Day cards — all of which you can buy on Amazon, and most with two-day shipping (which is arguably even more convenient than popping into the drugstore on the way home). While many are geared toward romantic relationships, there are also a few cards on this list of for friends, kids (or a child-like adult), and even blank cards you could give to literally anyone. Spread the love with one the funny, punny, crafty, romantic, or retro Valentine's cards, below.
Funny and punny Valentine's cards
This card is blank inside, so there's plenty of room to leave a spicy note.
Do a bait-and-switch by giving your date this card — then taking them to a Michelin-starred joint.
Drake might not have found the one but at least you have.
Sweet for couples whose idea of a romantic evening is a large pepperoni.
Manifest your down-under fantasy with this cheeky card.
Use the holiday to drop a not-so-subtle hint (then send them this link).
For the person you binge-watched You with. (And, for the record, the whole card reads, "They will never find your body … as hot as I do!")
For your sexy valentine who is also a copy editor.
The old "ice cream/I scream" pun does it every time.
This book of postcards has plenty of puns for every type of valentine, including your "palentine," all illustrated with adorable llamas.
If you want llamas with a bit more edge, there are also these postcards, which feature a combination of cactus puns and llama puns and sometimes llama-cactus puns.
You can also celebrate the fact that you and your partner still actually enjoy each other's company.
Crafty Valentine's cards
The only thing that would make this card more perfect is if it opened up and sang your names, "sitting in a tree, K-I-S-S-I-N-G."
Even if you're prickly on the outside, this card will show where your heart truly lies.
For the couple that only communicates in emojis.
The paper bouquet on this card doesn't give you much room to write, but the intricately designed flowers should do most of the talking anyway.
This hand-carved wooden card has a nice heft to it, if you're looking for a card that's going to be easy to display.
Unusual Valentine's cards
This giant bear card is two feet by three feet (check the price) and would be the ideal accompaniment to a Valentine's Day gift of, say, a convertible.
Valentine's cards meant for kids (but great for adults)
Hopefully your love is more permanent than the temporary tattoos that come with these valentines.
Slime has proven to be a timeless toy, so there really is no better token to represent your love.