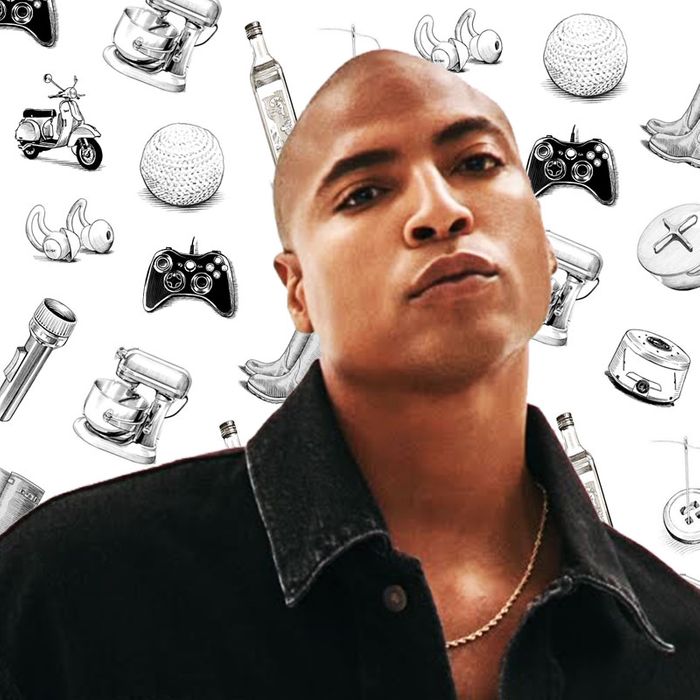 Photo-Illustration: Diego Vourakis
If you're like us, you've probably wondered what famous people add to their carts. Not the JAR brooch and Louis XV chair but the hair spray and the electric toothbrush. We asked Buttah Skin founder Dorion Renaud about the underwear, cologne, and flossing gadget he can't live without.
If you're getting ready to take your clothes off with somebody, you don't want to be in some cheap-ass underwear — anyone who has bent over with Fruit of the Loom or Hanes on knows what I'm talking about. These are comfortable, don't shrink, come in a lot of colors, and last for a long time. A lot of underwear you have to throw away because they get old, but not these Calvins. The underwear represents the kind of gentleman I've always aspired to be. They're also great if you have a larger package. They have a pouch that's perfect for any size.
My mom got me my first bottle. I was like, "I really want a nice cologne." It's the first fancy cologne I ever got as an adult and has since become my signature smell. I'll put it on even if I'm going out on a normal day, but you don't have to apply much. It smells good, it's fresh — you can't go wrong with Tom Ford. The bottle is beautiful and it just smells sexy as fuck.
Back when I couldn't afford Diptyque candles, I would get invited to the Kardashian Christmas party every year, and Kris Jenner gives these fabulous gifts. They were always things you want to use over and over again. One time it was a huge Diptyque Baies candle that lasted me a year. I lived in a one-bedroom apartment at the time and only had to light a little bit to get my home smelling amazing for days. Whenever I would go to Khloé's or another Kardashian's house, it would smell like this. The candles are a little pricey but so worth it. They make me feel rich. I think they're the perfect housewarming gift.
She's my favorite singer. I love Toni because her voice was the first one I was introduced to. My dad used to bump her a lot. He loved her music. I listen to Toni every single day. If I'm having a bad day, you can tell by what Toni Braxton song I'm listening to. She soothes me. If it's a bad day, I'm listening to something like "Breathe Again" or "How Could an Angel Break My Heart."
This book changed my life. I first read it when I was in my late 20s and was going through a really transitional time. Lauren London actually gave it to me. She told me it helped her when she went through a transitional time. It's a daily devotional, but it has more to do with life than God or spirituality. It is so on point. I read it again a year later and everything felt different. The book started my spiritual journey outside of what I was taught. It taught me a lot about myself and helped me to start my days reflecting instead of thinking about what I have to do. I keep it by my bed. It's really a book that I live by.