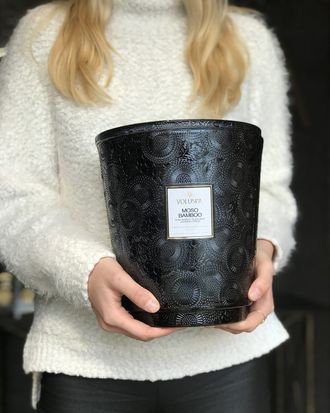 In 2018, we asked, "What is the next status candle?" And while the answer to that question continues to evolve, I feel pretty confident that I've found that latest iteration. And it's gigantic. Last month, I came across a TikTok featuring the unboxing of a candle so enormous it could pass for a fireplace. "At what point does it stop being a candle and start becoming a miniature campfire?" asked one of the hundreds of commenters. It's a valid question. This monstrous candle, from a brand called Remedium (styled as Re'Me.Di.Um), costs $139, has ten wood wicks, and is comparable in size to a space heater.
Candles are frequent fodder in a certain corner of TikTok — called WickTok — but users were especially rapt over this particular one, so much so that the guy behind the video, a fairly popular candle reviewer named Ryan Bush, filmed eight follow-ups. If the crackle of my favorite candle, which has a single wooden wick, could be heard from even the farthest corner of my studio apartment, I had to imagine a Remedium would sound like I had a full-on bonfire going in there.
Unfortunately, before I could try it myself, the candle sold out, at least in part because of Bush. (If you've ever wondered about the power of TikTok, Remedium introduced its large candle bowl in December; Bush posted his first clip about the candle on January 14, and four days later, the company announced it was entirely out of stock.) But it's not just this particular giant candle that's having a moment — it's giant candles in general. While popular candle brands like Voluspa and Diptyque have been selling jumbo-size versions for several years, they're having a real moment — if my TikTok and Instagram feeds are any indication — during these homebound times. And it makes sense: We could all use a little comfort right now, and what's more comforting than a candle that'll last longer than the pandemic? Ahead, we've rounded up astronomical candles for your burning pleasure, ranked by diameter, from visibly-larger-than-your-average-candle to where-would-I-even-put this?
Diameter: 6 inches
The width of an average candle is about three inches, so we figured that double that size is where the large candle market begins. Diptyque candles range from mini one-ouncers to this absolutely massive version, which weighs in at 51.3 ounces and has 190 hours of estimated burn time. It can be used indoors and outdoors and comes in a few scents — this one here has notes of fig wood and milky sap. Like most of the candles on this list, this one will cost you. But in addition to it being a Diptyque-quality candle, the pot is also pretty special: Each one is handmade by famous French porcelain atelier Virebent.
Diameter: 6 inches 
This candle, the same size as Diptyque's, has three wicks, a burn time of up to 240 hours, and notes of Mediterranean herbs, wood, and incense. Another selling point? The very collectible canister courtesy of a Comme des Garçons collaboration.
Diameter: 6.2 inches 
At nearly 14 inches tall, this candle can burn for 800 (!) hours, the longest burn time on this list. That means you could burn the candle for more than a month straight (though we don't recommend actually doing that).
Diameter: 7 inches
This one from Cire Trudon is only an inch wider than the Diptyque, but the burn time is almost double. (According to the description, you'll get at least 300 hours out of it.) It comes with five wicks; has notes of amber, tobacco, patchouli, and fresh bergamot; and is all wrapped up in an especially lovely handblown-glass vessel.