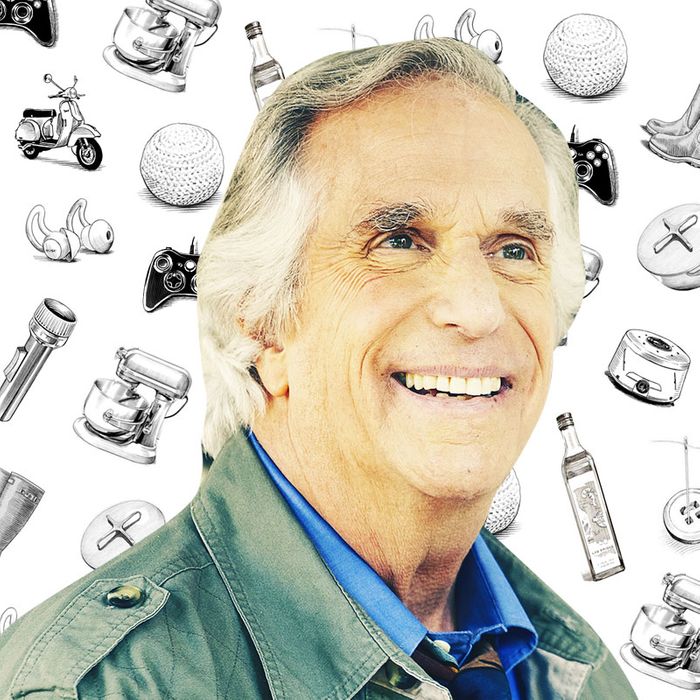 Photo-Illustration: The Strategist; Photos: Courtesy
If you're like us, you've probably wondered what famous people add to their carts. Not the JAR brooch and Louis XV chair but the hair spray and the electric toothbrush. We asked Henry Winkler — who plays Uncle Joe in The French Dispatch, out in theaters now — about the cheese, camera, and socks he can't live without.
My dog Sadie, who is right in front of me now, will bring me a blue racquetball 24 hours a day, and she will want to run and play fetch. She's a three-year-old Labradoodle. She was chocolate brown, and now she's kind of gray beige. Her sister Masie is a two-year-old goldendoodle and has about ten pounds on Sadie. She's bigger. Masie doesn't play ball, but she lies in wait. So when I throw the ball and Sadie runs for it across the backyard, Masie leaps out of the bushes and chases Sadie, and Sadie knows every hiding place in our backyard. She will run into the rosebushes and look out as if to say, "Ha, ha, ha, ha, I faked you out." They are unbelievable. They are so adorable. Sadie likes the racquetball because it's smaller and blue and she can hold it in her mouth. I believe that Sadie was a soccer player in South America in another life. Her eye-and-mouth coordination, hand-to-mouth, is shocking. She plays goalie. She rests in the middle of a doorway and assumes the position and waits for you to kick the ball and will stop it from going through.
I've had this for a very long time. Being so dyslexic, I've never turned a button in my life. I thought an f-stop was a train station in Manhattan. I'm not kidding. Then I realized you could point and shoot, and now I feel like a cameraman. I feel very, very accomplished, but it's still on the same setting since it came out of the box. I like to shoot two things. My grandkids and nature. I love reflections. I love shooting puddles. There is so much you can find in a puddle. You can find the branch of the tree behind it. You can find the building across the street. You can find the painted curb above it.
Photo: The Strategist; Photo: Retailer
Going to a Broadway play or the movies, which we have not done for two years, really is missing in our lives. We went to the Landmark at least once a week. I like that it is a multiplex, that there are so many movies to go to, and that the popcorn is popped, not in a plastic bag that is dumped.
Oh my God. Oh my God. Oh my God. Being raised in New York, I would have to say I've been eating Katz's for 50 years. Katz's will send you dry, vacuum-packed bags of pastrami and rye bread, and then we assemble it at home. When you stand on line and wait for it, you can't have lean. It's got to be at least half-fatty. You can only eat half and then you got to save half of it.
Photo: The Strategist; Photo: Retailer
I will have to say that stinky French cheese, a great Munster on a baguette with butter, might be — I don't know what; it's indescribable. I get it at the Beverly Hills cheese shop, and Norbert Wabnig, the proprietor, the cheese man, helps me. It's a soft cheese and you leave it out and it becomes room temperature and it just drizzles onto the baguette. I'm going to have to stop this interview now because I'm going into the kitchen to have some French cheese on bread.
I've been fly-fishing since 1986, and Winston is the first rod that I ever got in the '80s for fly-fishing for trout. It's a wonderfully, beautifully made rod — it's like you're traveling with a helper to catch a fish. And it's my favorite color: forest green. Right now I go to Idaho, but I've also had the pleasure of going to New Zealand, Argentina, Colorado, Montana, Wyoming. My fly-fish style is ugly, but I catch the fish. Every time I go fishing, I put my catch on Twitter and then I give it a kiss and send it on its way and hopefully next year it'll be larger and I'll catch it again. I cannot even begin to tell you how during the pandemic I wept over the fact that I could not go. I go twice a year. Some people live by a stream, and I break the commandment: I envy them.<