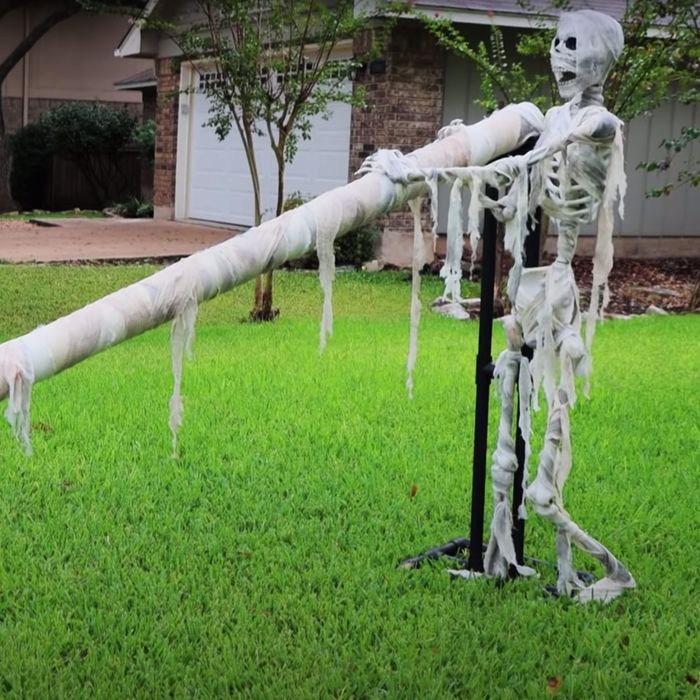 Candy chutes, like this one crafted by Jaimie Nakae and Jay Greiner of the Austin-based Wicked Makers, are a popular idea for safely distributing sweets this year.
Photo: Youtube
Like a lot of holidays this year, Halloween isn't going to be the same. While it isn't canceled, children and adults will have to adjust their trick-or-treating plans to follow social-distancing guidelines and other safety protocols set by the CDC, which discourage direct contact when handing out candy. Like any challenge born of the pandemic, though, folks seem to be meeting this one with gusto, coming up with ingenious hacks to (safely) distribute treats to the kiddos (or kiddos at heart) who come collecting on Halloween this year. To help anyone looking for ways to responsibly get in on the fun, we spoke to five people about how they plan to adapt their trick-or-treating plans for the pandemic. Their four hacks below range from simple (a trash-grabbing arm instead of a real arm) to more elaborate (crafting a dedicated candy chute) to self-contained (host a scavenger hunt on your lawn or those of trusted neighbors). Whatever method you choose, you might also want to read what public-health experts told our friends at Eater about how to approach any form of trick-or-treating this year.
Use a grabber
According to Susan Fox, the founder of Brooklyn-based community organization Park Slope Parents, a simple and inexpensive way to keep a bit of distance from yourself and trick-or-treaters is to use a grabber. "It's so much fun to use the trash picker-uppers," she says, adding, "I thought it would give folks a thrill." If you already have one, Fox says you can decorate it with ghoulish accents like spiderwebs. If you do not, this affordable grabber feels appropriately festive: It's shaped like a gorilla's arm (down to the hand) and even has fur. The tool extends a user's reach by 18 inches.
If you're looking for a grabber that feels more safe than silly, this set comes with two that each extend one's reach by 32 inches (or almost three feet). And this is not just any grabber: It's actually the go-to model for writer David Sedaris, who counts picking up trash as one of his hobbies.
Make a candy chute
If you want to keep a minimum of six feet between yourself and your treat-seeking visitors, a couple of homeowners told us about the chutes they are cobbling together to safely convey candy to trick-or-treaters. One of them is Rob Eastland, who says his neighborhood usually gets "well over 1,000 kids" each Halloween. He saw the idea for a chute online, telling us it's "a reasonable way to be able to pass out candy and maintain social distance: It allows us to send the candy down while standing six feet away from the street where the kids are." The basic idea is that a kid waits at the bottom of the chute with their bag open to catch the candy, and Eastland says all you need is a PVC pipe, a couple of screws, some picture-hanging wire, and something to decorate the pipe with. "It isn't difficult — just a piece of PVC pipe," he says. Eastland used a 3.5-inch wide pipe that he sawed to seven-feet long (the pipes typically come in ten-foot pieces) because it'll be positioned at an angle. "It actually has to be longer than six feet," he notes. He put a screw in the pipe at either end, then put wire around those screws so that he could hang the pipe from his stoop railing. To make it a bit more festive, he wrapped the pipe in a design made with orange and purple duct tape and strung some lights on it to make it more visible. "That is pretty much it," he says. "You kind of have to push the candy down with some force to make sure it goes all the way to the bottom, but it works." As a final step, he says he's considering making square on the sidewalk out of tape, so trick-or-treaters know where to stand to successfully catch their booty.
Jaimie Nakae and Jay Greiner of the Austin-based Wicked Makers YouTube Channel also told us they built a candy chute, but one that's freestanding, for properties that might not have a stoop or railing. Their chute requires a bit more of a DIY spirit, but is also made from PVC pipes, which they later wrapped in gauze for a mummified effect. (You can see their finished product in the main photo for this story). The basic materials they used are below; again, you'll need a saw to cut the pipes, but Nakae and Grenier offer free step-by-step instructions on their website and made a