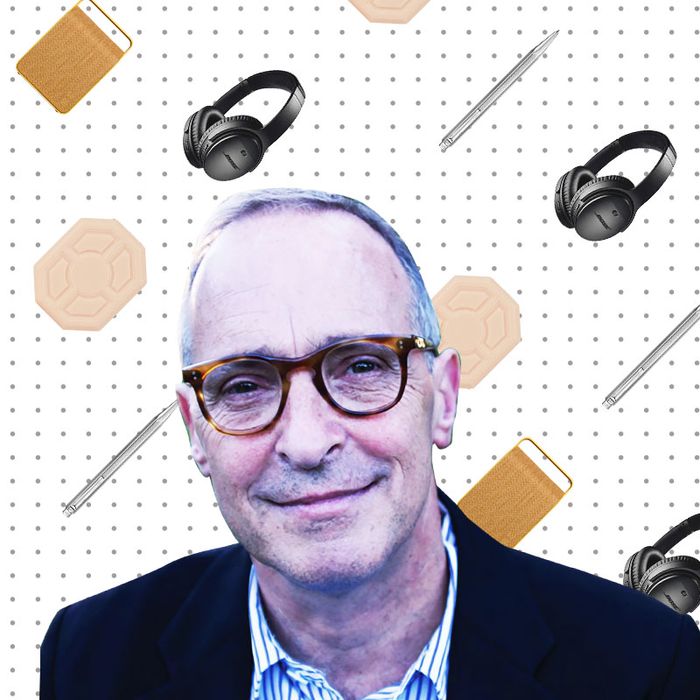 Photo: Courtesy of David Sedaris
If you're like us, you've probably wondered what famous people add to their carts. Not the JAR brooch and Louis XV chair, but the hand sanitizer and the electric toothbrush. We asked Calypso author David Sedaris, who will be signing copies at the Union Square Barnes & Noble this Saturday at 1 P.M., about the wireless headphones, expensive pen, and Bluetooth speaker he can't live without.
Buly opened a store in Paris, and that's where I first got this soap. They make a number of different scents, but the tuberose is the most perfect one. I can't speak to people who take showers, but if you take a bath, it makes your whole bathroom smell. It's nice and grainy too. It has a really nice texture. I didn't think I wanted my soap to be grainy until I experienced it. It doesn't really lather like an Irish Spring, but it does the job. For some reason it should smell old lady-ish, but it doesn't. I guess it is lady-ish, but I don't know, years ago, I was signing books, and this guy came up, and I would never wear any scent or anything but I had to know what he was wearing. And I thought he said it was Comme des Garçons Chrysanthemum, which was funny because chrysanthemums don't have a smell. He basically just smelled like a beautiful flower. Anyway, I was never able to find it. This soap doesn't smell like that Comme des Garçons but it just is the same idea of smelling like a beautiful flower, which I don't think is necessarily a feminine thing. And because it's a bath soap, it wears off — it's not like a perfume. I think that if you're going to change the world, you've got to try to do it just one person at a time. I can't tell you how many times I've signed books, and I've had to say to someone, "Listen, there's nothing worth having at Bath and Body Shop. You don't smell like a cantaloupe. You smell like a cantaloupe air freshener." Bath and Body Works? Body Shop? I don't like either of them. It's like the Yankee Candle Shop. There is nothing worth having in there.
Someone gave this to me last year when I was traveling, and it means "Shadows on the Water," which doesn't really tell you anything, does it? It has a subtle smell so I travel with it a lot. I actually prefer the Buly soap, but I've lost soaps in hotel rooms, and if I lost my Buly soap in the hotel room, I'd really cry. The Diptyque is slightly less expensive so I wouldn't cry if I lost that. I can't be sure if they have the Bvlgari soap at the Ritz Carlton or the Four Seasons, but I hhhhhhhhhhhate it. That soap gives me such a headache. If I go to a hotel, and they have any Bvlgari products, I collect them all and put them in a drawer I know I'll never open. There's something about it that's so harsh to me. If I washed my hands with it — which I used to do before I traveled with my own soap — I couldn't shake the smell. Hours later I would smell my hands, and they'd smell like the Bvlgari. It's one of those things that's supposed to be nice, but I don't get it.
So the new Fitbits have watch faces on them, and I have one because I have some Fitbit friends I like to stay in touch with on the watch. I also have an Apple Watch, but I don't understand how to have Apple Watch friends, and I'm not sure I'd want them. I wear both of them on my left wrist (I think I'm too old to have one on each wrist) because I like the Apple Watch more but I like my Fitbit friends. It's funny sometimes to see the discrepancy when you wear both at the same time, though. My Fitbit will say I've walked 20 miles a day, but my Apple Watch will say I've walked 21.5. I really do walk between 18 and 22 miles a day at home. I live in the country, so if I go to the supermarket it's 14 miles there and back — the other supermarket is 6 miles there and back. I'll go after midnight. I walk a lot. I've lost a lot of toenails because of it. A week ago I actually was in the bath, and I pulled off my entire toenail on the big toe because it'd turned completely black. It sounds awful, but it doesn't hurt at all. There's like a little membrane underneath the nail. It happens all the time. The last time before that was in January. Once I took my socks off because there was something hard in there, and it was a toenail.
I first saw this speaker at a store in Provincetown and I just found it really beautiful. I have three of them now in different rooms in the house, each a different color: mustard, gray, and blue. It's covered in fabric, and the sound is really good. I know a lot of people make speakers like that, but the weight of the Vifa is really satisfying. They don't have Pandora in England so when I come back to the United States, I like to put on Pandora and just let it play. I was just listening to Bobby Hutcherson, and now I'm listening to Milt Jackson. I like vibe players.