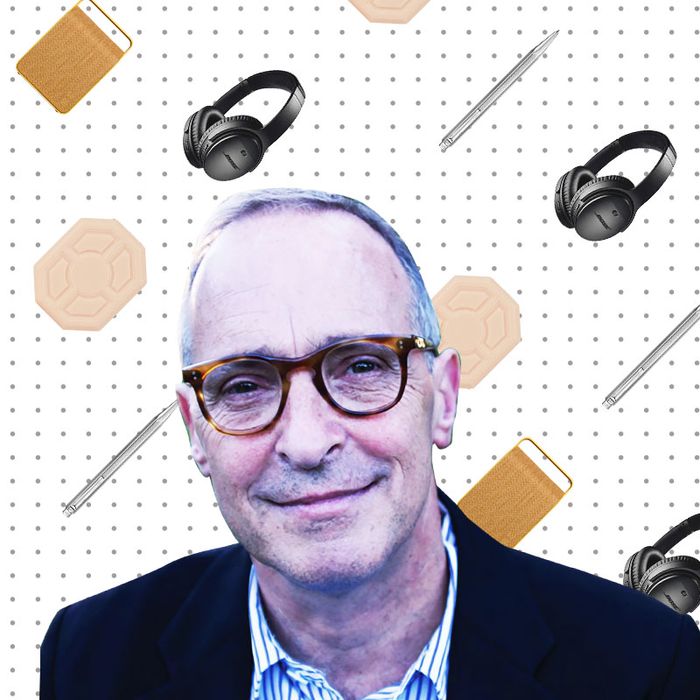 Photo: Courtesy of David Sedaris
If you're like us, you've probably wondered what famous people add to their carts. Not the JAR brooch and Louis XV chair, but the hand sanitizer and the electric toothbrush. We asked Calypso author David Sedaris, who will be signing copies at the Union Square Barnes & Noble this Saturday at 1 P.M., about the wireless headphones, expensive pen, and Bluetooth speaker he can't live without.
Buly opened a store in Paris, and that's where I first got this soap. They make a number of different scents, but the tuberose is the most perfect one. I can't speak to people who take showers, but if you take a bath, it makes your whole bathroom smell. It's nice and grainy too. It has a really nice texture. I didn't think I wanted my soap to be grainy until I experienced it. It doesn't really lather like an Irish Spring, but it does the job. For some reason it should smell old lady-ish, but it doesn't. I guess it is lady-ish, but I don't know, years ago, I was signing books, and this guy came up, and I would never wear any scent or anything but I had to know what he was wearing. And I thought he said it was Comme des Garçons Chrysanthemum, which was funny because chrysanthemums don't have a smell. He basically just smelled like a beautiful flower. Anyway, I was never able to find it. This soap doesn't smell like that Comme des Garçons but it just is the same idea of smelling like a beautiful flower, which I don't think is necessarily a feminine thing. And because it's a bath soap, it wears off — it's not like a perfume. I think that if you're going to change the world, you've got to try to do it just one person at a time. I can't tell you how many times I've signed books, and I've had to say to someone, "Listen, there's nothing worth having at Bath and Body Shop. You don't smell like a cantaloupe. You smell like a cantaloupe air freshener." Bath and Body Works? Body Shop? I don't like either of them. It's like the Yankee Candle Shop. There is nothing worth having in there.
Someone gave this to me last year when I was traveling, and it means "Shadows on the Water," which doesn't really tell you anything, does it? It has a subtle smell so I travel with it a lot. I actually prefer the Buly soap, but I've lost soaps in hotel rooms, and if I lost my Buly soap in the hotel room, I'd really cry. The Diptyque is slightly less expensive so I wouldn't cry if I lost that. I can't be sure if they have the Bvlgari soap at the Ritz Carlton or the Four Seasons, but I hhhhhhhhhhhate it. That soap gives me such a headache. If I go to a hotel, and they have any Bvlgari products, I collect them all and put them in a drawer I know I'll never open. There's something about it that's so harsh to me. If I washed my hands with it — which I used to do before I traveled with my own soap — I couldn't shake the smell. Hours later I would smell my hands, and they'd smell like the Bvlgari. It's one of those things that's supposed to be nice, but I don't get it.
So the new Fitbits have watch faces on them, and I have one because I have some Fitbit friends I like to stay in touch with on the watch. I also have an Apple Watch, but I don't understand how to have Apple Watch friends, and I'm not sure I'd want them. I wear both of them on my left wrist (I think I'm too old to have one on each wrist) because I like the Apple Watch more but I like my Fitbit friends. It's funny sometimes to see the discrepancy when you wear both at the same time, though. My Fitbit will say I've walked 20 miles a day, but my Apple Watch will say I've walked 21.5. I really do walk between 18 and 22 miles a day at home. I live in the country, so if I go to the supermarket it's 14 miles there and back — the other supermarket is 6 miles there and back. I'll go after midnight. I walk a lot. I've lost a lot of toenails because of it. A week ago I actually was in the bath, and I pulled off my entire toenail on the big toe because it'd turned completely black. It sounds awful, but it doesn't hurt at all. There's like a little membrane underneath the nail. It happens all the time. The last time before that was in January. Once I took my socks off because there was something hard in there, and it was a toenail.
I first saw this speaker at a store in Provincetown and I just found it really beautiful. I have three of them now in different rooms in the house, each a different color: mustard, gray, and blue. It's covered in fabric, and the sound is really good. I know a lot of people make speakers like that, but the weight of the Vifa is really satisfying. They don't have Pandora in England so when I come back to the United States, I like to put on Pandora and just let it play. I was just listening to Bobby Hutcherson, and now I'm listening to Milt Jackson. I like vibe players.
I don't have any particular brand I use, but it's just one of the things that's like a hand that you use to pick up trash. The one I have isn't fancy. My local council in England gave it to me, and it's just made of plastic, but you don't want a heavy one if you're walking eight hours a day picking up trash. It was just something I did while walking because people in England throw their trash out their car windows. There's never any shortage of litter to pick up. I guess it's like my hobby. So I've picked up so many tons of garbage that my local garbage council named a garbage truck after me. Actually, about four years ago, I got invited to meet the Queen because of all the trash I picked up. There's a day when she invited do-gooders to Buckingham Palace, and I thought, if this isn't a dress-up occasion, I don't know what is. I really thought it would just be me and the Queen and my boyfriend. It was like 8,000 people. Do-gooders are different stripes. They all had brand-new shoes and were pretty much hobbling. I stood about 8 feet away from her but I didn't meet her. I didn't need to. I have to say, I wasn't really affected by her. There was a time when I went to the White House and got to see Obama from across the room. He appeared and waved, and I felt so strongly about it I thought I was going to cry. But I didn't feel quite that way with the Queen. Of course, it's different, and she's not my Queen, but it was interesting. Interesting but not quite moving.
45R makes I don't know how many new bandannas a year, but every year I buy a new one just 'cause I sweat horribly. They're good to mop sweat from my brow. I buy something expensive like that because I think I'm less likely to lose them when I think, Fuck, that costs $90. The one I'm using now is almost a T-shirt material, and it's got a paisley pattern. I always hope if I'm at the fitness center wiping sweat from my brow that someone will come up and say, "Excuse me, but where did you get that beautiful bandanna?" But you know what I've decided? People don't even know! I have this beautiful bag that I decided was the bag that, if I saw me with it, I would go up to me and ask to buy it. I actually once saw this guy in London in this shirt, and I first went up to him and asked, "Where did you get this shirt?" And he said it was Comme des Garçons but it was old, and they don't make it anymore. And I said, "Can I buy it from you for 500 pounds?" And he said no. And I said, "One day you're going to be hurting for money, and you're going to think, I wish I'd sold that gentleman my shirt for 500 pounds, and if you take my information, you can email me any time, and I will buy that shirt from you. Years from now, the offer will still stand." I still haven't heard from him.
I think a lot of people are really wearing their beauty. You ever look at the Sartorialist? A lot of times it's not really about the clothes but the person's beauty. So when I see a woman who's 70 or over, and I think, Look at that, I always make it a point to go up to her and say, "I'm sorry, I don't mean to bother you, but your jacket is fantastic." Or "I love that bag." I don't do it falsely, but I guess it's just time well spent to me. It's not a pick-up line. I've actually been collecting pick-up lines. I was at a bar, and a guy went over to this woman and looked at the tag on her dress and said, "Oh, it does say 'Made in Heaven.'" Or you could take a packet of sugar and hand it to someone saying, "I'm sorry, I think you've dropped your nametag."
I first got this in Tokyo. The writing on it is German and it's got the symbol of Lufthansa Airlines on it (only upside down), and when I first got one I didn't really speak any German, so I just assumed it was something from the airline. But I brought it Germany to look for more, and they told me the German on it doesn't make any sense. That's because it's actually a Japanese notebook. It's a Japanese fake German notebook. I could only find these in Japan — the ones they have here at this size are bound on the left and not the top, which makes it more difficult to fit in my pocket. I actually just found them at some store in New York on 8th Street. They had five of them that were all silver. I bought them because I have all different colors, and I'll change them through the seasons. I think silver would be good for winter.
I have about 50 now. I bought a bunch in Tokyo last year because I thought they were being discontinued. I was being really stingy with the ones I had, and once I found them in Tokyo, I went nuts. I can never have enough. I like that it fits in my pocket well and the rubber band keeps it closed so it doesn't flop open. I fill a couple pages every day. Yesterday, I wrote that I saw about 20 different women with the exact same nose on the street. That was something I noticed. I had lunch with somebody and she said some interesting things that I wrote down. She's a real estate agent and she said the resale market for these apartments on the second floor on the Upper East Side is only for Orthodox Jews who don't want to take the elevator on the sabbath. I also had a cashier named Chassidy. Not Cassidy, and not Chastity, but Chassidy. I thought that was pretty great so I wrote down Chassidy's name. I had an eye appointment yesterday and learned I have really thick corneas so I wrote that down. There was actually amazing furniture in the eye doctor's waiting room. He had no idea that he was sitting on a gold mine of Danish furniture! There were these coffee tables in the waiting area — and I know how faggy this sounds — but people were just sitting there not even noticing! You normally see them at some store like Wyeth. It was just kind of nice to see them just working rather than being up for sale. It's all stuff like that that I write down.
This pen fits in the notebook spiral perfectly. I used to use these Muji pens that were very small, but then they were discontinued, and when I was in Tokyo, I saw this Caran d'Ache pen and just thought, Perfect. It has a really nice weight to it. I always have a pen on me. When you're on an airplane, and someone says, "Do you have a pen?" … well, I actually say no because I don't want them to walk off with it. I've only ever lost one of them.
I used to not be able to work on the airplane because when I was smoking, I always felt the need to smoke while working. Now I don't have that problem, but it's still nice to have the headphones. I also never learned to drive a car, and I'm on tour all the time, so often I'm in the car with a driver. I've gotten great stories from drivers over the years, but every so often, you have a lot of work to do, and it's great to say, "Feel free to listen to the radio because I won't hear a word in my headphones!" You can shut yourself off when you're on the plane, too. It's even good for eavesdropping. You can do it that way without turning them on, but actually, if you turn on the noise-cancelling, it actually makes the conversation of someone behind you even EASIER to hear. I was actually with a friend traveling earlier this year, and he was telling me about his first girlfriend, and I thought, God, if I were in the row ahead, this is exactly the conversation I'd want to be listening to. A conversation about sex! Not "I got to Peterson in H.R. and he told me I had to go back to Janet in I.T. and I was like, 'Why would I go to I.T.?'"
The Strategist is designed to surface the most useful, expert recommendations for things to buy across the vast e-commerce landscape. Some of our latest conquests include the best acne treatments, rolling luggage, pillows for side sleepers, natural anxiety remedies, and bath towels. We update links when possible, but note that deals can expire and all prices are subject to change.