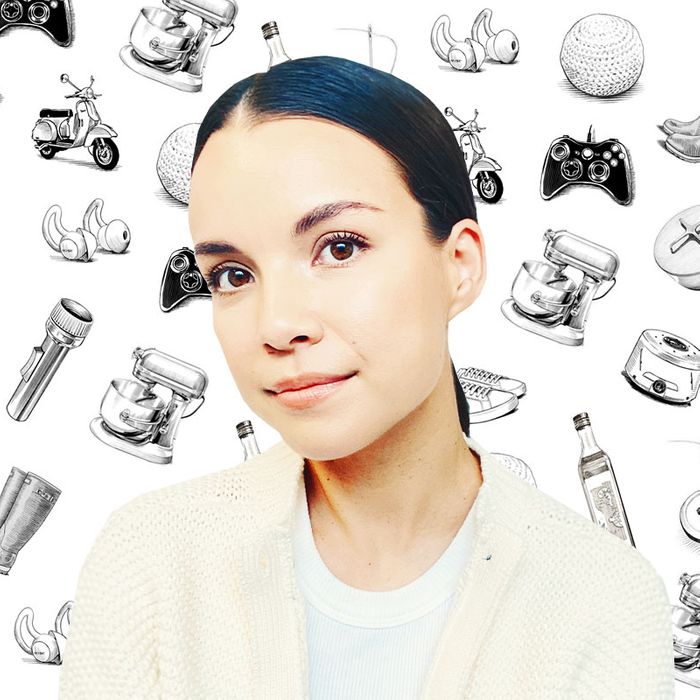 Photo-Illustration: The Strategist; Photo: Courtesy of Ingrid Nilsen; Illustration: Joe McKendry
If you're like us, you've probably wondered what famous people add to their carts. Not the JAR brooch and Louis XV chair but the hair spray and the electric toothbrush. After retiring from YouTube, Ingrid Nilsen got to work creating her new candle line The New Savant, which recently launched a (now sold-out) holiday scent called California Christmas. In between pouring candles and pasting labels, she took the time to chat with us about the condiment that gives her chills, the micellar water she's bought for over ten years, and the best socks for Pilates.
As a YouTuber, I felt so much pressure to stay up to date with the newest launches and constantly try new stuff, even if I didn't want to, because it was my job. Now, I can use the same products every day if I want to, and try stuff out of my own will. I enjoy makeup and skin care so much more now, and it's been such a relief, which really proved to me that retiring was absolutely the right decision for me. This is one of those products that has always been a staple in my routine, and I never want to switch up.
I started using this over ten years ago. It's gentle; it removes makeup without forcing me to scrub my face. I use it both morning and night because I know my skin will be properly cleansed without feeling dry and stripped or as if there is still makeup on my face. I trust that it's going to do what it needs to every time. It's probably one of the things I've repurchased the most.
The first time I ever saw Alex Mill, I was walking around Soho, and I popped into their store. I remember seeing their jumpsuits and shirts and thought, Oh, I need to remember this place. I loved everything. Then, nine months later, my partner romantically and in business Erica went in and told me I should check it out. Alex Mill kept entering my life, so I decided to finally get this sweater I've had my eye on. My friend told me the stripe sells out often for this sweater, so I guess I got very lucky when I bought this one. It's so comfortable but looks really, really nice. I like that it can be worn as a crewneck or cardigan, so it's like two sweaters in one. I wear it so much. I should probably get more.
I have an oilier than average complexion, but my skin has gotten drier as I've gotten older. This cream really works for me. I literally use it every single day because I can use it anywhere — my body at night, my hands, any cuts or scrapes, and anywhere else I decide needs a little hydration. It's a great occlusive, meaning it helps lock in all the moisture in my skin. It has an interesting texture because it's somewhere between a balm and a lotion. It's thick, but it spreads nicely on the skin. I feel it absorbing, and my skin feels comfortable afterwards. I don't feel like I have a film on my face, which can be a problem with some thick moisturizers.
I grew up with fish sauce. It's the go-to condiment for me. I use it on top of cooked food, in sauces, while I'm cooking, and just on everything. My mom stayed with me for three months recently because I hadn't seen her in a year and a half, and I was so spoiled because she cooked Thai food every day. The kitchen just smelled like fish sauce. I love the smell. It's very pungent and tangy, but there's something so comforting about it. One of my favorite Thai sauces called nam pla is made with a base of fish sauce — it has the saltiness from the fish, but because it has lime, you smell the citrus, and you even smell the onions and chiles. I get chills when I smell this sauce. I can almost taste it when I smell it.
I've been wearing sunscreen every single day since I was a teenager. I've worn a lot of sunscreens over the years and have tried everything from ones that were really uncomfortable to ones that were really amazing. I have very high standards, and it's easy for me to find something I really don't like, whether it's the smell or the texture or the flashback in photos or how it stings my eyes. This Skin Aqua one is amazing. Overall, Japanese and Korean sunscreens are superior in terms of user experience. Nobody beats them. I heard someone mention this one in a video, and they had good things to say, so I ordered it. This is one of the most comfortable formulas I've ever tried. It's water-resistant, which is great if you're going to be sweating. It's also really watery. It doesn't transfer if I wipe my face or wear a mask. I can wear makeup over it, and it gives me a really healthy glow. I order it from Amazon or YesStyle, it just depends on who has it in stock.
I keep a pair of these in my bag at all times. They're workout socks, so I wear them in Pilates class. My studio, Good Time Pilates, which I love, requires everyone to wear socks in the class. You can slide around easily, though, so you need grippy socks to give you extra stability. I've tried a bunch before, but my studio sold these socks, and they are the best grippy socks that I've ever had. The grip goes around the entire bottom of the sock, but they're not too grippy. I can wear these in my shoes, whereas with others, I couldn't even get my sneakers back on. You can wash them, and the grips don't wear out. The brand also adds little touches of whimsy, like smiley faces and peaches. I have worn them around my house before going to Pilates because I have pretty slick floors, too. They're just my favorite socks to wear.