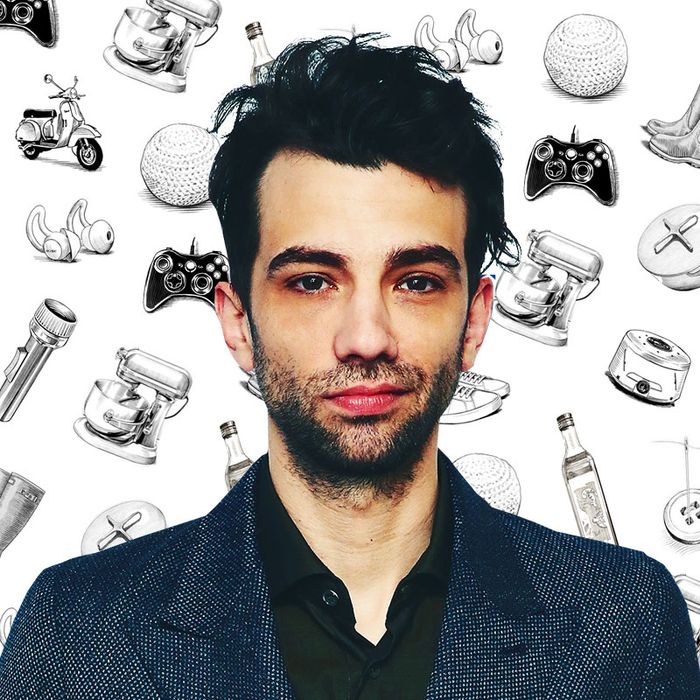 Photo: Astrid Stawiarz/Getty Images, Illustration: Joe McKendry
If you're like us, you've probably wondered what famous people add to their carts. Not the JAR brooch and Louis XV chair but the hairspray and the electric toothbrush. We asked actor Jay Baruchel — whose film Random Acts of Violence is now streaming and available on DVD and Blu-ray — about the pajamas, tea, and gravy he can't live without.
I drink tea instead of pretty much anything. Barry's tea is a hard thing to describe. It just tastes good. One time, I was over in Ireland, and my friend's wife made me a cup of this tea. I was like, "Jesus Christ, this is the best cup of tea I've ever had." She said, "Well, that's because it's Irish." So I started ordering it from Ireland. Friends in Toronto would come over to my house and try it, and they would be like, "Jesus Christ, you're right. This is next level." Then they started ordering it. Luckily it's now on shelves in grocery stores, so I don't have to order it directly from Ireland anymore.
We eat a lot of gravy up in Canada. Gravy is probably right next to ketchup for what to eat with French fries. But it's also great anytime you're eating chicken. You can dip bread into it as well. Honestly, you'd be surprised at how versatile gravy can be. There's a kaleidoscope of flavors out there, too. Whenever I eat fries, I have to boil some St Hubert gravy. They just got the formula right. I think it's the onion powder, but it's not like theirs is the only one that has onion in it, so I don't know exactly what the key to their gravy is. But they figured it out. I always need it.
I'm a huge movie nerd, and I need options. Apple TV lets me watch a lot of shit on one device. I've seriously got every conceivable streaming app on my Apple TV — iTunes, Netflix, Criterion, Crave (which is basically the Canadian equivalent of Hulu), Shudder, and YouTube, which is actually pretty spectacular on Apple TV. I'm one of the handful of people who pays the premium for YouTube because there's actually a lot of good stuff on there. My wife and I watch a lot of movies. We have a rule in our house: If I pick the movie one time, then she picks it, then I pick it, then she picks it. A day where we don't watch a movie or documentary is always somewhat of a waste.