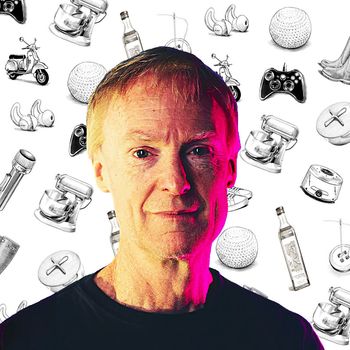 Photo-Illustration: The Strategist; Photo: @thesundncekid for On Air Fest; Illustration: Joe McKendry
If you're like us, you've probably wondered what famous people add to their carts. Not the JAR brooch and Louis XV chair but the hair spray and the electric toothbrush. We asked WNYC's John Schaefer, whose public radio show "New Sounds" recently celebrated its 40th anniversary, about his preferred brand of bourbon, how he keeps warm on the soccer field, and the water bottle that's lasted him 16 years and counting.
I play soccer three days a week early in the morning, and that includes in the dead of winter. I needed something that was going to keep me warm on those brutally cold mornings. I tried one of these shirts, and now I have three of them — on the worst days, I'll layer two beneath my jersey. They do the job and really do seem to keep me warm until I get going. They're supposed to be good at wicking moisture away, and I'm not sure about that, but the main thing is that they are very, very good at retaining heat. I think actually a lot of professional players use them.
I discovered Booker's probably back in the '90s in a bar in San Francisco. It was one of those moments where you think, Where has this been all my life? I don't know what tobacco or leather would taste like if you actually ate them, but I imagine that Booker's might give you an idea. Booker's is uncut and unfiltered. It's small batch, and every year's batch is slightly different — it can be hard to find. They don't make a lot of it, and they don't advertise it. So when my local liquor store has it, I get it. You can have it neat or you can have it with a splash of spring water. I certainly would not mix it.
I'm not a gambling man except with thoroughbred racing. I grew up here in New York, and I've been going to the Saratoga racetrack every summer since I was old enough to bet. My oldest daughter is named Saratoga. It's a family thing. I fell in love with the pageantry and the color and the history. But you can't always get to the track because life is busy. The New York Racing Association Bets account allows me to watch races on my phone with live odds. And best of all, it allows me to bet tracks that I can't get to — say, if I want to bet the Kentucky Derby or the Breeders' Cup. It's been a lifelong interest of mine, and this is a way for me to stay active when I can't actually be at the track.
I think I discovered Mast through Kings County Distillery here in Brooklyn. I had the guy who runs the distillery on my show, and he brought in a couple of bottles. And one of them was a moonshine that had been distilled in the cocoa husks they'd gotten from Mast. The darker the chocolate, the more I like it — I have no time for light milk chocolate. I usually like it even stronger, but their 80 percent cocoa is really excellent. It's got a kind of earthy texture without being gritty. And it's from Brooklyn, you know, so why not represent?
I love to cook. And if I only had one piece of equipment on a desert island, it would be a cast-iron skillet. But as everyone knows, cleaning them can be difficult — you don't want to take a Brillo to it. You really don't want to do the usual sponge-dish soap thing. For many years, I would clean my skillet with paper towels and coarsely ground salt to get all the crud off and wipe it out while it was still hot. Then, a couple of years ago, my wife found this chain-mail cleaner online. It was another of those moments: Where has this been all my life? It's a hand-size piece of chain mail; you rub it on the skillet on all the burnt-on bits. It loosens everything up so you can wipe it clean and maybe give it a good oiling afterward. It really does the job. My kitchen is full of gadgets and gizmos, some of which I use and some of which I don't. This thing, it's not that big of a purchase, but it was totally worth it.
It's a portable handheld digital audio recorder with two microphones and the option to add external microphones. But I find that the built-in mics are excellent. I take this thing if I'm going to a festival or if I'm going to London, where I go at least once a year. I'll go to a soccer game to watch my team, Arsenal, play, and I'll line up interviews while I'm there. It's a very useful professional tool, but it's certainly within the capacity of anyone who's just interested in recording the sounds around them. It doesn't require you being an audio engineer to run it. It's pretty intuitive. I worked with a composer once who went into the English countryside and recorded all the birdsongs there to use in a sound installation, and this is what he used to record it.
I actually got mine from my physical therapist. He was getting rid of it, so I bought it from him. I have a fairly extensive workout that I do every morning, and the last thing I do is get on the inversion table. Every morning. If I've played soccer especially. Because there's a lot of pounding with the running and stuff. I lie down and can sometimes hear all the clicks of my vertebrae, which can be very satisfying. They tell you you shouldn't hang upside down on it for too long, especially without moving, so I do some sit-ups and other stretches and exercises, but it's also just great for a minute or two to let everything loosen up. I have no idea if it's just a mental thing, but I can hear the voice in my head go, "Ahhh."
Once I'm off the table, before I shower, I drink a Muscle Milk. I have 12 plastic bottles, and every 12 days, I mix up a batch of Muscle Milks and throw them in the fridge. They're really good for recovery after a workout. People who work out a lot need more protein, and this is a decent amount of protein without any sugar. I find the vanilla flavor kind of gross, but the chocolate is acceptable. It's all made with whey, and it's a very good way to get that protein fast.
The No. 1 thing on my list is with me so often that I almost completely forgot about it. I bought it originally for my daughter, who was going on a trip in South America and needed camping gear. I was like, Oh, come on, $15 for a plastic bottle? Well, that is the same bottle I'm still drinking out of 16 years later. These things are indestructible. And if you're talking about things I can't live without, I don't live without this. It's in front of me right now.
I was dragged kicking and screaming to Peacock TV because it's part of NBC, which owns the English Premier League, which is where Arsenal plays. It turned out to be kinda great. Because suddenly I can watch all the games — not just the one I wanted to see, but later in the day, replays and highlights are also available. Also both of my kids are huge fans of The Office. And so they can both binge-watch episodes of The Office anytime they want. Which they seem to do constantly. It's a great show, but at this point, they know every line of every episode. We'll be talking, and one of them will say something and laugh, and I'll be like, "Is that from The Office?" The Peacock subscription allows them to follow their hobby in the way I follow mine.
The Strategist is designed to surface the most useful, expert recommendations for things to buy across the vast e-commerce landscape. Some of our latest conquests include the best acne treatments, rolling luggage, pillows for side sleepers, natural anxiety remedies, and bath towels. We update links when possible, but note that deals can expire and all prices are subject to change.