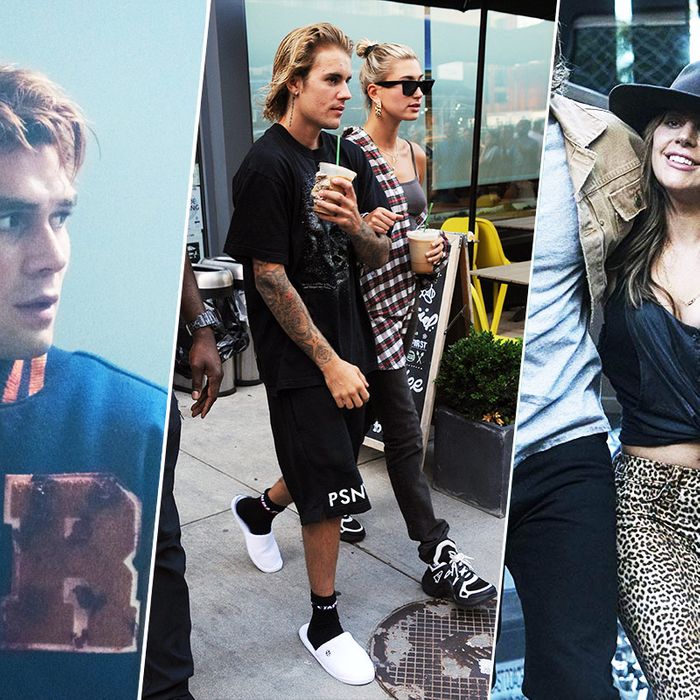 Photo: Illustration by New York Magazine
So you've been invited to a Halloween party and are in dire need of something to wear — but you don't want to buy the same costume from Amazon as everyone else. We've got you covered, with 11 last-minute and pop-culturally relevant costumes for 2018 (that you can still find on Amazon).
Lady Gaga (or Bradley Cooper) in A Star Is Born
With this hat, you could be Jackson Maine; just put on a button-up shirt and leave it mostly unbuttoned. Or you could be Ally, as she starts her rise to fame, in a pair of leopard-print jeans and a knotted T-shirt. Either costume will have everyone just wanting to take another look at you.
Christine Baranski in Mamma Mia! Here We Go Again
Speaking of stars, Christine Baranski is one of the best parts of Mamma Mia! Here We Go Again, so channel some of ABBA's pizzazz with this white-and-blue ruffled jumpsuit.
Ryan Gosling as Neil Armstrong in First Man
Dressing like you're the first man on the moon is probably a lot easier than actually being him.
Constance Wu in Crazy Rich Asians
Tiara, delicious Singapore street dumplings, and everlasting love with Henry Golding not included.
Jonathan Van Ness of Queer Eye
Pair with your sheerest turtleneck and your best pair of sock-booties (and don't forget to trim the beard a bit on your way out the door).
Jonah Hill or Emma Stone in Maniac
A jumpsuit that looks like it's straight from Neberdine Pharmaceutical's supply closet. Make a fake ID badge and put it on a string around your neck, for full effect.
Archie from Riverdale
Riverdale is basically your average teen drama based on a comic book, but "with murders and stuff," as one cast member described it at Comic Con this year. And being part of the gang is as easy as throwing on this varsity jacket.
Yeezy "Klone"
With a pair of bike shorts and a gray wig, you could be Kim Kardashian West or Paris Hilton or any of Kanye's Yeezy "Klones."
Michael Myers from Halloween
Jamie Lee Curtis came back to finally take revenge on Michael Myers this year, but you can still dress up like the creep himself.
Rihanna at the Met Gala