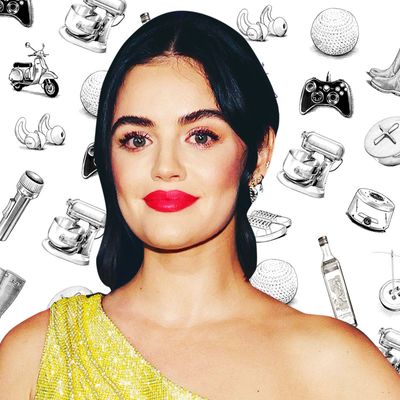 Photo-Illustration: The Strategist; Photo: Getty
If you're like us, you've probably wondered what famous people add to their carts. Not the JAR brooch and Louis XV chair but the hair spray and the electric toothbrush. We caught up with actress Lucy Hale, an ambassador for Almay whose new movie, The Hating Game, is out now. Here, she chats about the milk frother that motivates her to get out of bed, the lip balm that calms her anxiety, and the attention-getting perfume she's finally ready to share with the world.
This sounds a lot fancier than it is, I promise. I froth my non-dairy creamer, then add it on top of my coffee. I go to sleep excited about my morning because of this little gadget. Waking up knowing I get to go make my coffee with this frother really is the driving force for me to get out of bed. My sister had one, and when I tried it while visiting her, I immediately ordered one. It's just a black cylinder. It's so easy. All I do is press a button.
Kristin is actually one of my best friends, but even if she weren't, I would still talk about her products and continue to buy them because they're really that good. Obviously, I change my hair color all the time. I think in the last two years, I've been about seven different colors. I really need to chill out. But I try to take really good care of my hair since I am dyeing it a lot. These glosses are amazing. They're sold at Target so they're so easy to find, and they're very easy to use. I use it in between hair appointments once a month. You get two bottles, mix the formulas together, then put it all over your head. I let it sit for 30 minutes, but you can do anywhere from 5 to 30 minutes. I use the color "Bittersweet" when my hair's really dark because my hair wants to go red really easily when I want a deep, chocolatey color; it takes the coppery tones out.
I love the original peanut butter flavor, but I think the chocolate chip peanut butter is actually a little bit better; I'll call that one my favorite. These are not like your regular protein bar. They have tons of superfoods and nuts, which makes them so filling. They're a meal replacement bar or snack or whatever you'd like to call it. They taste like dessert. Sometimes I can only eat half of it because they're really rich.
In the middle of the day, my bedroom gets so much natural sunlight that it becomes a greenhouse. This fan, I swear, is the only thing that gets me through. It makes this soothing humming sound, almost like one of those sound machines, so I sleep with it on. It also looks so cool and sleek. It's definitely an investment, but it's amazing. I was at Bed Bath & Beyond, and I was like, "Oh, this one looks nice." I honestly bought it based on looks and the Dyson name, but the brand has such a good reputation, I thought, It's probably good.
A high-frequency wand does sound like it could be a power tool, but no, it's a skincare device. It's been a game-changer for me. A facialist used one on me once because it kills bacteria, and I was amazed. I got mine from this shop in L.A. called The Things We Do. It's this really cool spot downtown, and I really trust the estheticians there. They recommended this one to me, but they honestly all do the same thing, so you can't really go wrong. I use it after I cleanse my skin at night. It has all different attachments. They have a flat surface attachment, which is for covering the entire face. They have a scalp attachment to help hair growth. I mainly use the attachment for spot-treating zits. I'm 32 and still get zits all the time, so I need all the help I can get. You're not supposed to use it for more than five minutes at a time. But using it every day, even just for 30 seconds, I've noticed a major, major difference. It sounds like you're going to be electrocuted when you turn it on, but the sound is way more intense than what it actually feels like, so don't be alarmed.
I discovered this maybe ten years ago, and I probably have ten tubes of this stuff just laying around. I even had the big red tub next to my bed for a while. Every makeup artist I know has it in their kit. Even if I'm not wearing any makeup, I at least have some of this on my lips. I have what I like to call lip balm anxiety: I have to have lip balm on me or at least in the room because I hate not having anything on my lips, and I kind of panic when I can't find any. This ointment is super basic. I put it on my elbows, cuticles, hands, sunburned skin, basically everything.
This fragrance is interesting because it's one of those scents that smells different on everyone. The perfume itself is really light, but apparently, it mixes with your pheromones to create a custom scent. When I spray it on myself, I can't even smell it but everyone else can. It's a unisex scent and definitely muskier and masculine, but I love that. People literally stop me on the street to ask me what I'm wearing. It's not like they recognized me or anything. Honestly, I feel like that's what perfume should do. I usually don't talk about what I wear because it feels like my little secret, but I decided to stop being secretive about it because it's that good.
So many eye patches just slide down your face, but these actually stay put. I'm not that person who puts on eye patches and lays down. I'll put them on, make my coffee, and do whatever I need to do. These stay put, but they also get really cold under the eye. I feel like it helps depuff and tighten my eyes in the morning. I actually pop mine in the fridge so they get even more chilled. My friend Kelsey Deenihan, who's a makeup artist, put them on me before doing my makeup one day. I learn about everything good from her.
I'm a big candle person. Santal 26 is my signature home scent. I have one candle in every room. I travel with them, too. The scent is so comforting to me. I think my friend Kelsey also put me onto this. She was wearing Le Labo perfume, and I loved it. I stopped in the store one day, and my life was forever changed. I think I bought my first Le Labo candle that day. It's been a couple of years and I have yet to get tired of it. I do own the little glass ones, but for my home, I love the huge cement ones. I think they stay lit for 700 hours or some crazy amount of time. It makes my whole house smell like this scent, and it obviously lasts so much longer than the smaller versions.
A bold lip is so classic, and you don't need to do much else. When I do a red lip now, I do a very, very minimal eye with clean, glowy skin. My love of a red lip came from my grandmother who always had this one bold lipstick she wore her whole life. She could put it on without a mirror. I would just stare at her in awe. Unlike her, though, I'm always trying different shades of lip colors. That's part of the reason I love the whole Lip Vibes line. "Treat Yourself" is definitely my favorite. It's a go-to in my makeup bag at the moment. The lipsticks are so pigmented and moisturizing. Plus, the packaging is so fun. It's all recycled materials with really cool prints.
Editor's note: Hale is an ambassador for Almay.
The Strategist is designed to surface the most useful, expert recommendations for things to buy across the vast e-commerce landscape. Some of our latest conquests include the best acne treatments, rolling luggage, pillows for side sleepers, natural anxiety remedies, and bath towels. We update links when possible, but note that deals can expire and all prices are subject to change.