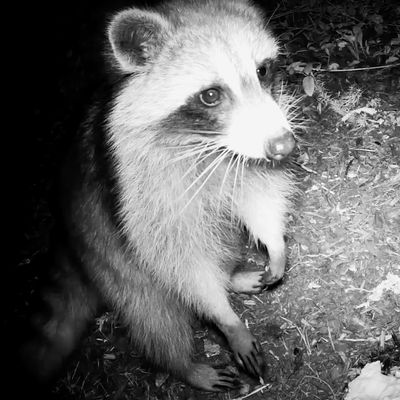 Photo: The Strategist; Photo: Courtesy
You'd never guess our backyard is a teeming wildlife wonderland. We live in a Connecticut suburb, not the Maine backwoods.
But about a month into the homebound boredom of lockdown, I started scraping off my kids' dinner plates into the grass at the edge of the patio — a pizza crust here, a tablespoon of abandoned peas there — to see what became of it. I guess I thought it might help out some hungry squirrels.
I was surprised by how fast the leftovers vanished. Something or someone was scarfing down these offerings—sometimes overnight, sometimes practically while my back was turned. One summer night, I tossed a piece of Kid No. 1's burger bun back there. In the time it took me to bring his plate inside and head out again with Kid No. 2's plates, the first bun bit had already been swiped.
I'd often say to the family at mealtimes, "What someone should invent is a motion-activated, night-vision video camera." Turns out they exist, by the dozens: weatherproof night-vision trail cams that snap photos or videos when they detect motion or sound. An exhaustive investigation (ahem, Amazon search) informed me that they're marketed to farmers, hunters, naturalists, security-conscious homeowners, and, of course, baffled suburbanites.
They're all chunky little clamshell boxes in camouflage-patterned plastic, bristling with lenses and sensors. They range in price from $33 to $600, depending on the length of the feature list. Do you care about a built-in screen? 4K video? Lockability so that local hoodlums can't get to your raccoon footage before you do?
The least expensive models require you to pull the memory card out to check your captures. But if you plan to strap the thing up high, it's worth paying for a model with Wi-Fi so you can download to your phone while you're on the ground. (The priciest trail cams have cellular connections so you can check their contents from miles away.)
I wound up buying the concisely named "Actman Wi-Fi Bluetooth Trail Camera, Game Camera 20MP 1296P HD Hunting Camera With 940nm No Glow IR LEDs, Motion-Activated Camera With Night Vision and IP66 Waterproof, Trail Cam for Wildlife Monitoring." It's made by Actman, the preeminent outdoor-electronics-maker. Kidding. In the under-$100 category, all of the critter cams come from no-name Chinese-made brands. My "Actman" is sold out, but no matter. These critter cams are generic; based on their identical designs, I suspect most are originally manufactured by the same couple of companies.
I supplied eight AA batteries and a memory card, set the Actman up on its tripod, downloaded the app, and set the bait: stale bread and a corncob. I covered the food with a clear plastic to-go-bowl lid weighted down with a stone, in hopes that the camera might catch some entertaining animal ingenuity.
When I checked the card in the morning, I was astounded: In a single night, we'd been visited by a pointy skunk, a sleek fox, a deer, a mama racoon with four babies, some kind of possum thing, a chipmunk, and various squirrels, cats, and birds. We had no idea we were sharing the property with such a diverse population.
Frankly, most of them owed their midnight meals to the possum. She wasn't the first visitor, but she did the dirty work of overturning the plastic cover for the benefit of everyone who came after. (The key, it turns out, was nuzzling her snout under the edge and lifting upward.)
The daytime photos and videos are very good — maybe 2014-smartphone quality. In one extraordinary sequence, a finch arrives with her two babies, barely able to fly, and proceeds to feed them, in that beak-to-beak way that mama birds do. The chipmunk and squirrels generally make their visits during the daytime too.
The quality of the night-vision shots, though, is incredible.
No aspect of this trail cam will win any design awards: software, hardware, instruction leaflet. But at its one job, it's a champ. I've lived here for 20 years and never had a clue that our neighbors include that fox, skunk, possum, and raccoon family; they're just too good at hiding when people are around. The critter cam has three qualities for filming them that I never will: comfort in any weather, the ability to see in the dark, and eternal patience.
I quit putting out food scraps when my horrified children informed me that I was teaching wildlife to become human-dependent. So we've repurposed the critter cam.
We set it up under the eaves to watch a pair of bird parents raise their tiny offspring over the course of a summer (amazing). We set it up in the living room to catch our cat Wilbur's nocturnal shenanigans (including a bizarre ritual of parading through the house carrying an old fuzzy microphone cover in his mouth). One time, my wife and I even set it up in the bedroom to see what we do in our sleep (a surprising amount of sleep-talking and sleep-laughing, but no levitations to report). All odd and hilarious, but honestly, I miss the pointy skunk.
The Strategist is designed to surface the most useful, expert recommendations for things to buy across the vast e-commerce landscape. Some of our latest conquests include the best acne treatments, rolling luggage, pillows for side sleepers, natural anxiety remedies, and bath towels. We update links when possible, but note that deals can expire and all prices are subject to change.