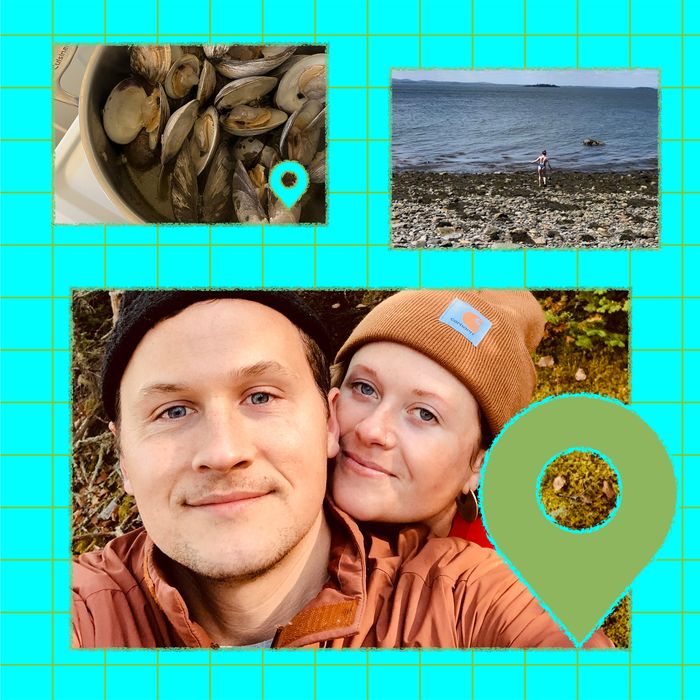 Photo-Illustration: The Strategist; Photos: Lauren Friel
Everyone knows that person who spends weeks sniffing around travel blogs, going deep into Tripadvisor rabbit holes, collecting Google docs from friends of friends, and creating A Beautiful Mind–style spreadsheets to come up with the best vacations and itineraries possible. In this recurring series, we find those people who've done all the work for you and have them walk us through a particularly wonderful, especially well-thought-out vacation they took that you can actually steal.
Every summer since 2019, Lauren Friel, Boston-based sommelier and owner of Rebel Rebel, Wild Child and Dear Annie, and her husband, Brian, have taken a trip to North Haven, a tiny, lesser-known island off the coast of Maine in Penobscot Bay. "North Haven is unusually pastoral compared to other Maine islands," Friel explains. "The soft, rolling fields of wildflowers interspersed with spruce forests make you feel like you've been transported to some remote Scandinavian destination. And for an island with a population of just around 400, there's still always something new to discover." This spring, when Friel was five months pregnant, they decided to take their annual summer trip a few months early: "We've found we really like the island in the shoulder seasons and I wanted to minimize the possibility of going into early labor in the middle of the Penobscot." So with their rescue pup Willa in tow, they loaded up the car and headed off for a babymoon, taking full advantage of their last child-free hurrah in their favorite place.
10 a.m.: Pick up breakfast and hit the road
We packed the car and set off. It's a 3.5-hour drive to the Rockland ferry, and I wanted to leave plenty of time to stop along the way — there are only three weather-dependent ferries from Rockland to North Haven every day, and if you miss yours, you're sleeping in Rockland. We preordered breakfast sandwiches and coffees from Vinal Bakery (222 Somerville Ave.) in Somerville and grabbed them on our way to 93 North — there's truly no better way to kick off our very New England vacation than their homemade English muffins. My go-to order is a Classic on Anadama and a black iced cold brew (again, New England).
12 p.m.: Stop for wine en route to the ferry
We made a little detour to stop at Lorne Wine (61 Main St., Biddeford) — owners Carson and Erin introduced me to North Haven when they invited me to an on-island pop-up they co-hosted with Sammy's Deluxe in the middle of January (it was very cold and very fun). They own a great bar and wineshop in Biddeford, just south of Portland, and they're some of the nicest people I've ever met. With their help, we put together a case of awesome small-production wines — they have an especially fun domestic selection from rule-breaking younger winemakers. A case might sound like a lot for a few days, but we're bound to meet people on the island, and it's always nice to have something to bring to the cookout.
2 p.m.: Load up the cooler before boarding the ferry
We arrived at the Rockland Ferry Terminal (517A Main St., Rockland) and made sure we had our tickets and line numbers in order (I'm like a dad at the airport; what can I say?). Before boarding began, I popped across the street to the Good Tern natural-foods co-op (750 Main St., Rockland) for an incredible selection of Maine-grown goods and organic groceries. This stop is major. It wasn't peak tourism season yet, and there are three restaurants on North Haven with limited hours even during the summer, and the lone general store on the island has a good selection, but it's dependent on shipments from the mainland, so we had to stock up. I packed the cooler with frozen grass-fed ground beef, cultured butter, dried beans, healthy-ish snacks, Fox Family potato chips (the best), and whatever toiletries I'd forgotten. They have a pretty great selection of local beer and natural wine, too, so I always check that out. On the way back to the ferry, we stopped at the iconic Wasses hot-dog stand (2 N. Main St., Rockland) for a "Wasses Special" — a grilled dog with fried onions, mustard, and relish — ideal for ferry noshes. The ferry ride to the island is one of my favorite parts of the trip — the small boat is right out of Accidentally Wes Anderson, and the anticipation always makes me giddy. I bundle up and sit on the upper deck no matter what the weather's doing.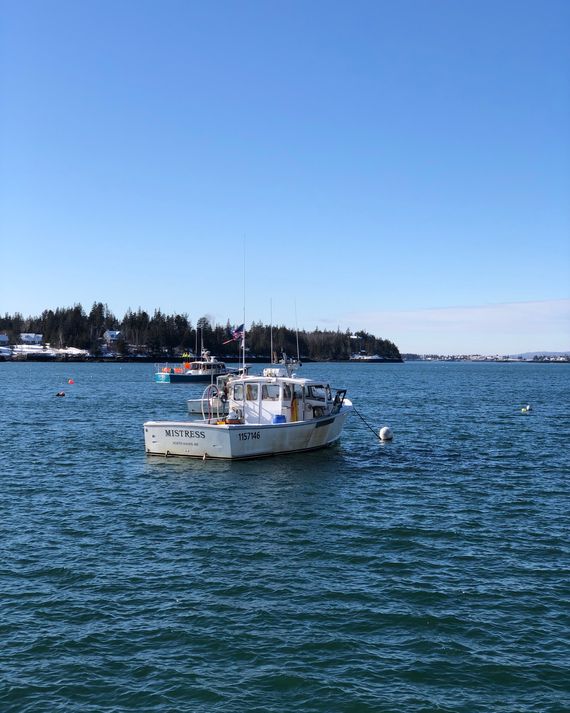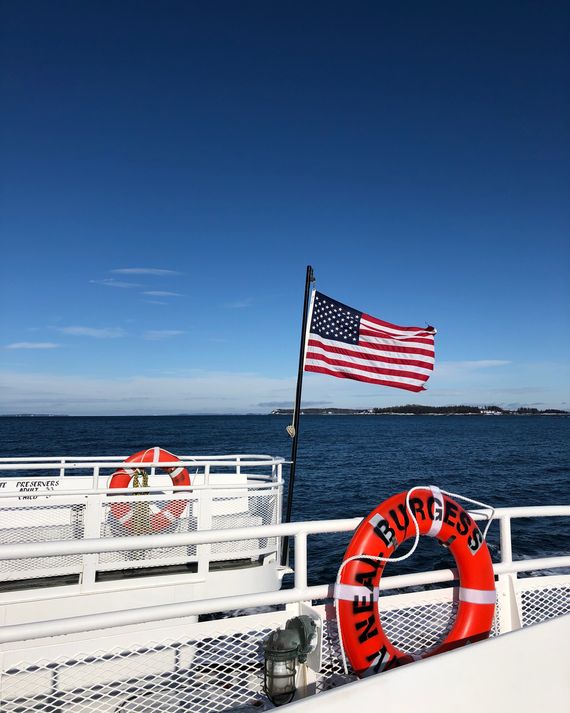 7 a.m.: Hit the local beaches
We woke up early at our Airbnb and stepped out for a morning walk. (The Nebo Lodge is a super-cute inn on the island, but it wasn't open for the season yet.)
We're never more than five minutes from a gorgeous beach stroll on North Haven, and this morning we decided to stop at Waterman's Community Center (12 Main St., North Haven) for a coffee from the honor-system café before we headed to the beach to look for sea glass and let the dog run around. We checked the community bulletin to see whether there were any music or film events being hosted in the auditorium while we were there. We took off for Narrow Place Beach, a sweet little slice of shoreline on the way to Crabtree Point. I noticed the beach roses had bloomed and gathered some up to preserve for rose vinegar — one of my favorite ways to capture Maine summers all year long. Just as we were about to leave, a seal pup pops its head out of the water and shimmies onto shore. We hung out and soaked up the sun together for a while before saying good-bye.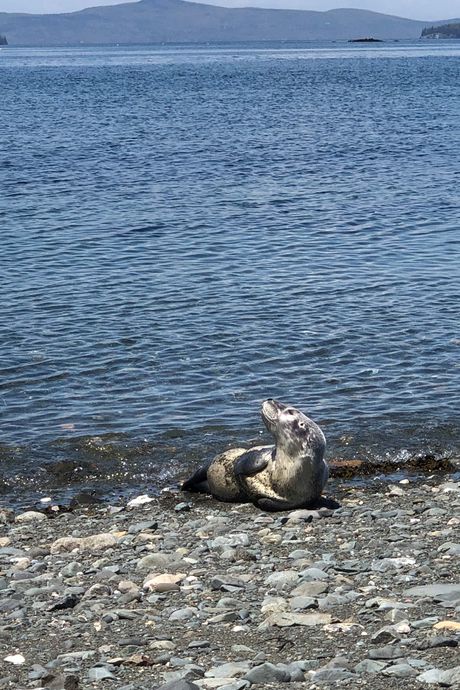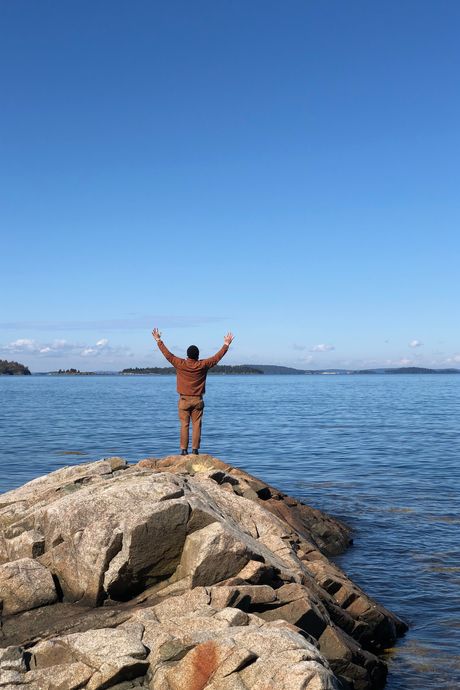 1 p.m.: Pick up oysters
We had lunch at our cottage and ventured over to North Haven Oyster Co (211 Middle Rd., North Haven), the only oyster farm on the island, to see what was in the honor-system fridge. I met proprietor Adam at the Lorne pop-up when I tasted his oysters for the first time, lost my damn mind, and spent, like, 20 minutes trying to find the guy I was told grew them. They're special for a lot of reasons — they're bottom grown in a tidal inlet, meaning they get both brackish and ocean water, making them uniquely clean and briny. (They're the oysters my husband and I chose to serve at our wedding — I spent more on the oysters than I did on my dress, if that tells you anything about how I feel about these oysters.) Grab a bag of bivalves out of the fridge, and leave cash or Venmo for whatever you take.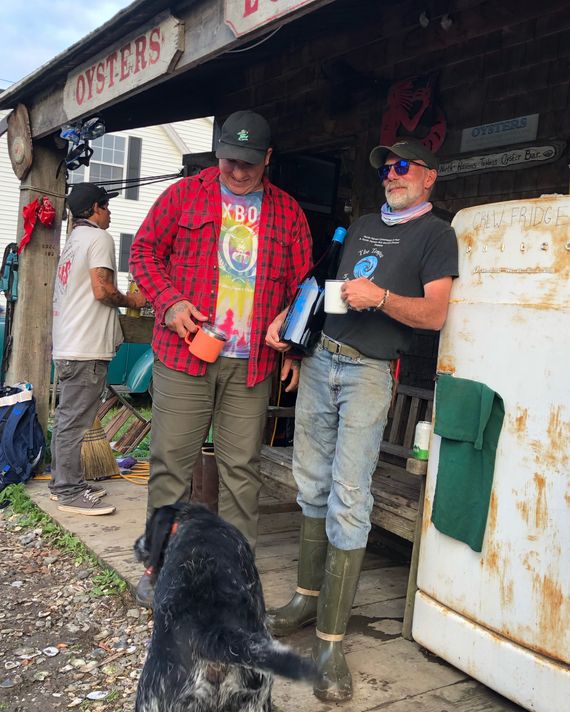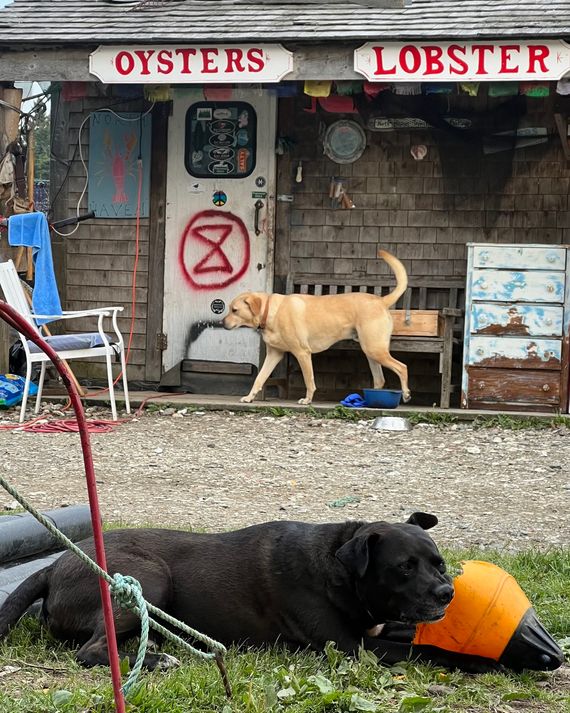 5 p.m.: Snack on fresh-caught halibut 
We were lucky that day — while we were at North Haven Oyster Co, Adam's son showed up with two halibut he just caught. We decided to hang out on their dock while he butchered the fish and bought a beautiful halibut steak from him before heading back to the cottage with an additional bag of clams from the fridge. I usually leave a bottle of wine in the fridge as a thank-you (you should, too). We drove home and waved at the passing cars as we drove by — this North Haven nicety is something it usually takes me a few days to shake once we're back on the mainland, but I wish it was a thing everywhere!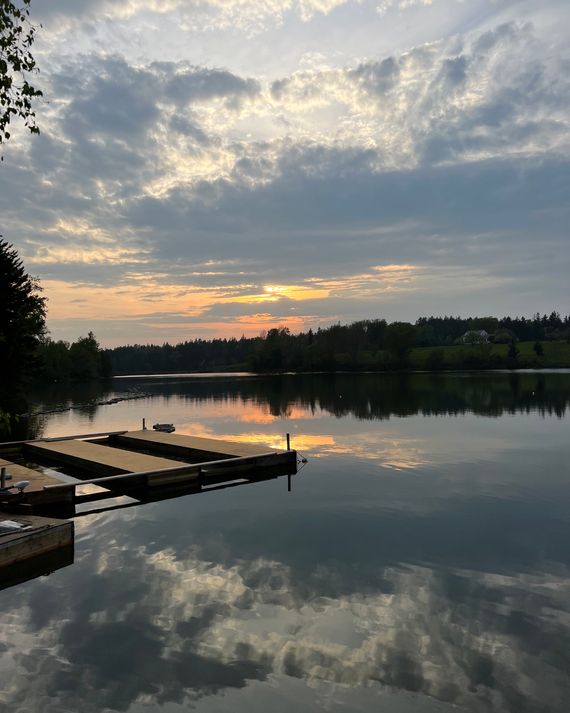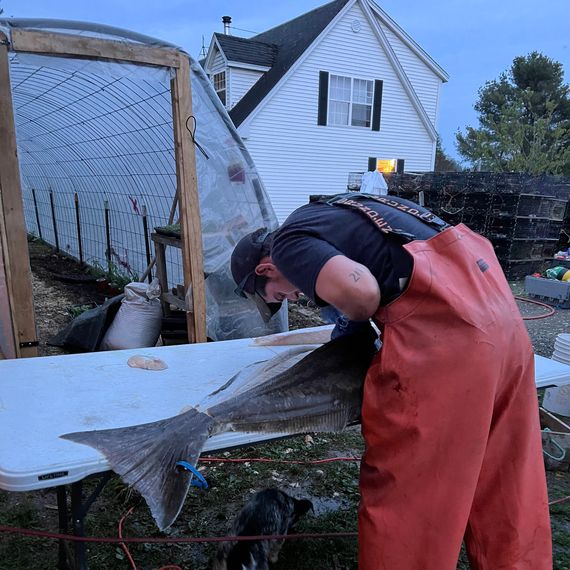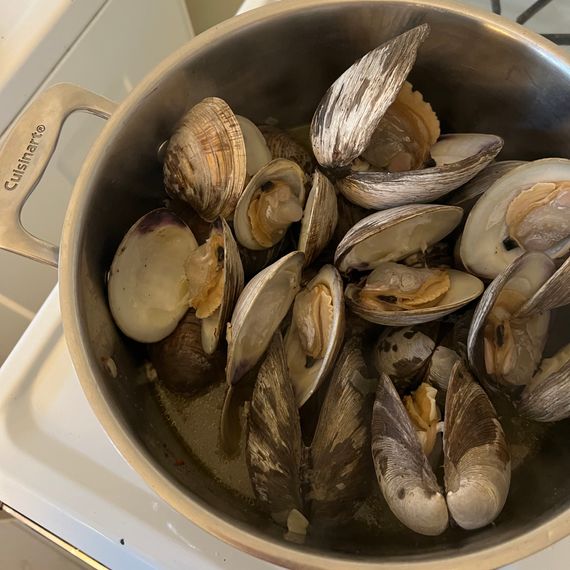 7 p.m.: Catch up with friends at Calderwood Hall
We popped over to Calderwood Hall (2 Iron Point Rd, North Haven), the historic hall and de facto community gathering place that also happens to serve great pizza, fresh salads, and other local fare. My husband ordered a cocktail, and I got a ginger beer — when I'm not expecting, I usually go for an island-brewed IPA from North Haven Brewing, which recently took over operations at Calderwood, expanding its hours and tasting-room offerings. We had dinner at a picnic table on the lawn, ran into everyone we knew, and listened to the last of the fishing boats coming into the harbor.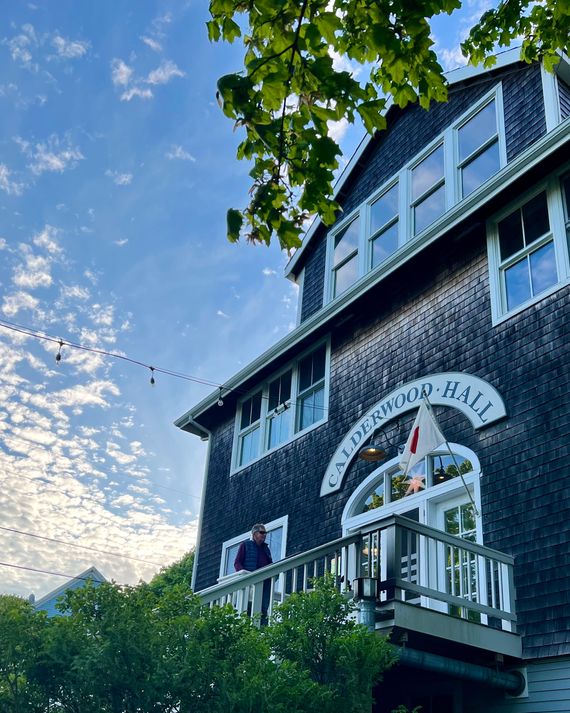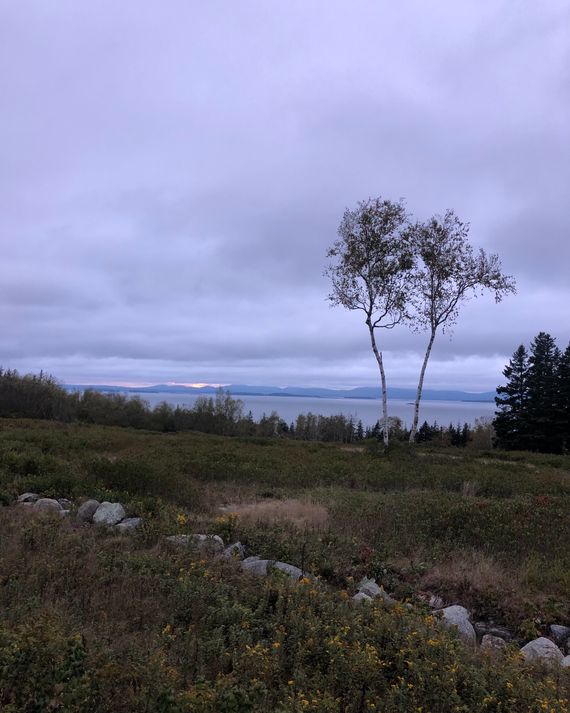 9 a.m.: Pick up biscuit breakfast sandwiches at Turner Farm
We decided to visit the farmstand at Turner Farm (73 Turner Farm Rd., North Haven) to take in the beautiful views and see if their homemade biscuit breakfast sandwiches were on offer that day. We were in luck and got bacon, egg, and cheese — with farm-fresh eggs, local cheddar, and thick-cut farm bacon. Turner is an organic farm with an epic summer Barn Supper series that combines its beautiful produce with stunning sunset views of the sea (here's a pic from a sunset there last summer!). It was too early in the season for its dinners — its farm stand is open during the shoulder seasons, offering coffee, baked goods, and various island sundries. I picked up hothouse greens for dinner, and we treated ourselves to a pour-over coffee, some farm-grown flowers, and homemade sausages from its freezer.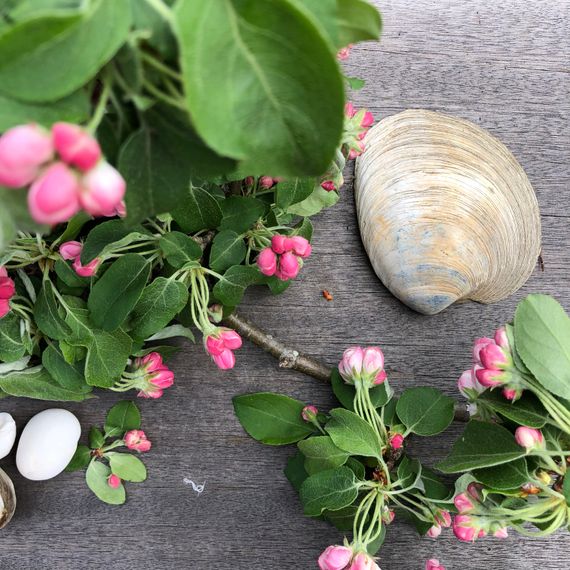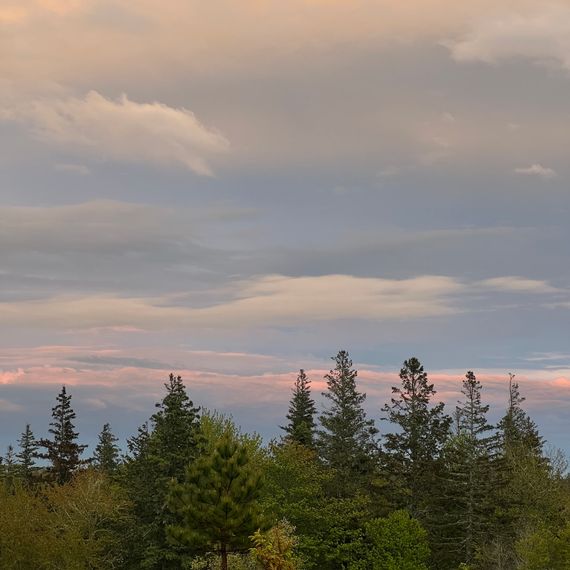 2 p.m.: Take a cold plunge
Nearly every swimming experience is a cold plunge this far north, but this time of year it's extra chilly. Still, I grew up being told it's good for your heart, and it's become kind of a tradition for us. The North Shore Preserve provides the perfect meadow walk down to a secluded beach — by the time we reach the water, we're warm from the trek and ready to plunge (I only go up to my thighs because, again, pregnant). On the walk back, we found a patch of wild asparagus.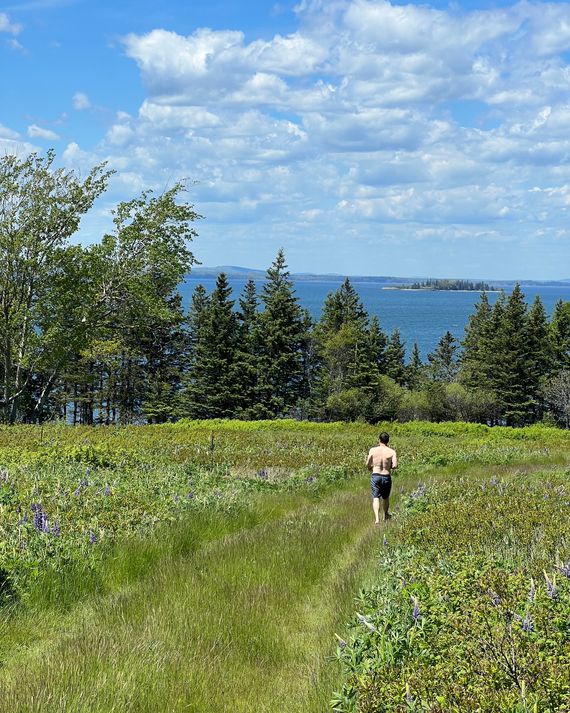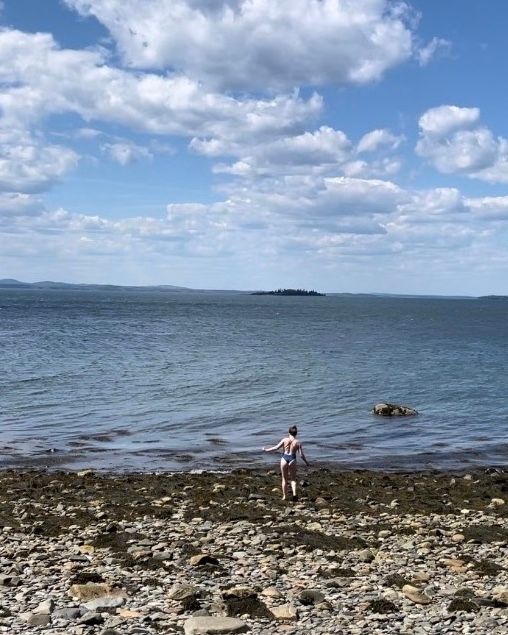 6 p.m.: Hike at sunset
We went on an easy sunset walk at Mullen's Head Park, a beautiful conservation area on a small cliff with expansive views of the Penobscot Bay. In all the years we've been coming here, we've never seen another person on the trails. Enter on Mullen's Head Road and stay to the left — you'll either end up on the sandy beach at Bank's Cove or at a small outlook with public grills. Both offer coastal trails and short hikes great for wobbly, pregnant people. I spent some time in the beachside forest foraging for spruce tips to add to my rose vinegar. (Spruce tips are a sweet spring treat that can be pickled and preserved for a million uses. They're a great beginner forage crop because they're easy to identify and harvest — just be sure to forage responsibly and never take more than you need). We took in the sunset views on our last night in this breathtaking place.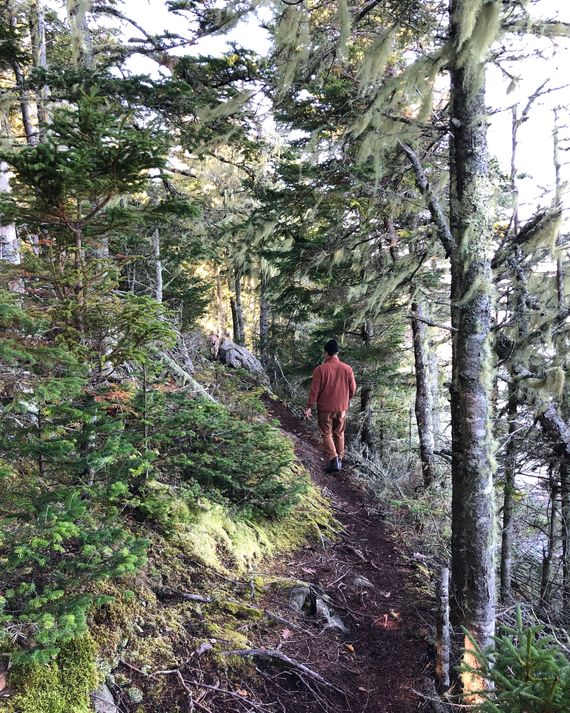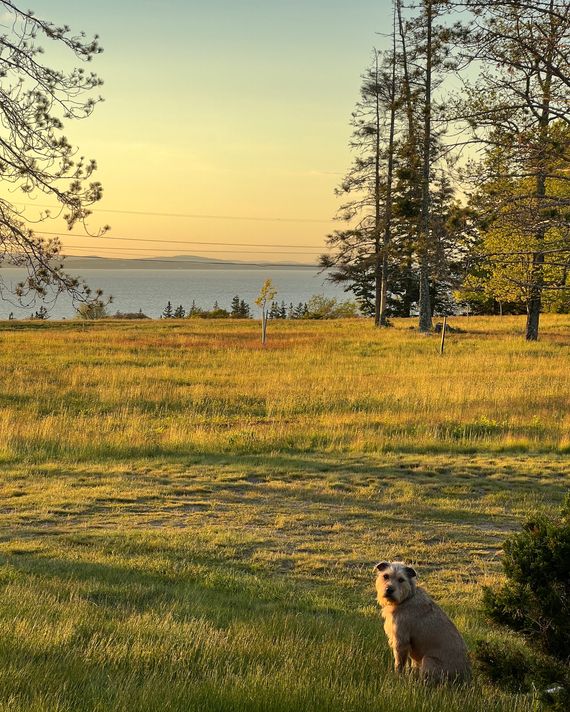 11 a.m.: Stop for oysters before heading back to the mainland
We grabbed a few more bags of oysters from the fridge at North Haven Oyster before our 12:30 p.m. ferry back to Rockland — we'll keep these in the cooler and bring them to other restaurant industry friends in the city. Once we got back on land, we made a quick trip to the Oyster River Winegrowers wine bar (31 Elm St., Camden) to see if winemakers and proprietors Brian and Allie were around. I love Oyster River wines, and they often have bottles in their shop that we can't find in the city. My husband had a glass of wine, and I got some chips and onion dip — we left the pup in the car (dogs aren't allowed this time) and enjoyed them both out on the patio.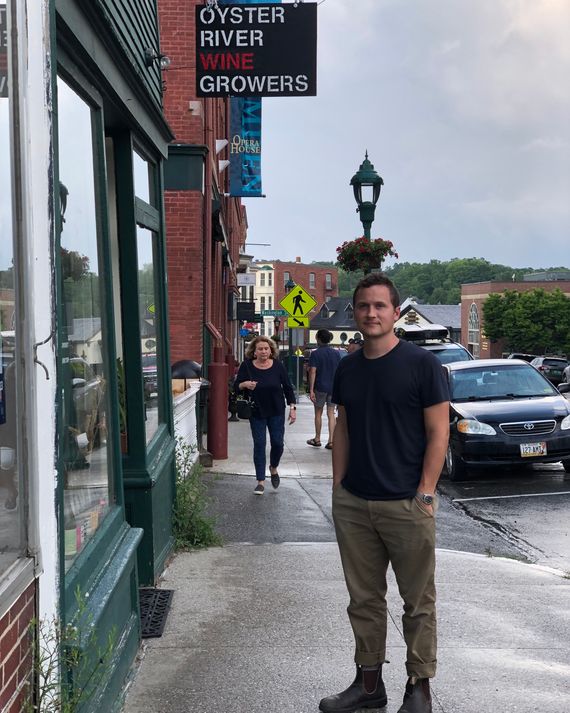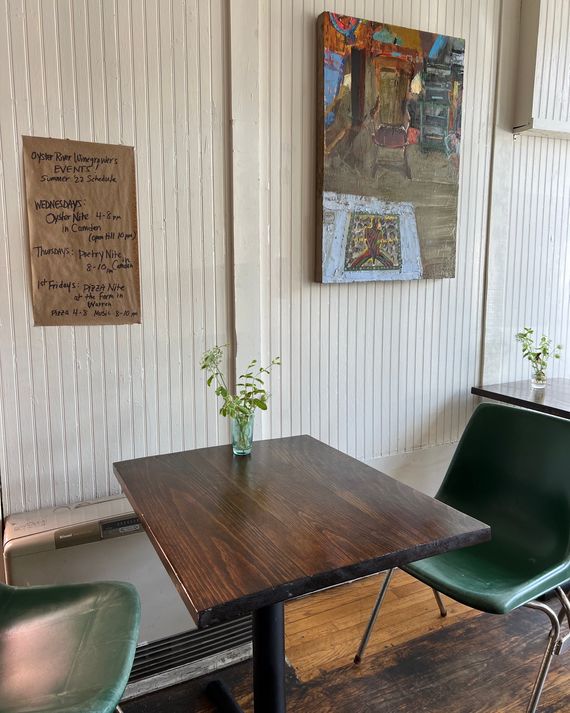 5 p.m.: Get an early dinner at Sammy's Deluxe
As soon as 5 p.m. rolled around, we headed straight for Sammy's Deluxe (488 Main St., Rockland) — one-half of the reason we fell in love with North Haven to begin with. Sammy's is a small, unassuming restaurant walking distance from the Ferry Building in Rockland serving honest, beautiful food from New England's farms, forests, and waters. The menu often features whatever Sammy, the chef and owner, foraged or caught that day. The wine list is small and good, the beer is cold, and the people are nice. I time our trip home so a stop at Sammy's is always part of the plan.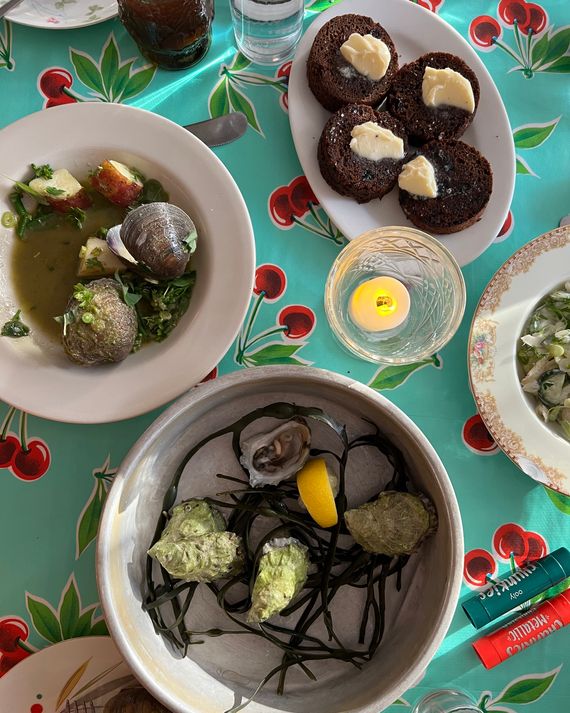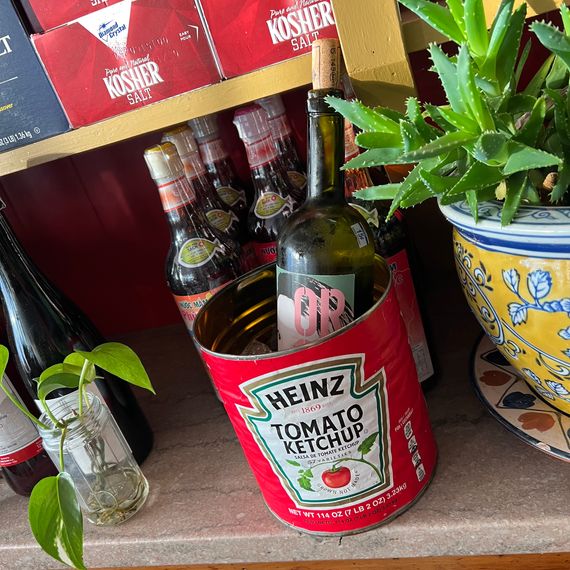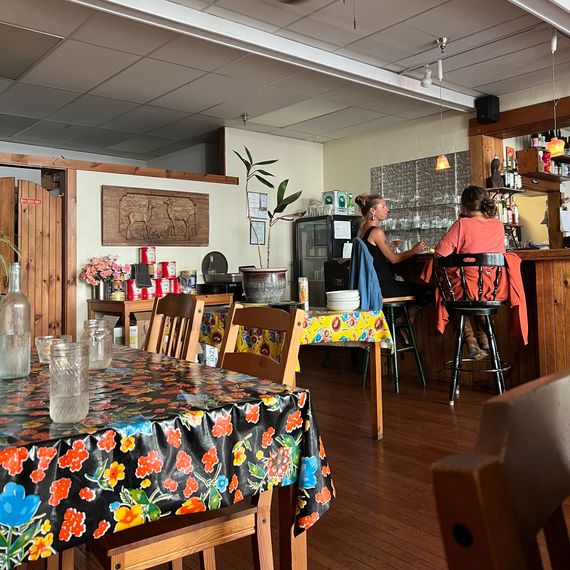 8 p.m.: Break up the trip with an overnight hotel stay in Portland
I broke up the drive home with an overnight at the Francis in Portland (747 Congress St., Portland) to help take the edge off of urban reentry. This charming hotel is a remodeled historic property with modern design that's conveniently located in the West End. They both take dogs, and they're directly across the street from Tandem Coffee (742 Congress St., Portland), one of the best coffee roasters around that also happens to have unparalleled baked goods. At this stage in the pregnancy, I'm staying wherever the carbs are.
9 a.m.: Eat pie for breakfast
We slept in a little and rolled over to Tandem. I got a slice of pie for breakfast (always get a slice of pie) and a mixed box of a half-dozen pastries to take home for friends. We grabbed a few bags of whatever coffee we can't find in the city for more gifts (okay, okay, and a few for ourselves).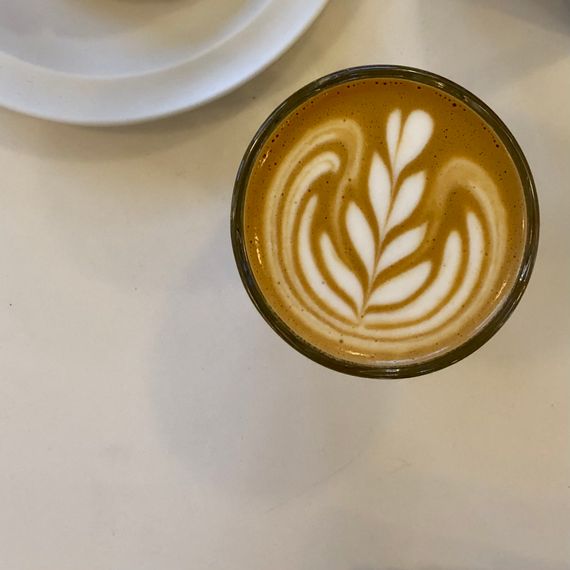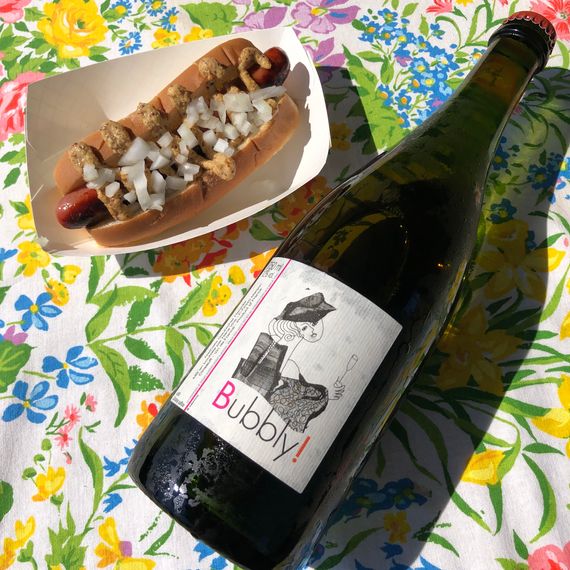 12 p.m.: Stock up on wine before heading home
After we checked out, we headed over to say "hi" to the folks at Maine & Loire (59 Washington Ave., Portland), one of my favorite wineshops in the country. Owned by husband-and-wife duo Peter and Orenda Hale, Maine & Loire is both wine goals and family goals — the couple has three little cuties of their own. I always find a few gems to share with my team members on their shelves, and the bright, airy space is a joy to inhabit for a bit. They also have the best merch — I try to pick up a bag or a T-shirt every time I visit. Food gifts and merch in the trunk, we got back in the car for the two(ish)-hour drive home.
Lauren's
North
Haven
packing
list
The island has a pretty robust tick population, and since so much of our time there revolved around outdoor adventures, this was a must.
For keeping all our provisions and oyster gifts cool, there's nothing like the YETI — it even keeps ice frozen overnight in the trunk of our hot car.
The quintessential, all-season boot for bopping around the island, no matter what the weather throws at you.
Good, cultured butter is key when you're cooking most of your own meals — and a big pot of steamed clams isn't right without plenty of it.
The Strategist is designed to surface the most useful, expert recommendations for things to buy across the vast e-commerce landscape. Some of our latest conquests include the best acne treatments, rolling luggage, pillows for side sleepers, natural anxiety remedies, and bath towels. We update links when possible, but note that deals can expire and all prices are subject to change.