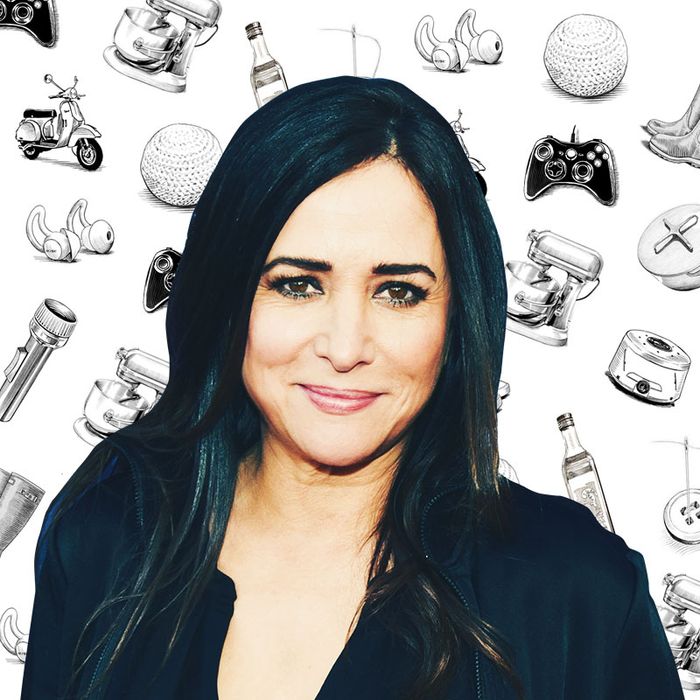 If you're like us, you've probably wondered what famous people add to their carts. Not the JAR brooch and Louis XV chair, but the hand sanitizer and the electric toothbrush. We asked Pamela Adlon, the creator of FX's Better Things, which returned for a fourth season last week, about the watermelon candies, sea salt, and tanning towels she can't live without.
I should just say, right out of the gate, that items I can't live without are water, air, food, and my children. I always carry a water bottle with me, though I grappled with what brand to recommend because I've used Hydro Flask, H2GO, and Klean Kanteen. But Hydro Flask is the best, and it doesn't leak. God, my first Hydro Flask — it's like when I lost my virginity. I don't know when I bought my first one. I've used them for years. I have black and hunter green, and I probably do two 32-ouncers a day, at least. I even brought one with me when I did Jimmy Kimmel. I brought my own water bottle onstage, and he was like, "I've never seen somebody bring their own water." I'm always terrified that when I'm being interviewed or doing a panel, they'll have plastic. I'm like, "Get those nasty little hos away."
I'm very particular about my condiments — I could talk to you for an hour about condiments and what you put on food, or what you can do to take food to the next level. Each Maldon sea-salt flake is like a work of art. They're faceted and beveled; if you put one on your tongue, you're like, "What is this?!" I like to put some in my mortar and then grind it. The flavor is unbelievable. A lot of cooks and people in online cooking communities call the McCormick pepper black dust in a can. It's got the perfect grind to it. When I can't grind pepper myself, the McCormick is the perfect pepper.
It's in a plastic container — and I try to look for items or products that don't have plastic — but I love it and am addicted to it. My kids have grown up using it, too — we literally put it everywhere. I'll look at my daughter, and she'll be rubbing it all over her nostrils because she's got allergies. We put it on our elbows, on our face, and on our lips. It has the best smell in the world. We probably have 80 lying around the house. It's not fancy; you can get it in any store. That's why we love it.
I used to order them online and then I found a neighborhood pharmacy that has all of the flavors. And there are tons — there are weird flavors like coffee and strawberry. But the watermelon Halters are the greatest. I buy them in packs of eight and give them out. When people put one in their mouth, their faces change. They're like, "What the fuck am I eating?" I always say not to crunch into it, just let it sit on your tongue. It's like a watermelon Jolly Rancher, except it's sugar free. It's just the greatest candy in the world — refreshing and very, very satisfying.