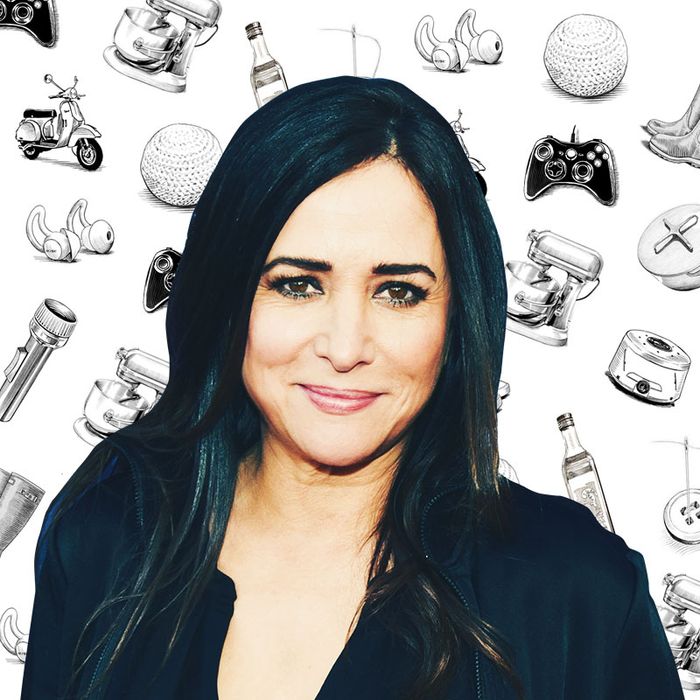 If you're like us, you've probably wondered what famous people add to their carts. Not the JAR brooch and Louis XV chair, but the hand sanitizer and the electric toothbrush. We asked Pamela Adlon, the creator of FX's Better Things, which returned for a fourth season last week, about the watermelon candies, sea salt, and tanning towels she can't live without.
I should just say, right out of the gate, that items I can't live without are water, air, food, and my children. I always carry a water bottle with me, though I grappled with what brand to recommend because I've used Hydro Flask, H2GO, and Klean Kanteen. But Hydro Flask is the best, and it doesn't leak. God, my first Hydro Flask — it's like when I lost my virginity. I don't know when I bought my first one. I've used them for years. I have black and hunter green, and I probably do two 32-ouncers a day, at least. I even brought one with me when I did Jimmy Kimmel. I brought my own water bottle onstage, and he was like, "I've never seen somebody bring their own water." I'm always terrified that when I'm being interviewed or doing a panel, they'll have plastic. I'm like, "Get those nasty little hos away."
I'm very particular about my condiments — I could talk to you for an hour about condiments and what you put on food, or what you can do to take food to the next level. Each Maldon sea-salt flake is like a work of art. They're faceted and beveled; if you put one on your tongue, you're like, "What is this?!" I like to put some in my mortar and then grind it. The flavor is unbelievable. A lot of cooks and people in online cooking communities call the McCormick pepper black dust in a can. It's got the perfect grind to it. When I can't grind pepper myself, the McCormick is the perfect pepper.
It's in a plastic container — and I try to look for items or products that don't have plastic — but I love it and am addicted to it. My kids have grown up using it, too — we literally put it everywhere. I'll look at my daughter, and she'll be rubbing it all over her nostrils because she's got allergies. We put it on our elbows, on our face, and on our lips. It has the best smell in the world. We probably have 80 lying around the house. It's not fancy; you can get it in any store. That's why we love it.
I used to order them online and then I found a neighborhood pharmacy that has all of the flavors. And there are tons — there are weird flavors like coffee and strawberry. But the watermelon Halters are the greatest. I buy them in packs of eight and give them out. When people put one in their mouth, their faces change. They're like, "What the fuck am I eating?" I always say not to crunch into it, just let it sit on your tongue. It's like a watermelon Jolly Rancher, except it's sugar free. It's just the greatest candy in the world — refreshing and very, very satisfying.
I have the six-piece one. I had the Revlon One-Step Hair Dryer, which was amazing but unwieldy for me, because it's superwide and I have problems with my hands. I just could not deal with it. Then this angel came along. I got it two years ago, when it first came out, and I told my girlfriend, "You have to get this." But you couldn't get it — they were selling it on the black market for like two grand. I use the hair dryer and the brush, but my daughters know how to use all the other pieces, and the hairstylist who's been doing my hair for 25 years uses it, too. It's unbelievable. It dries your hair so fast. It's a superthin wand — it's a magic wand.
I discovered this when my daughter, my firstborn, was a baby. It's kind of like Palmer's Cocoa Butter, except it's completely natural because it has the royal jelly and the bee pollen. It has so many healing properties, but, like so many things that are natural, it's not approved by the FDA, so, womp womp. But you can put it anywhere on your body. Even if it got into your eyeball, it wouldn't be an emergency. You can put it on your butthole, your nose — everywhere. It's completely natural, and it's an amazing lubricant. Wink, wink.
Oh my gosh, where do I start? I have two. I've got the red and then I've got the smaller blue one. The thing that I love making in it the most is khichdi, which is an Ayurvedic meal with mung bean. I'll throw in some cumin seeds first thing in the morning and then turmeric and ghee. You put all of the spices together, and the kitchen smells unbelievable. Then I put in the mung bean, and I keep it on the stove for two, three hours, and then I'll keep it in the Le Creuset for the rest of the week or however long it lasts. I also use them to make sauce. I'll start a sauce in the morning, like a gravy, a tomato sauce, and I just keep it on the stove for a couple of hours. I'll throw in meat or whatever. The Dutch oven is like a bottomless pit, but it's not too big.
I use this probably every day, or every other day. I have a friend from Copenhagen who's staying with me right now, and I made sauce the other night, and I said, "Can you just peel the garlic? Here's the roller." She was like, "What is this thing?" And it really freaked her out, but I can't peel garlic without it. There's just so much peeling. This pulls the skin right off, and the press has a flap that comes out so you can clean it immediately.
I'm a little bit tanorexic, so I like to have color in my face. I don't like to wear makeup or foundation. If I have to go to an appearance or whatever, the tan towel just warms me up — but it doesn't make me look like an Oompa Loompa. The thing you must know is that you've got to be moisturized before using one and then you have to wash your hands. You have to wash your hands after you use it. And you have to find a moisturizer that doesn't have oil in it, or it'll look streaky. I'm telling you, before going to bed, use a tan towel on your neck, décolletage, arms, and the backs of your hands. Wash the palms of your hands, go to bed, and you're going to wake up warm and lovely.
The Strategist is designed to surface the most useful, expert recommendations for things to buy across the vast e-commerce landscape. Some of our latest conquests include the best acne treatments, rolling luggage, pillows for side sleepers, natural anxiety remedies, and bath towels. We update links when possible, but note that deals can expire and all prices are subject to change.