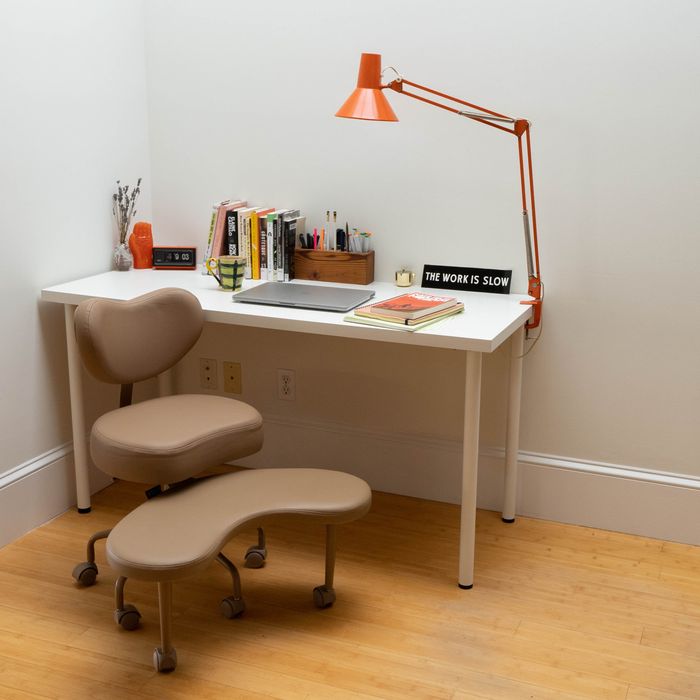 My first job out of college was at a tech start-up in Silicon Valley. The company provided many perks: free lunch, a yoga room, a multi-hour break from work in which all employees were mandated to read Steven Pressfield's The War of Art, and an ergonomic consultant. Vincent, our "ergonomist," made rounds throughout the office, assessing everyone's workstation with a clipboard in hand. We were supposed to tell him about any bodily discomfort we had, which he checked off his list of 14 possible "discomfort areas." His job, in turn, was to make sure our elbows and knees were at the right angle, that our computer monitors were well positioned, and that our chairs had been raised to the right level.
I had no "discomfort areas" per se, but I let Vincent maneuver me into whatever he felt was the most "ergonomically correct" position. He adjusted my chair height, raised my computer monitor, and had me put both feet flat on the floor, as if posing me for a portrait. I saw on his checklist all the possible recommendations for various contraptions and gadgets that might make this position more possible: keyboard tray, dynamic footrest, monitor riser, telephone headset, anti-glare filter, alternative mouse. But the fact was that I still felt awkward and uncomfortable with both feet planted on the ground, and I had little faith that any of these recommendations would make sitting in an office chair for eight hours a day any more enjoyable.
For the next ten years, in subsequent offices and homes, I found ways of sitting in office chairs that were tolerable but mostly unbecoming — and all but ignored most of Vincent's advice. I am a relatively small person and also a restless one, so I would contort myself into a cross-legged or side-sitting position in a normal chair. If I was the only person left in the office, I would put my feet up on the desk or, in perhaps the most unbecoming of positions, swing each leg over its respective armrest, stirrup style. I couldn't sit in one position for too long before something in my body would start to ache.
Then, last year, a pilates teacher told me about the Pipersong Meditation Chair. The main selling point of the chair — and what distinguishes it from any other office chair — is an extra lower platform that swivels 360 degrees around the seat, allowing its sitter to position their legs (mostly!) however they want. A grid on Pipersong's website shows a person in nine different positions, but I'm sure the creative sitter might be able to bend themselves into more.
I bought my chair last December, when the Pipersong Plus was released — it has a bigger and softer seat than the original, making it more comfortable and supportive, especially for larger-bodied humans. There are four colors to choose from: black, gray, ivory, and tan. I chose tan, a color that reminds me of a geriatric walking shoe with velcro straps, an association I enjoy. Aesthetically, the chair falls into a category of strange-looking objects that resemble something of a hybrid between an art object and a therapeutic device. I am partial to this kind of hybridity, which melds novelty and function in a very specific way (see Neckrestdesk by the conceptual fashion label BLESS, another chairlike device that I covet).
Now I actually look forward to sitting in my chair and swiveling around in my many sitting positions, and — a huge plus — I can put my electric heating pad on the bottom rung and warm my feet as I write cross-legged. When I sit in it, I feel as though I'm doing something good for my body without exerting much effort. After all, it's not the act of sitting that causes pain and discomfort, but more so holding a static position for a prolonged period of time (which I'm pretty sure Vincent would agree with).
I find myself constantly changing positions in the Pipersong, sometimes every few minutes — and that feels far more natural and intuitive to me. I currently have one leg folded in front of me and the other bent toward my rear in what is known as "side-sitting." This position is particularly conducive to stretching out the sides of my body, if I arc an arm over my head. In the past hour, I've rotated through a squatting position with both feet planted flat on the lower platform, a cross-legged position, and various permutations of the above. If I'm really needing some novelty, sometimes I'll sit on the lower rung. And if I ever miss a boring old office chair, rest assured that I can rotate the footrest around to the back, though I do not foresee myself doing that anytime soon. The possibilities really do feel freeing, and being tethered to my desk is far less dreadful than before.
As a writer, I am perpetually devising ways in which the physical act of writing might be more pleasurable for myself. I'd like to think that the newfound mobility and playfulness that the chair imparts also translates mentally into my thinking and onto the page. There's a reason people suggest taking a walk or changing locations when you're stuck on a problem. The Pipersong allows you to move your body or change positions in a slight, but not negligible, way. It feels as though it were designed for me and only for me, catering specifically to my idiosyncrasies and ameliorating my particular gripes. I can't tell whether the Pipersong Meditation Chair is outlandish or genius, but that's ultimately besides the point. The best products, after all, are the ones that solve your problems — even if the problem was a little silly to begin with.
Some Other Ergonomic Office Chairs We've Written About
The Strategist is designed to surface the most useful, expert recommendations for things to buy across the vast e-commerce landscape. Some of our latest conquests include the best acne treatments, rolling luggage, pillows for side sleepers, natural anxiety remedies, and bath towels. We update links when possible, but note that deals can expire and all prices are subject to change.