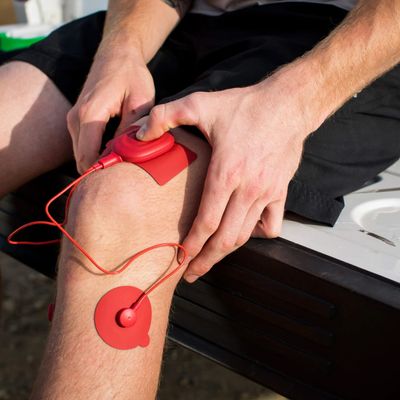 I don't stretch enough, and I rarely take the time to use a foam roller when my muscles are sore. (But I should: Harvard Medical School says rolling out can "release tension in the muscles, relieve muscle soreness, and improve flexibility and range of motion.") Instead, because I'd prefer to do nearly anything else with that time, I always skip recovery. It's like oiling a wooden cutting board only to stick it into the dishwasher right after.
Back in college, when I ran track and was a passionate member of the club log-rolling team, being sore after a workout was rarely an issue for me. But in the five years since graduation, now that I'm not running (or rolling) nearly as much, I've noticed that even moderate exercise makes me stiff and sometimes leaves me in pain the next day. When I'm sore, I make excuses. Pretty soon, I slip out of my routine. So when the opportunity arose to test the PowerDot 2.0, an electric stimulation machine that loosens up your muscles for you, I jumped at it. If I got rid of the soreness, I figured, I could get rid of the excuses. And I could do it with just a modicum of effort.
E-stim machines use small bursts of current to "turn your muscles on and off," says Conner Lorenzo, a certified athletic trainer and athletic-performance specialist at the University of Rochester. Traditionally, this technology has been used for pain relief. "Your brain can only receive one signal from your muscle at a time," he explains, "so if your muscle is telling your brain that it's contracting, it's too distracted to signal that it's in pain." It has also been used to retrain muscles to contract after a surgery. More recently, Lorenzo says, e-stim has been used to increase blood flow with devices like the PowerDot. And although he warns that this modern use hasn't been studied much, the thought, he says, is simple: "Let's pump and push the muscle and get some inflammation out of there."
On days when I do a 20-mile bike ride, I go into the app and pick a muscle group to focus on. For me, that's most often hamstrings, lower back, or quads — whatever feels the most burnt-out after my workout. PowerDot uses a series of pictures in the app to show me exactly where to put the stim pads. From there, I hit start, and all I have to do is adjust the intensity to something that's almost (but not quite) painful.
The feeling is odd at first, somewhere between an uncontrolled muscle twitch and your arm waking up from being asleep. And it's even odder to look at your muscles jump around and contract, even though you aren't asking them to. But once you get over the initial shocks, it feels good. Like your muscles are massaging themselves, relaxing, releasing that tension.
I like it so much that I use it for nearly everything, including pain that has nothing to do with working out. When I have a sore back from a long day in a desk chair, I put on a lower-body program. The other morning, I woke up with a tight and painful shoulder after falling asleep on my elbow watching Monk. Twenty minutes of shoulder stimulation and the pain was gone. No matter what muscle group I put it on, the PowerDot always makes me feel looser as I go to bed and more lithe when I wake up.
It also connects to the smart activity-tracking app I already use, which is quite useful. I have my Strava and Health accounts linked to it, so any logged workout syncs to all three apps. PowerDot will analyze the output of my workout and create a recovery program based on that day's activity and effort. And when I forget to get in a session at night, the app reminds me. Not that I forget all that often. I like this thing so much that it's become a part of my routine — one I look forward to as much as those episodes of Monk.
The Strategist is designed to surface the most useful, expert recommendations for things to buy across the vast e-commerce landscape. Some of our latest conquests include the best acne treatments, rolling luggage, pillows for side sleepers, natural anxiety remedies, and bath towels. We update links when possible, but note that deals can expire and all prices are subject to change.