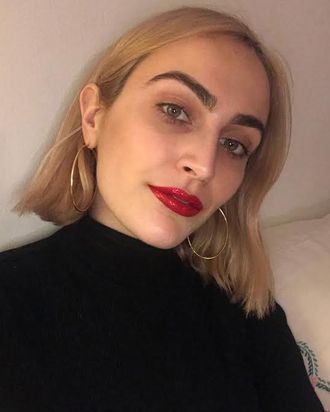 Eggnog, big, cozy sweaters, Ella Fitzgerald singing holiday songs — there's a lot I adore about this time of year. But none of those things hold a candle to the holiday tradition I hold most dear: seasonally appropriate glam makeup. Between now and January, wearing extra sparkly, shiny, and glitzy makeup is not just acceptable, it's encouraged. When it comes to holiday makeup, I've tried it all, from gold and silver eye shadows to an extra-festive bright red lip. If this approach intrigues you, but you don't yet have the confidence to get started, I am here (and so very excited) to help. Below, my favorite products for celebrating the holidays with merry, tinsel-y glam.
Holiday makeup for your eyes
This creamy, long-lasting eye shadow from Charlotte Tilbury is one of my favorite eye products of all time. Every single shade could be considered festive, but I am especially in love with "Bette," a rich amber-gold that makes eyes look extra big and bright. It's both metallic and shimmery; if you use just a touch, it'll be subtle enough to wear to work, but if you pack it on, it transforms into a perfect holiday eye-look. This is very creamy and therefore very easy to use; I generally just put it on my lids with my ring finger, throw on some mascara, and consider my glam complete.
If you're thinking about glitter for your holiday look, I'd suggest this liner from Urban Decay. The applicator is extremely precise, which makes it perfect for those who are looking to add some glitter to a traditional cat eye (or want to add a glitter accent underneath their lower lashes). I particularly like the iridescent silver shade "Pyro" and the pure gray-silver shade "Glamrock". Either will give you a mod-ish holiday glam with an Andy Warhol-Factory vibe.
I was transfixed by this product when I swatched it on my arm — it's a frosty, lavender-silver. Swipe it over your lids for a soft, wet crystal effect.
I've recently been playing with colorful mascaras. I've tested Stila's Fringe With Benefits and Urban Decay's Double Team Special Effect and am here to tell you that this smokey glitter mascara from YSL is truly something special. This is mascara that adds the perfect pop of soft glitter to your eye makeup. If you wear it on your top lashes, it makes it look like silver snow has landed on your eyes, and if you wear it on the bottom, it creates a subtle sparkle.
I am completely in love with this iridescent, peacock-green eye shadow from Nars. If you want a touch of Christmas-y green for your holiday party but are afraid of going too bright, this is the eye shadow for you. It's not too bold, but more of a soft, warm green with some subtle metallic effects that give your eyes some dimension.
I've written about how much I love this product before, but I could not leave it off this list. It's so festive! Milk's chrome-silver shade "Rager" is one of my all-time favorites (it makes you look like a holiday robot), but I'm also a fan of this bright green "Mermaid" shade for a more unique option. You can use your finger to cover your whole lid, or go in with a liner brush and give yourself a precise, metallic cat eye.
If you have designs on doing several holiday makeup looks for several parties, maybe it's worth investing in a palette of shadows. You will never regret buying anything from Pat McGrath. Pat's eye shadows are known for their iconic, creamy formulas and beautiful pigments. This palette has a definite party vibe: it includes a bright gold, a bronze, a copper, a silver, and a smoky amethyst shade. I personally adore the copper shade in this palette — it looks stunning as a spotlight right in the center of your eye, on top of some bronzer (try Benefit's Hula Bronzer; I use it daily as a base on my lids).
Holiday makeup for your skin
A good highlighter is also essential, because we are all rather pale at this point and need a little help faking a glow. This one from Becca is cult-status for a reason. It's certainly not subtle — blinding might be a better descriptor — but it looks amazing on top of foundation, applied with a fan brush and set with two spritzes of some Mac Fix +, which melts the product into the skin for a more natural effect.
This is one of my favorite highlighters for going out at night. Not only does this look amazing dabbed on to the high points of your face (cheekbones, brow bones, nose, you know the drill), it's also beautiful mixed into your foundation (this mixed with my NARS Sheer Glow is a dream) for an extra all-over glow. I don't often wear this during the day (it's a touch too beaming), but I adore it for the nighttime and any special occasion. It's also Kylie Jenner-approved, since she included it in her Vogue Beauty tutorial.
Holiday makeup for your lips
For a frosty lip or perfect glossy shimmer eye-look, this Fenty Gloss Bomb is the best out there. It's a milky, opaque gloss with tiny little diamond specks that really make the gloss pop and shimmer. As a lip gloss, this product is nourishing and plumping, but (bonus!) it works just as well as a glossy eye product. It stays in place all night long on both lips and lids without feeling too sticky or goopy.