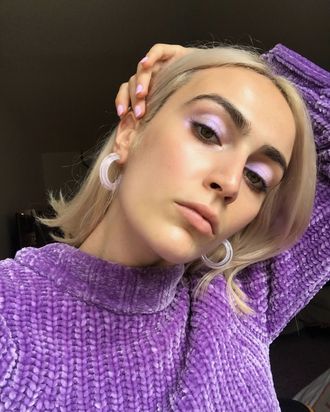 The author in head-to-toe lavender.
Photo: Courtesy of Rio Viera-Newton
Recently, while falling into an eye-makeup internet wormhole (as one does), I had a revelation: Lavender and lilac products look good on absolutely everyone. From Lupita Nyong'o to makeup artist Katie Jane Hughes to Solange and Bella Hadid, the look is flattering across the board. Why? I think it's because the color hits the sweet spot between bold and delicate — it's eye-catching, but still soft and pretty, and it dresses up a jeans-and-T-shirt look without feeling like a full-on makeup affair.
I was in love, and wanted to try out some lavender on myself as soon as humanly possible. So I set off to discover what products in the shade are easiest to use. I went to Sephora, Ulta, Ricky's, and CVS and swatched more or less every lavender shade on the market (in all different formulas and styles) in the hopes of finding the most accessible, nicely pigmented products. The end result is that I have about 100 lavender and lilac products, and can't stop wearing them all. Below, a list of my favorite lavender eye-makeup products, all of which are easy enough for beginners to use.
Powder shadows
Soft glitters
Cream shadow stick