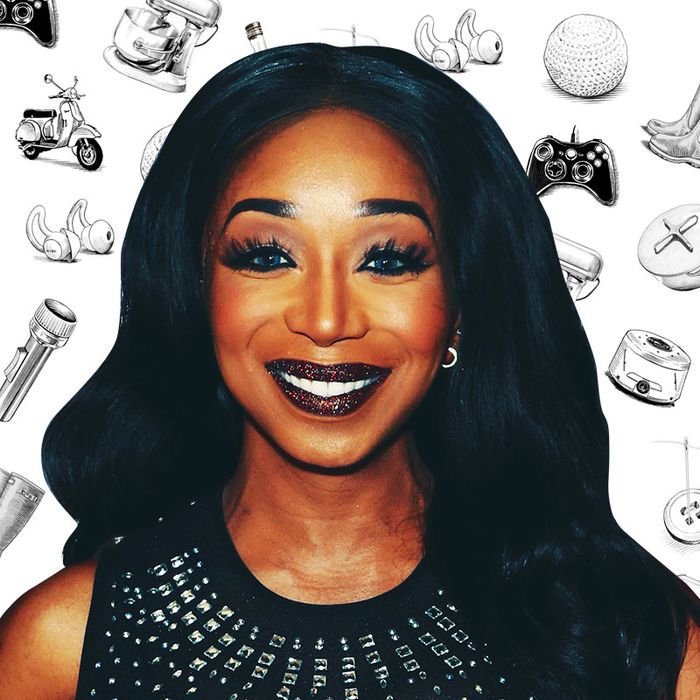 Photo-Illustration: The Strategist; Photo:Getty
If you're like us, you've probably wondered what famous people add to their carts. Not the JAR brooch and Louis XV chair but the hair spray and the electric toothbrush. We asked television personality Tiffany "New York" Pollard — who recently released a nail-polish line in partnership with Orca — about the transformative body lotion, the comforting perfume, and the giftable popcorn she can't live without.
I only drink the unfiltered organic with "the mother," which means it's not filtered. It has some stuff that floats around in it and has a little bit of a film to it, but that's what's gonna give you all the health benefits. I like Bragg's best because they're trustworthy and have been around for years. They didn't just start making apple-cider vinegar when the craze popped up with the tablets and gummies — they've been around for decades. I first heard about it on YouTube about four and a half years ago when I saw that a lot of people were taking it almost as a supplement. I tried it for myself, and I just got hooked. I find it helps keep my blood pressure stable. And I've always struggled with my weight — I would balloon up, go down, very much yo-yo dieting, and it just helped keep things stable for me. I use it as a way to jump-start a cleanse or help me feel motivated to get my health in the right direction again. I take it for about two months every day and then take a month off and then go back to it. I do notice that it gives me tremendous energy. Like if I take it in the morning, I'm gonna feel good that day. I used to be addicted to sugar, but I don't crave any snacks when I drink this with eight ounces of water. It really stops the cravings.
I've been wearing it for at least six years, and I always get compliments on it no matter where I'm at, on set or at the grocery store. It's light enough to wear every day, and I splash it on any time I want to feel more centered. This takes me back to childhood. I remember falling in love with perfume and floral scents literally in Head Start. I was on the playground, I scraped my knee, and one of the teacher's aides came over and put me on her lap and hugged me like, Oh, it's okay. I remember that she smelled like a bouquet of fresh flowers, and that has always stuck with me. Floral scents have been a nurturing and comforting scent because of that experience. And I think that's when I first got hooked on perfumes and the girly scents. So Dolce to me smells just like that. It smells comforting, and the floral and feminine smell just makes me feel so calm and at ease.
When I was a kid, my grandparents used to drink Canada Dry to help keep their stomachs settled and just because they liked the flavor of it. And that brand, to me, just brings back so many wonderful nostalgic feelings when I drink it, but it also tastes really great. I've been drinking it off and on for the past three and a half years because I just love a really good carbonated beverage. I'm always gonna be a soda drinker. I'm not gonna lie, I've had a soda every single day this week and last week. So I buy the sugar-free version; that way I feel like I'm doing the right thing for my health. I make sure I get about three-to-four cases of these at one time, and I try to have only one with dinner.
I have the gold ones, and I'm going to get a pair of the red ones and maybe a black pair, too. I love to wear them around the house so I can dance in the mirror when nobody's home and just go crazy. That's my way of getting a little bit of exercise once in a while. I also wear them in the bathroom when I'm applying my makeup. The first time I discovered Beats by Dre was with my really good friend Aktion LA Jackson. He's a rapper and artist so he's into really great music, and it's very important that the quality of the beat and treble is good. He let me borrow his Beats, and I was hooked. I had to run out and get everything I could get, but I loved the headphones that fit over my ears. Maybe I have really big ear canals, but I gravitate toward the classic headphone style because AirPods sometimes slip out of my ears. These headphones are the greatest on earth because the bass gets loud and heavy.
I try to use this body scrub every other week. It does such a great job that you don't really need it that often. The more you use it, the less you need it. What I love about this particular body scrub is that the granules are smaller but they do the job of a larger-grain body scrub and leave my skin really soft. It's not inexpensive, but one tub lasts for such a long time. A little bit of it goes over your whole body. It has a scent that's not too strong or overpowering and just leaves me feeling and smelling clean. It's just a perfect product.
[Editor's note: Ole Henriksen no longer makes this salt scrub, but you might be able to find a tub on Amazon or eBay. If not, the brand still sells its exfoliating Lemonade Soothing Face Scrub for $32.]
Ever since I was in grade school, particularly the second grade, I struggled with very dry skin. It would just chafe up or crack at any time. That's always been a battle of mine. What I love about this lotion is that for the first time, I don't have to mix any type of petroleum jellies or oils with it. I apply it once, and it does the job all day long and even into the next day. I've been using it for about two years now, and I've seen such a difference in my skin. My skin is a lot smoother, and I don't even need to apply as much as I used to in the beginning. It definitely can train your skin.
Garrett is a Chicago brand, and I discovered it when I did an episode of The Steve Harvey Show when they used to shoot in Chicago. The show gifted all the guests with this popcorn, and when we tasted it, everybody went insane. Even if you're not a popcorn lover, you will become one. It's just that delicious. My favorite flavor is the classic Garrett mix with caramel corn and a very cheesy flavor mixed in together. I order it and have it sent to my location no matter what coast I'm on. I'm sure they're like, Wow, is that Miss Pollard calling us again? because I'm always ordering it. I've also gifted it around the holiday season to my family — my mom loves it — and to some friends. My girlfriend Butterfly loves it. I try to have it on deck if I'm going to see her and her kids. They go crazy for it. I've gotten calls after gifting it, and people have asked, Oh my gosh, what is that popcorn?
I definitely wanted to enter into the world of beauty, but I didn't want to be too obvious. I didn't want to do a lippy or a lash line because I think everybody was expecting that. I've loved nail polish ever since I was a kid. It was the first item of beauty I was allowed to experiment with. When I was a child, my mom would allow me to paint my nails at 6 or 7 years old, so I've always loved expressing myself with nail polish. It was such fun creating HBIC ink with Orca. They made it easy and exciting to go through all the colors and the elements of packaging. It's so hard for me to pick my favorite color, but I think I just automatically gravitate toward red; this one is called Go-Go Juice. I also love Boss Blue and Currency. Sometimes I have to close my eyes and just choose which one I'm going to wear because I really love them all.
The Strategist is designed to surface the most useful, expert recommendations for things to buy across the vast e-commerce landscape. Some of our latest conquests include the best acne treatments, rolling luggage, pillows for side sleepers, natural anxiety remedies, and bath towels. We update links when possible, but note that deals can expire and all prices are subject to change.