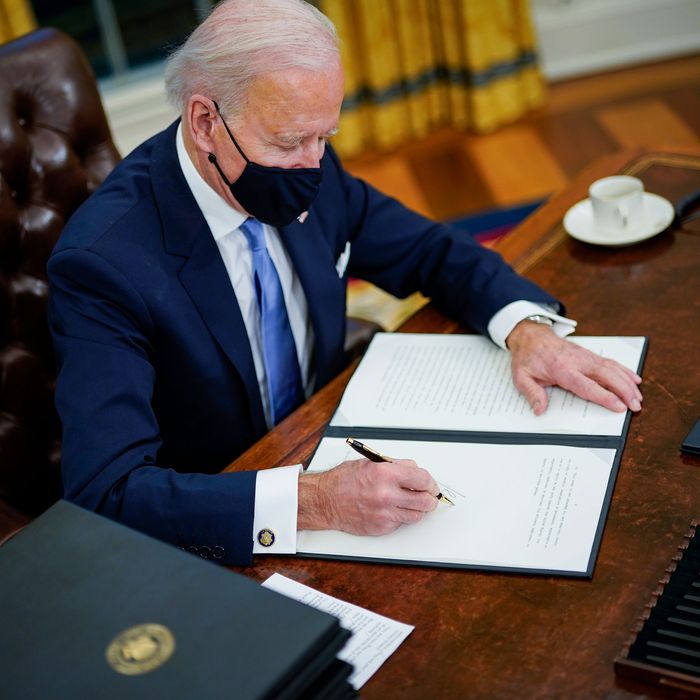 Photo: Jabin Botsford/The Washington Post via Getty Images
After a refreshingly stylish inauguration ceremony (Ella Emhoff's crystal-shouldered coat! Bernie's meme-able mittens! Amanda Gorman's all-Prada everything!), newly sworn-in President Biden wasted little time getting down to work, signing 17 executive orders in the Oval Office on his first day. Neatly stacked in a pile of leather-bound folders, the orders addressed an array of critical issues facing the country, from the pandemic and climate change to immigration and racial justice. My detail-obsessed Strategist mind, though, couldn't help but focus on another item on the Resolute desk: a little wooden box displaying a lineup of identical black-barreled pens with shiny gold accents. Obviously I had to find out: What is Biden's pen of choice?
A quick Google search turned up this press release from A.T. Cross, a Providence, Rhode Island–based pen company that says it's been the official supplier of pens to the White House for decades. For more details, I reached out to Nicola Shepherd, senior director of global marketing at Cross, who told me Biden used the Cross Century II rollerball pen in black lacquer with gold appointments (or accents, like the tip and cap clip) on Inauguration Day. His pen contains a felt-tip refill to produce bold, more markerlike creamy writing. It's a special edition, of course, engraved in gold with a replica of the president's signature and the presidential seal on the cap. (Shepherd explains that before the inauguration, Cross sent a number of different options for the president-elect to choose from.)
President Biden's pen of choice.
While Shepherd says Cross began "planting seeds" at the White House during the Ford and Carter administrations, Reagan was the first president to officially use a Cross pen. His preferred model, the Classic Century black ballpoint, is an older version of Biden's Century II, which was introduced in the late '90s and is thicker and heavier than the original. Like Reagan, George H.W. Bush opted for the Classic Century, while George W. Bush was a fan of the Townsend, an even more substantial pen than the Century II, in Cross blue marble.
Reagan and Bush 41 preferred this lighter, thinner pen.
Bush 43's pen was even more substantial than Biden's.
Clinton, however, seems to have broken with the Cross tradition: Mary Dunn, an archivist at the Clinton Presidential Library, told me in an email that the Library's museum collection includes "approximately 100 presidential signing pens" which are all "Parker ballpoints, black with gold-tone metal clip and accents," customized with the president's signature and seal. According to a 1999 Baltimore Sun article, Clinton specifically used the Parker Insignia, a vintage style the brand (which was founded in Wisconsin and now based in France) no longer makes.
Although Clinton's presidential pen is discontinued, you can still find them online.
Shepherd says Barack Obama favored two Cross pens: The Townsend in black lacquer with rhodium details and the two-tone Century II "Tuxedo," which features a black barrel and a chrome cap. Lisa Brown, who served as White House staff secretary during Obama's first term, was responsible for actually presenting the president with his pen and stationery options. "One of the first things I did during the transition, which is kind of hysterical, is I went to Crane on Connecticut Avenue and looked at stationery and pens," she says. She made her choices based on examples the White House executive clerk showed her of past presidential picks, offering Obama a curated selection to choose from. Because Obama is left-handed, Brown explains that the president's signature was engraved on his pen in such a way that it'd appear right side up when held in his left hand.
Obama used two different pens. This one has a wide body that's easy to grip.
And this one, which is known as a "tuxedo" style because of its contrasting two-tone black lacquer barrel and shiny chrome cap.
When Trump took office, his administration initially ordered a stock of Century IIs, but, as Trump told Axios, he soon rejected the official pen in favor of a chunky Sharpie. He says he asked the brand to design a custom one for him and to "make it look rich." Trump's Sharpie was perhaps most infamously used to adapt the projected course of Hurricane Dorian on a White House map in 2019 to support his inaccurate tweet that the storm would impact Alabama.
What happens to the pens after an executive order or a bill is signed varies based on the president and the pen's specific use. "George W. Bush kept one for himself each time and he has a full collection at the Bush Library in Dallas," Shepherd says. Sometimes presidents have used multiple pens on the same document to give extras away as souvenirs. Back in 1964, the New York Times reported that Lyndon B. Johnson used more than 75 pens to sign the Civil Rights Act, handing one of the first to Martin Luther King Jr., who was present at the ceremonial signing. When Obama signed the Affordable Care Act into law, he used 22 different pens, distributing them to individuals who were essential in getting the bill passed, including Nancy Pelosi and then-Vice-President Biden.
Brown, who's seen in this video corralling the 22 pens and delivering them to the president, explains that it's a special honor to receive a presidential signing pen. In many cases, the Legislative Affairs office (the liaison between Congress and the president) would let her know which members of Congress would be receiving pens, and sometimes, she says, "it was a way of the president thanking somebody on his team for doing a lot of work." Brown recalls one instance where a member of Congress tried to grab a pen off President Obama's desk during a signing. "I literally had to leap over the plants that were nicely arranged around the stage to — diplomatically, of course — take it back," she says. "People want them and they value them, but grabbing one like that, I thought, was a little beyond the pale." As for Brown, she got to keep the pen Obama used to sign the commission designating her position as a senior White House officer.
The White House wouldn't tell me who, if anyone, received the pens Biden used on his first day in office. With fewer people gathered than usual at the signing due to COVID, it's also possible that none were handed out that day. If you're considering buying your own Cross pen, we would recommend sticking to the Townsend. Biden's Century II didn't make it onto our list of the top 100 pens, but the Townsend came in at a respectable no. 24. Although our reviewer, former Strategist deputy editor Jason Chen, calls the gold-plated Townsend he tried "the poor pen's idea of an expensive pen," he admits that it's "remarkably smooth" with "the perfect thickness between your fingers."
If you want a pen that's similar to Biden's and "remarkably smooth," we recommend this option.
The Strategist is designed to surface the most useful, expert recommendations for things to buy across the vast e-commerce landscape. Some of our latest conquests include the best acne treatments, rolling luggage, pillows for side sleepers, natural anxiety remedies, and bath towels. We update links when possible, but note that deals can expire and all prices are subject to change.