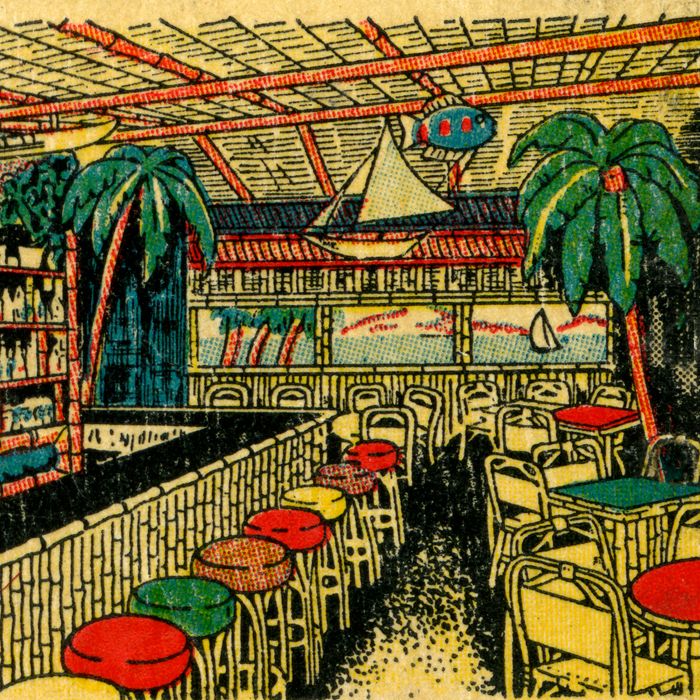 Photo: Jim Heimann Collection/Getty Images
As author and editor Chloe Frechette details in her article "Does Anyone Really Know What Tiki Is?" the arrival of the tiki aesthetic and a sudden fascination with bright, tropical-leaning drinks in 1930s Los Angeles "was the antithesis of the spartan three-ingredients formulas — Manhattan, Martini, Old-Fashioned — that had defined the bar world's status quo for the last half-century." In other words, tiki was exciting. (It was also, in some cases, appropriated.) Then, after falling off in the second half of the 20th century, starting in about 2016, there's been another wave of enthusiasm for bright, bombastic cocktails.
Nothing screams summer like tiki, so we asked three experts in the field — all of whom are bartenders of color actively decolonizing tiki — to tell us everything we need to introduce the magical and complex flavors of tiki drinks to our homes (especially since we won't be sipping cocktails inside a bar anytime soon). Here's what Chockie Tom, founder of "fundraging" pop-up Doom Tiki; Vincent Bright, a bartender at Chicago's Lost Lake; and Jelani Jah Johnson of Clover Club in Brooklyn recommend.
Velvet Falernum
Velvet falernum is as quintessential to tiki as whiskey is to an Irish pub and features prominently in cocktails like the zombie and the mai tai. First produced in Barbados, this syrupy liqueur includes a mixture of ginger, cloves, almond, and lime. Tom and Bright both swear by one brand: John D. Taylor's velvet falernum, which is available at most liquor stores. "Taylor's is the only commercially available falernum actually made in the Caribbean today with a clear Barbados heritage," says Tom, "giving it the advantages of provenance and authenticity over other options."
Orgeat syrup
While cocktails like gin fizzes and mojitos contain a drizzle of simple syrup (sugar dissolved into an equal part of water), tiki relies more on orgeat, an almond-based syrup with hints of orange and rosewater that features prominently in mai tais and the cognac-based, non-tiki Japanese Cocktail. "Making this syrup at home is not difficult," Bright points out, and some versions are made with more sustainably minded nuts and seeds like walnuts and pepitas. But if you want to split the difference, bartenders have gotten behind the small-batch orgeats from Small Hands Foods and Fee Brothers.
Rums