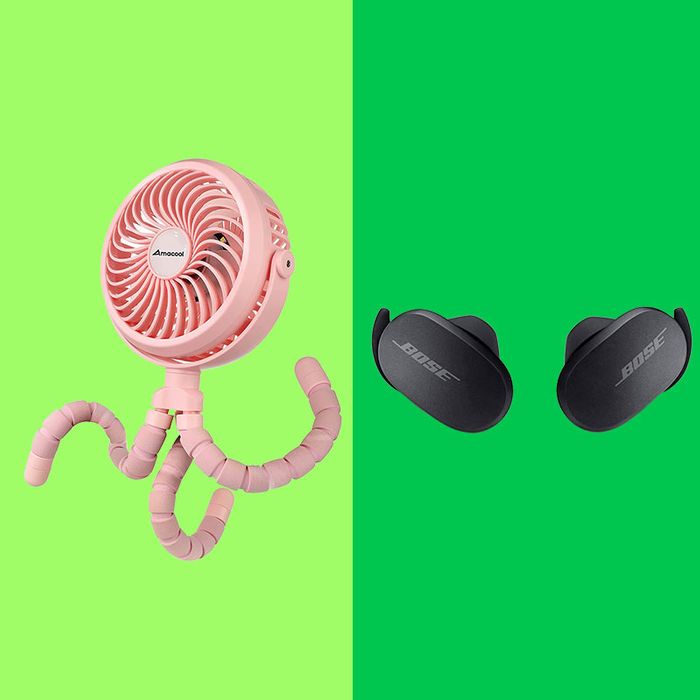 Photo-Illustration: The Strategist; Photos: Retailers
If it seems like more and more people are talking about Peloton these days — swapping leaderboard names, showing off their century shirts, and gossiping about Ally Love's wedding — you're not wrong. Already popular pre-pandemic, the brand's indoor cycling bike (and treadmill) surged in demand when gyms shut their doors during quarantine, leading to months-long shipping delays in new orders. Chances are, at least one person you know has become a Peloton devotee in the past year, and perhaps you'd like to get them a gift to show you support their new passion.
To help you find some actually useful presents for your Peloton-obsessed mom or best friend, we spoke with seven Peloton riders, some of whom have clocked hundreds or thousands of rides, and three Peloton instructors. With their guidance, we've surfaced everything from sweat-absorbing towels (very necessary for those who really push it in Tabata sprints) to a tablet holder that allows for working from home while working out. Most of these gifts are compatible for anyone who has a Peloton dupe bike, too.
For the extra-sweaty Peloton obsessive
One Peloton rider told me this mini fan — that's actually meant for strollers — is often recommended in online groups because it's just the right size to attach to the bike's handlebars for catching a breeze during a class. The wireless fan charges via USB and has a few speed settings so you can turn it up as your ride's intensity builds.
Soft, absorbent towels came up a lot when talking to Peloton riders, and this set was recommended by name because it includes both a hand towel and a terry-cloth cover for the bike's handlebars to keep sweaty hands from slipping and sliding all over the place during tough rides. An elastic loop on the hand towel keeps it from falling off the bike.
For the multitasking Peloton obsessive
A few riders mentioned putting the bike in "Just Ride" mode (meaning there's no instructor leading a class) to get in a ride while tackling other tasks. This adjustable tray fits a laptop so they can work from home as they work out.
Another rider told me she uses her Kindle while riding and would love to receive a tablet holder like this one that attaches to the bike's screen for easy reading.
For the Peloton obsessive who likes to be comfy
Riding with a sore butt isn't fun, so some riders like to add a gel-padded cushioned seat cover to make their rides more comfortable. This one is popular because it fits the Peloton bike seat and adds just enough cushioning to ensure you won't be too sore to ride the next day.
For the Peloton obsessive with a roommate
It can be tough to get in the zone for a ride if a roommate is loudly watching TV or talking on the phone. One rider who lives with her fiancé in a one-bedroom apartment says these noise-canceling headphones have been a lifesaver, as she can really tune into her class without any distractions.
For the Peloton obsessive with hardwood floors
They might not have thought to buy a mat when they ordered their bike, but one rider we spoke to said it's an important accessory if you want to protect your surfaces. The bike can scratch up floors, and the constantly dripping sweat isn't great for them either. This mat is designed to fit perfectly under their bike and even reduces noise, which apartment-dwellers will appreciate.
For the stylish Peloton obsessive
In May, Peloton released a limited-edition apparel collection in celebration of Asian and Pacific Islander Heritage Month that sold out within minutes. One rider mentioned it's the one thing she wishes she could still get her hands on, and there are occasionally pieces floating around on eBay — like this floral-printed bra — but sizes and styles are going to be limited.
For the Peloton obsessive who takes it off the bike
Peloton offers non-cycling workouts, too, including yoga, strength training, and boot-camp classes. For your pal who wants to make the most of the more relaxing classes, Peloton yoga and meditation instructor Anna Greenberg recommends this bolster. "It's the perfect shape and size, and it will greatly support their practice," she says. "I especially love gifting a bolster for the holidays because it promotes self-care and relaxation, which we all need around that time of year."
The Peloton Bike+ features a swivel screen that lets you easily view classes off the bike. For those who bought the original bike before the new model became available (or didn't want to shell out the extra money), this affordable attachment allows them to pivot their screen 360 degrees, all the better for watching Emma Lovewell's "Crush Your Core" mat-based body-weight workouts.