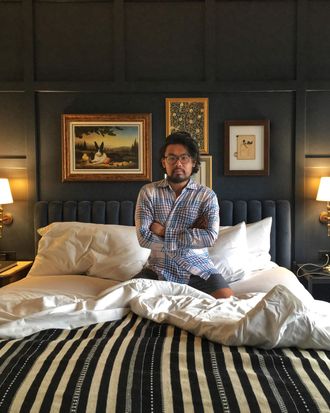 It started like this: Back in 2011, just as I was starting to truly get into travel writing, I ordered a linen button-up shirt from Boden ahead of a monthlong summer trip that included stops in Antwerp, Lisbon, and Istanbul. Because my schedule would be a flurry of both work and play, I figured a lightweight long-sleeved shirt would be the kind of wear-with-everything item I needed for such an adventure. Only Boden shipped me the wrong print. I was irritated I didn't get the correct item, but I also didn't have time for an exchange, so I packed it up and gave it a shot.
And I loved it. Until it ripped in the elbow seven years later, I wore that shirt everywhere: on the sand dunes of Oman, in wineries in Portugal, on the beaches of Brazil. I hiked in it. I mounted both ATVs and horses with it on. I paired it with blazers to attend press conferences and fancy dinners at Michelin-starred restaurants.
In the years since, I've expanded my collection of linen shirts to over 20. I have a variety of colors, patterns, brands, and styles. Some feature two button-down pockets on the chest. Others have trendy grandad collars. They're all fuss free and I never have to think too hard about what I can wear them with or where I can wear them. They do everything.
Even now, when I'm basically stuck in the same one-mile radius in Jersey City and everyone I know is embracing loungewear and pajamas, I still wear them. (A well-worn linen shirt is kinda like a pajama top anyway.) They've been softened by years of love, and the loose fit makes them very comfortable to move in — even if just from the couch to the fridge. Should it be one of those days when I have a work-related Zoom call, my colleagues might be impressed to see that I've put on something with a collar. Plus, with how hot it's been this summer, I am always grateful for the featherweight, breathable fabric. It dries very quickly after my sweaty late-afternoon walks, and I appreciate the extra bit of sun protection offered by the full sleeves. We already have enough health-related issues in 2020 without also dealing with melanoma.
The original
This is the closest thing to my first Boden shirt I can find on their site. It was hardly the most expensive or the best quality of the linen shirts I own, but its roomy fit was very comfortable on days when I'd eaten too much, and the billowy silhouette was perfect for running around like a movie star on a sandy beach.
Old and new favorites
A banded collar immediately makes a shirt more casual. Do it in linen, and you're essentially wearing a T-shirt. I ordered this one from Club Monaco during a fit of online shopping a few weeks ago because I love the deep brick color, which should translate well for fall — assuming we still have the will to get dressed. It also boasts a more tailored fit that's perfect for dressing up.
A white linen shirt from Isto is summer manifest. This one is 100 percent natural linen, so it's superlight, but it's also a little sheer, and it was sustainably and transparently produced in northern Portugal. I bought mine in Lisbon last spring, and thankfully, they do ship to the U.S. If see-through white is not your thing, the shirt is available in a rainbow of colors.
Editors' note: The price below is converted from euros.
With my writer's budget, I try not to splurge on clothing, but when Alex Crane debuted its linen-obsessed brand a couple of years ago, I couldn't help myself and purchased its Playa Shirt in contrasting stripes. (The chest pocket has horizontal stripes while the rest of it is vertical.) Made in North Carolina from fancy European linen, the shirt is washed with a special enzyme that allows the fabric to soften, making it nice and flowy right from the beginning. This is perfect for tramping around the beach, which is truly the bare minimum in terms of what a linen shirt should offer.