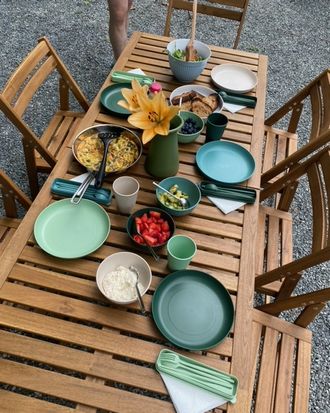 All winter long, I stared at a little patch of dirt just off of our porch, hoping that come spring we would turn it into a gravel patio. My SAD-induced vision board for the space included an outdoor-dining set, string lights, an umbrella, and a grill. You know, the basics. But after searching through the online retail trenches for months looking for a suitable table and chairs with a price tag that didn't make me gag, I figured the task might be impossible and we'd be better off just eating on a picnic blanket on the lawn. And yet, when the warm months came, and the gravel went in, my itch to sit around a table covered in burger remnants and many bottles of wine grew stronger. I caved. It was time to pick an outdoor-dining set.
My criteria were specific: I wanted a long, rectangular table that could fit at least six people (but squeeze eight if necessary). It had to be weather-resistant enough that I wouldn't have to keep a cover on it when not using it. Ideally, I'd opt for chairs instead of benches because I hate sitting on something backless for long periods of time, and those chairs would be light enough to move around without much effort. Bonus points for seats that could be easily stored inside during the winter. Most importantly, after spending more money than I'd like to admit to furnish the interior of our home, I couldn't stomach spending even more on this space, even if it meant getting excellent quality furniture, so the whole kit and caboodle had to be under $600. This price point seemed to be a step above "will be trashed in one summer" but below "you'll die with this patio furniture."
I began my search by asking outdoor-dining gurus like designers, budget bloggers, landscape architects, and real-estate brokers for their picks. But I also enlisted friends who had any type of outdoor hang space and were willing to suggest something that might work.
As my emails and texts went out into the world, one thing became clear fast: the budget was laughable.
Multiple experts ignored the budget completely, sending me fabulous and durable metal choices in trendy colors and designs (like these ones from Hay and Floyd, both of which retail for over $2,300). Some misread my request and suggested individual tables or sets of chairs that hovered around $600 during sale season (like this gray washed pick from World Market or these steel and wicker chairs from Castlery). When clarifying that my budget was under $600 for both the table and seating, a bunch of folks balked and said they had no recommendations. A few threw out suggestions that only hit the price point during major holiday sales. But luckily, a handful of outdoor-dining heroes came through at the buzzer, offering tasteful options that had me dreaming about eating tomato salads al fresco.
But these experts warned that because of my budget, I'd have to sacrifice a few key components: Whatever I was going to buy would likely come from a big-box retailer, which comes with its own set of questionable ethics, and I'd likely have to build the furniture myself. Many warned that I would be replacing the set in a few years if I wasn't vigilant about maintenance. Allison Messner, CEO and co-founder of Yardzen, the online landscape-design company, advised me to keep material in mind, especially because of my price point: "The added complication of weather puts a greater emphasis on material when choosing a set," she wrote in an email. "Exposure to sunlight and moisture will eventually wear out any outdoor dining furniture, but material selection will have a big impact on its lifespan. Look out for wood materials like teak, cedar, and acacia, and aluminum for metal." Because my patio sits directly in the sun during the afternoon and early evening, she also suggested keeping an eye out for tables that have umbrella holes, so I could opt for a patio umbrella, which is often much cheaper than a cantilever umbrella.
Armed with all of that knowledge and a hell of a screwdriver, these were my options.
The Finalists
Arlena Armstrong-Petock, a real-estate broker in the Hudson Valley, recommended this steel table from Target's collaboration with Studio McGee. She hyped up the faux-marble top, advising that it held up nicely over the course of a few years with little wear and tear. It's sturdy with a modern look that could pair nicely with all sorts of seating options. Plus it has an umbrella hole with an extra support beam through the legs. Though it retails for close to $400, the table regularly drops to around $300. For seating, Armstrong-Petock chose wicker-and-metal chairs from the same collection, but they were too pricey for me to consider. Having sat on approximately one million metal bistro chairs that are prevalent at so many restaurant patios and are totally fine, I decided the faux-marble table would work well with the same classic black stackable chairs that come in at $28 a pop.
Another worthy option came from Kendra Hagerman, the CEO of Kendra Found It, a budget and lifestyle design blog: "Wicker is a great option for climates that get really warm because it won't get as hot to the touch like metal does," she said. "The style makes it look more expensive than it is, and I love that it comes with cushions."
One friend who has a massive balcony patio in Stamford, Connecticut, sent in this acacia-wood pick from Target, but with a warning: "I will say we did not take care of it all winter and it shows." Though I was originally anti-bench, I decided to consider this choice (even with the caution) because the price tag meant that I could throw in a cover and a cantilever umbrella (no hole here!) and still come in under or around budget. Plus, my husband and I were partial to the wood aesthetic even if that meant the furniture might need some TLC in the future.
The One I Went With
When embarking on this journey, multiple people responded to my texts and emails with something along the lines of "Ikea's is fine." Though the mecca of budget furniture has a few options for outdoor-dining sets, four people I spoke to had owned the Über-popular Äpplarö table and chairs, made of dark weather-resistant acacia wood. Seating options are still available, but Ikea discontinued the table last year. One friend who moved from Philadelphia, Pennsylvania, to Raleigh, North Carolina, said, "Loved the look of the wooded set. It was enjoyed and destroyed within the four years we were in Philly. We had no cover, though I imagine that would have really helped keep it nice."
Another friend in the Long Island suburbs who loved their Äpplarö set for five years recently upgraded to a few-thousand-dollar metal dining set, but filled out their yard with lounge chairs and a few folding chairs from Ikea's new Nämmarö line, which is intended to replace Äpplarö and is also made of acacia wood. It comes in a lighter color and a more streamlined design. "They're basic, but do the trick. Plus the matching table is cuter than their other one and doesn't scream 'I got this at Ikea' since it's a new look."
I visited the showroom and found she was right. I loved the light wood, which felt timeless and easy to match with whatever else we put outside. Plus the set fits all my criteria: The table is long and rectangular with a hole for an umbrella. There are all sorts of different seating options to pick from, though only the folding chairs fit my budget, which is just fine because they are light yet comfy, and can be folded up for winter. The chairs also come pre-made, so no assembly is required there. And most important: One large table and six folding chairs comes in at $599, just under budget.
There are, of course, a few drawbacks, like the fact my friend said her Ikea table was trashed within just a few years. (I ended up buying a $65 cover to protect the table and chairs during inclement weather and plan to take the chairs into our basement during the winter.) There are also small aesthetic details that show the table is flatpack furniture, like visible screws and washers, though that would be apparent with most of the picks on this list.
But so far, it's lived up to its promise of providing a place to have outdoor meals without blowing up my bank account. We've been able to crowd as many as eight people around the table, with one stool at each head, and have had multiple barbecues, breakfasts, and happy hours on the patio. Acidic spills from things like ketchup and red wine are easy to clean with soap and water, as are condensation rings from sweating margaritas, though I imagine they could stain if left to sink in for long periods of time. It's withstood at least one rainstorm uncovered and multiple guests have commented with surprise at how sturdy and comfortable the fold-up chairs are.
The set likely won't last with me until old age, but as far as attractive, affordable outdoor-dining sets go, it's hard to argue with Ikea's Nämmarö line.
The Strategist is designed to surface the most useful, expert recommendations for things to buy across the vast e-commerce landscape. Some of our latest conquests include the best acne treatments, rolling luggage, pillows for side sleepers, natural anxiety remedies, and bath towels. We update links when possible, but note that deals can expire and all prices are subject to change.